B. L. T. Dip ( Bacon, Lettuce and Tomato) BLT
GaylaJ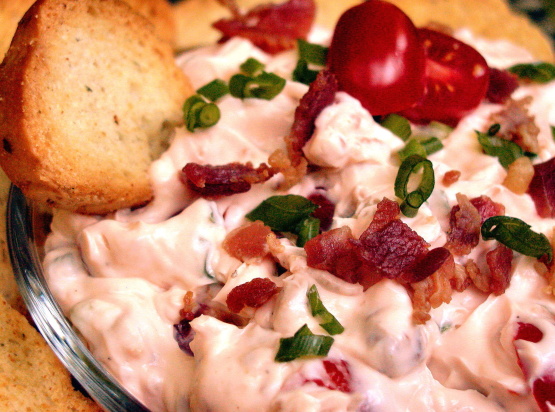 A new take on an old classic. Posted by request. I recommend using light mayo and light Breakstone sour cream.

I have a few major issues with this recipe. First, the fat content. Does anyone care that 1 serving is 84% of their daily value of fat? And where exactly is the lettuce? We can do better I think. My suggestions to make it better, cut the mayo in half, I would say use fat free mayo, but I can't stand the stuff myself. Use 3 cups of fat free sour cream to make up the difference. Use only a quarter of the prescribed bacon; two pounds is a bit much. When I made this I used a quarter pound and it was plenty. Bake your bacon on a wire rack as to allow most of the fat to drain away, and cook it crispy. I added 10 plum tomatoes and seeded them before dicing. It kept the added moisture under control. I like green onions, so I used about 1/2 cups worth, or about 6 onions. I used endive and romaine hearts instead of the crackers or chips. While I cut out a lot of the fat, I didn't cut out it all and it still tasted wonderful and got rave reviews from my guests.
In a bowl, combine the sour cream, mayonnaise, bacon, tomatoes and onions.
Refrigerate until serving.
Serve with crackers or chips.