B. L. T. Dip ( Bacon, Lettuce and Tomato) BLT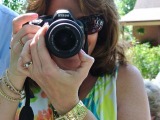 A new take on an old classic. Posted by request. I recommend using light mayo and light Breakstone sour cream.
Directions
In a bowl, combine the sour cream, mayonnaise, bacon, tomatoes and onions.
Refrigerate until serving.
Serve with crackers or chips.