teresas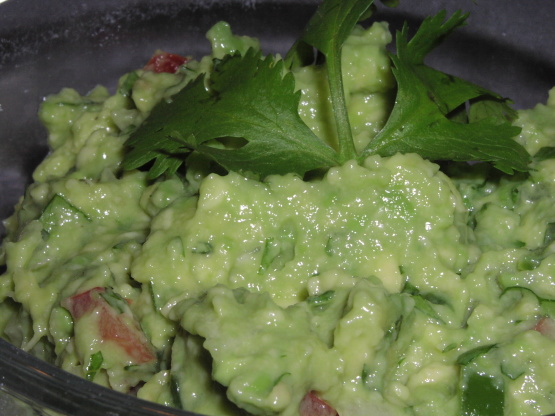 This recipe comes from The Best of Mexico cookbook. It won first place at my work site last year during our annual Cinco Day Mayo salsa and guacamole competition. Wear gloves when you chop the Serrano chilies. There is not a lot of lime juice in this recipe so prepare it as close to serving time as possible to avoid browning.

Wow! This is so yummy. I needed some guacamole for recipe #375957. DH and I normally don't eat it cuz we find it has no flavor...but this is packed full of it. We loved the serrano and cilantro in this recipe cuz it added a nice touch of heat and the flavor we enjoy. Thanks for posting this. It will be our chosen guacamole dish in the future. :)
Cut avocados in half and remove pits.
Scoop the avocado into a bowl and coarsely mash.
Add the onions, tomatoes, Serrano chili, lime juice, and salt.
Stir to combine.
Press plastic wrap down tightly on top of the guacamole until ready to serve to prevent the avocado from turning brown.