White cake
photo by Calee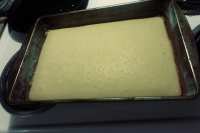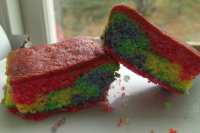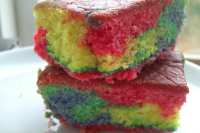 Ready In:

1hr

Ingredients:

7
directions
Preheat oven to 350 degrees F.
Grease and flour a 9x9 inch pan or line a muffin pan with paper liners.
In a medium bowl, cream together the sugar and butter.
Beat in the eggs, one at a time, then stir in the vanilla.
Combine flour and baking powder, add to the creamed mixture and mix well.
Stir in the milk until batter is smooth.
Bake for 30 to 40 minutes, or until golden brown and toothpick comes out clean.
Tweaks
Wonderful recipe! Cake flavor was great (although a bit sweeter than I wanted) and texture was very moist but not too crumbly after cooled. Initially, after reading all the reviews, I was worried about it coming out too dry and so I ended up adding 2 splashes more milk than required. I also used olive oil margarine instead of butter. The olive oil in the margarine definitely helped bring out the flavor immensely. (If I don't have this on hand the next time I make this, I would definitely use a splash of olive oil with margarine/butter).

 

Tips for Texture: For a fluffier, lighter textured cake: Use buttermilk or acidulated milk (milk with a splash of vinegar) in place of the regular milk For a denser more poundcake-style cake: Use melted butter instead of solid and/or use cream or condensed milk instead of milk and process entirely in the food processor. Tips for Technique: All ingredients should be at room temperature, including eggs and milk. Really let the creamed butter get very light before adding the eggs, then let the batter return to a light color (somewhere around an eggshell shade) after adding each egg. Alternate the wet and dry ingredients, beginning and ending with dry. This will keep your cake tender. Tips for Flavor: Add between 1/2 and 1 tsp salt to your dry ingredients to enhance the butteriness, add depth and balance out the sweetness. Use the smaller amount for free-flowing table salt and the larger for sea salt, Bakery trick: add a half a teaspoon almond extract and a few drops lemon or orange extract in addition to the vanilla. It's a classic bakery trick and makes it taste more complex and well-rounded than just plain vanilla.

 

This recipe is delicious!! I did substitute the milk for soy milk though, and I have tried it with butter and with oil, regardless it was always great. The cake was moist, and flavorful. The only complaint is if you don't double the recipe it makes a pretty small cake, if you want enough for a family you must double it.