Southern Biscuits and Gravy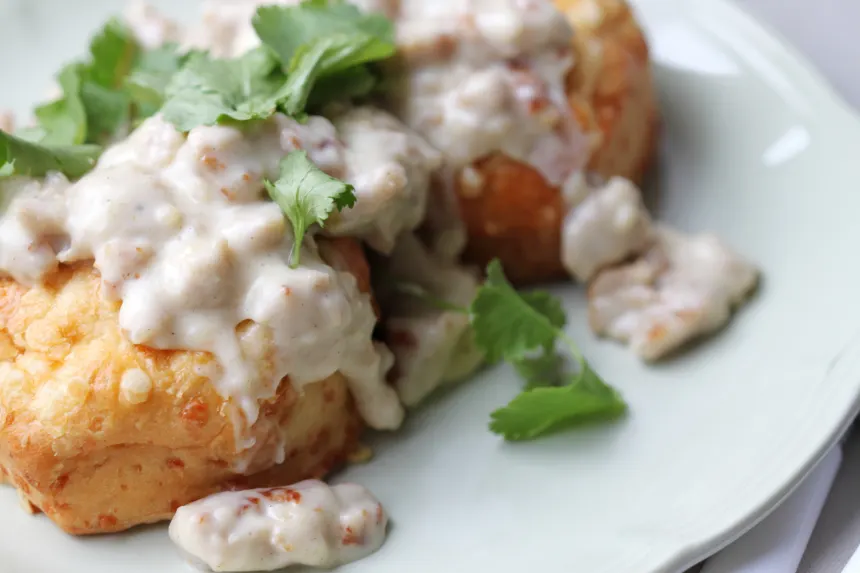 photo by Swirling F.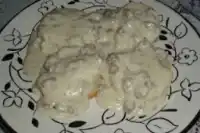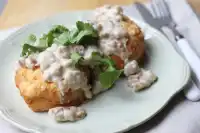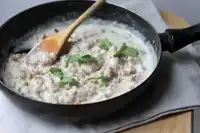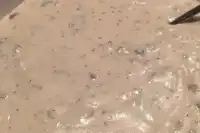 Ready In:

55mins

Ingredients:

13
directions
Combine the dry ingredients. Knead in the butter.
Add buttermilk and knead on a floured surface. Make sure you only knead it just enough to get the dough together. Do it gently so the flour doesn't develop gluten which will cause your biscuits to be tough.
Flatten the dough with the ball of your
fist. Use a glass to cut out your bisquits. Don't make them too tall or the outside may get crusty while the inside is still too doughy.
Cook them in a 350 degree oven on a greased cookie sheet and then get started on the gravy straight off.
Fry up the sausage until it's thoroughly cooked. Remove the sausage with a slotted spoon.
Don't drain the grease. You'll need it to make the roux. You should have about 2 tablespoons of rendered fat. Add the butter and melt it. Then add the flour a little at a time over medium heat, constantly whisking.
Cook for about 2-3 minutes. Now start adding the cold milk a little at a time, whisking incessantly.
Toward the end of the milk add the sausage back inches When it's nice and thickened up add salt and pepper to taste.
Cut the biscuits in half, pour the gravy over them, and enjoy! We're talking breakfast heaven here!
Reviews
Must admit that Frank C. points out something important to 'newbie' cooks which is how long to bake the biscuits ? As a southerner, and a cook for MANY yrs. ( though I live farther north now ). I must add: I've never added sugar OR vanilla to any biscuits I've ever made and sorry but I don't intend to when making biscuits and gravy. To each their opwn, maybe if I want a sweeter type biscuit someday I may try, but not with my sausage & gravy meals. BUT the gravy sounds good: tried and true, I've used real butter often in gravy when bacon fat or oil is sparse, so no prob! Makes the gravy texture creamier and who doesn't love butter? Thanks for posting. Think I'll go whip up sausage gravy & biscuits now! YUM!

 

The hubs and I both LOVE biscuits and gravy but this was the first time making them from scratch. While the sausage and gravy were pretty good and only needed a bit more seasoning than called for, the biscuits were incredibly odd. The sugar and vanilla threw off the taste of the meal as it tasted as though it should be a cookie and not a biscuit. Normally I would have eliminated the two but since I have never made buttermilk biscuits, my husband highly encouraged me to follow the recipe for once. Needless to say I should have followed my instincts.