Outback Steakhouse Bloomin' Onion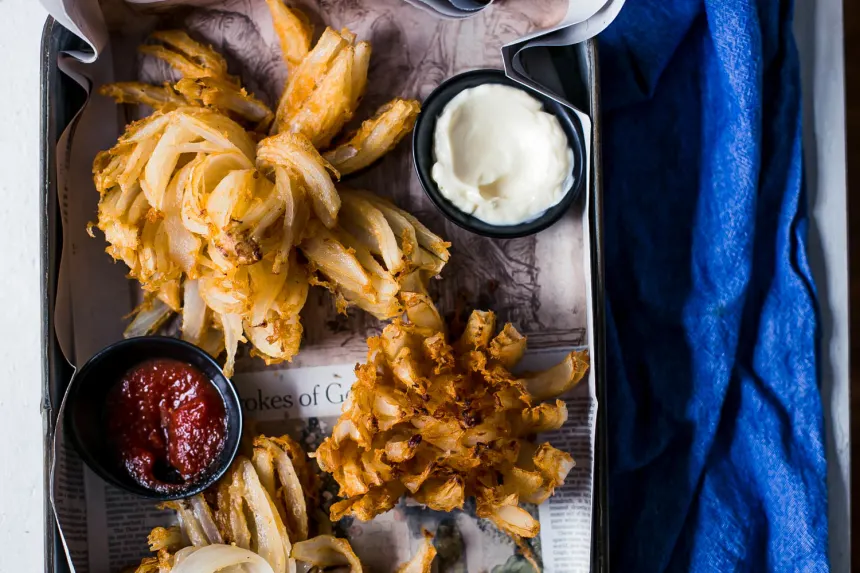 photo by Ashley Cuoco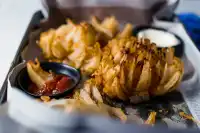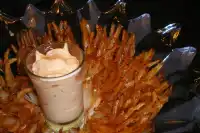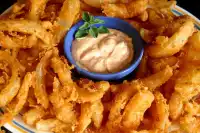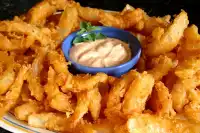 Ready In:

24mins

Ingredients:

25
directions
---------Alrighty-forthe seasoned flour-----------.
combine flour, paprika, garlic powder, pepper and cayenne-mix well.
--------Creamychili sauce--------.
combine mayo, sour cream, chili sauce and cayenne-mix well.
--------Dippingsauce----------.
Blend everything together well and let sit for 2 hours-refidgerated- or overnight.
--------Andfor the batter---------.
Mix cornstarch, flour and seasonings until well blended.
Add beer and mix well.
Cut about 3/4 inch off top of onion and peel.
Cut into onion 12-16 vertical wedges but do not cut through bottom root end.
Remove about 1 inch of petals from center of onion (You can place the cut onions in cold water for a few hours to help "open" them up -- just make sure that you drain them well).
Dip in seasoned flour and gently shake to remove excess.
Seperate peatls to coat thoroughly with batter.
Gently place in a fryer basket and deep fry at 375-400 for 1 1/2 minutes.
Turn over and fry 1 1/2 minutes more or until golden brown.
Drain on paper towels.
Place onion upright in a shallow bowl and remove center core with a circular cutter or apple corer.
Serve hot with chili sauce and dipping sauce.
Questions & Replies

Reviews
Well, this is similar to the recipe I have, but different at the same time. The Sauce is identical ingredients though. However, the Bloomin' Onion itself is different. My batter is just an egg and milk wash. The Dry ingredients you don't mix with the Wet ingredients. Also, there is MUCH more Cayenne in the Dry with a few other ingredients as well. It comes out with a 'KICK" that is JUST LIKE Outback Steakhouse!!!!!! There is WAY TOO MUCH FLOUR in this recipe; it is killing the spices which is what I want to taste with a Crispy Coating--mine has it! <br/><br/>Slicing the onion is a Challenge, but just take your time and slice carefully! It may not come out perfect, but it is dang good. If anyone wants the recipe, just let me know.

 

Loved it, perfect. Not a single complaint. And yes ... letting them sit in cold water seriously works wonders. I also did mushrooms (buttons) the same way the the same sauce. Sauce batter too. Equally as good. IT WAS A FRY night, can't you tell. We did wings too. I did have veggies though, it offset all the bad frying. But ... IT WAS so tasty! Thanks for an easy good very accurate recipe.