Lemon Chiffon Cake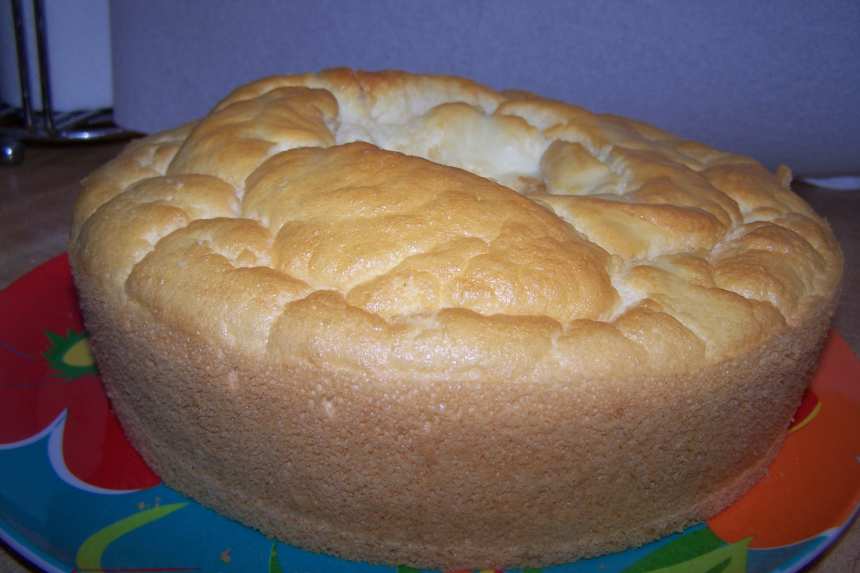 photo by ladypit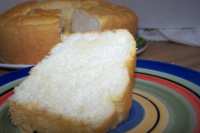 Ready In:

1hr 10mins

Ingredients:

13
directions
In a bowl, sift together flour, SPLENDA, baking powder and salt.
Make a well in centre of flour mixture.
Add ingredients to well in the following order: oil, egg yolks, water, lemon rind and juice.
Beat with mixer at medium speed until smooth.
Beat egg whites with cream of tartar until very stiff peaks form.
Add batter and fold in gently.
Pour into ungreased 10-inch (25 cm) tube pan or non-stick Bundt pan.
Bake at 325F (160C) for about 50 minutes.
Invert pan and cool for 45 minutes.
Gently loosen cake from pan.
LEMON GLAZE: Mix 1/2 cup (125 mL) icing sugar and about 1 Tbsp (15 ml) lemon juice, until smooth Drizzle over cooled cake.
Questions & Replies

Got a question?
Share it with the community!
Reviews
I keep on my kitchen counter a white milk-glass fruit bowl on a pedastal, always filled with lemons. Truth be known, they are there more for color than cooking. But your recipe coaxed me to pull them out, zest them and juice them, and put them in a cake. I am so glad I did. This cake had a lovely texture for me, airy and light, with a wonderful tart flavor. I will confess to using twice the zest, and adding some to the glaze as well. Most things, I think, improve with more zest. Thanks you, friend, for sharing your recipe and my kitchen today.

 

A good solid cake diabetic cake recipe. Really a beautiful cake, with a light lemon flavor and airy texture. As the cake aged it got a little dry but was perked up easily by adding a little glaze (which I did not do to it originally). While not the most diabetic friendly addition, I did find that a tbsp. of Rita L's Lemon Curd (#61278) was divine on top. This is a good solid cake recipe. Thanks Toolie!

 
RECIPE SUBMITTED BY
<p>Gone, but not Forgotten. Where is she? someone asked. Not far was the loud response. Certainly not hiding in a large roasting pan, although I do have one about the size of a hog. <br /> <br />If I don't do this now, I never will, and if I never will, who will tell me if I am any good at the literature game? I am taking some time off to concentrate on writing a book...and you people have been distracting me. Oh yeah, sez you... What kinda book? Well, one with about 200 pages, give or take a dozen or so... maybe 300 who knows? Everyone knows Toolie has a lot to say at the best of times. <br /> <br />A DIY book??? Naaahhh, I'll leave that to the real mechanics at Canadian Tire and Home Depot. <br /> <br />A Recipe Book? Yeah, Right!!!! Like I would compete with this site or any other... Not in this lifetime... I have a tough enough time competing with some of you chefs, so I just don't, and won't. <br /> <br />Oh sure, I will cook some of your recipes, for special occasions. Pictures? Who knows? but don't hold your breath. Posting in the forums? Perhaps, but not on a regular basis... Posting recipes??? from time to time.... <br /> <br />Why hang around, you say? Because I wanna keep my terrific handle. There is only one TOOLBELT DIVA folks... Dat Be Me! <br /> <br />Remember, be careful what you say, you might find yourself in the second paragraph of page 150, or thereabouts. <br /> <br />In October, 2007 my youngest sister, Marie lost her battle with ALS. In her memory, therefore, I post the following: <br /> <br />SISTERS <br /> <br />Time passes. Life happens. Distance separates. Jobs come and go. Love waxes and wanes. Hearts break. Parents die. Careers end. Life happens ... <br /> <br />BUT...... Sisters are there, no matter how much time and how many miles are between you. <br /> <br />When you have to walk beside one dear to you in that lonesome valley, the women in your life will be on the valley's rim, cheering you on, praying for you, pulling for you, intervening on your behalf. <br /> <br />They will walk beside you, share your sorrow and share your tears, knowing all the while God is there with you, to give you the strength and faith you need and the everlasting blessings of healing love. <br /> <br /> <br /> <br />BE THE CHANGE YOU WANT TO SEE HAPPEN IN THE WORLD (M. Gandhi) <br /> <br />IT'S NEVER TOO LATE TO BECOME WHAT YOU HAVE ALWAYS WANTED TO BE (Georges Eliot) <br /> <br />THAT WHICH WE PERSIST IN DOING BECOMES EASIER, NOT THAT THE TASK ITSELF HAS BECOME EASIER, BUT THAT OUR ABILITY TO PERFORM IT HAS IMPROVED. (Ralph Waldo Emerson) <br /> <br />Have fun everyone! Remember, look out for the guy in back of the guy in front of you!!!</p>
View Full Profile