Jamaican Beef Patties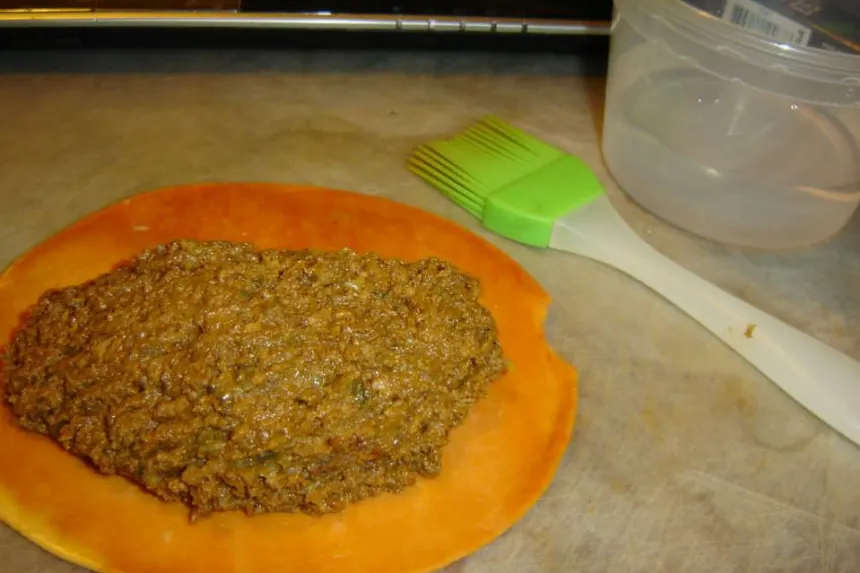 photo by heartshapedpan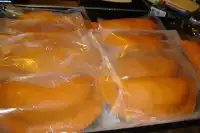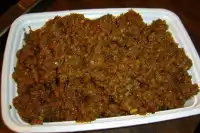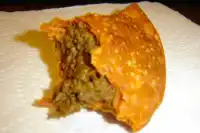 Ready In:

1hr 25mins

Ingredients:

20

Serves:

4-6
directions
--------DoughDirections---------.
Combine flour, salt, and curry powder in work bowl of food processor, pulse to combine.
Add butter or shortening and process until mixture looks like fine crumbs.
In a bowl combine water, vinegar, and egg yolks.
Add wet mixture to work bowl and pulse until a ball forms.
Cover dough in plastic wrap and let rest in refrigerator for 1/2 hour.
---------FillingDirections----------.
Preheat oven to 350 degrees.
Mix together meat, scallions, salt, onion and 1 tablespoon of thyme.
Place in the frying pan with a teaspoon of cooking oil and cook over medium heat until meat is cooked, about 10 minutes.
Pour off excess fat.
Add in breadcrumbs, the rest of the thyme, black pepper, habanero, paprika, and ketchup.
Cook 15 minutes more, adding water as necessary to keep the mixture moist.
Cool before filling pastry.
Roll the dough out to 1/8-inch thick.
Cut the dough into 6-inch circles or whatever shapes you want.
Put filling on one half of the dough.
Brush the edges of the dough with the beaten egg.
Fold the dough over the filling to make a half moon shape and press the edges together firmly, sealing them with a fork.
Place the patties on a greased cookie sheet and bake 20-25 minutes.
If making cocktail size, cut the dough into 3-inch circles.
Questions & Replies

Got a question?
Share it with the community!
Reviews
I love the recipe! As a time saver, I use Goya Discos (premade empanada dough in the frozen section) instead of making the dough myself and it cuts the time tremendously (about 40 minutes start to finish). I grew up on Jamaican beef patties so the short cut allows me to have it whenever I get a craving. When I use the premade dough I egg wash the tops to make them shine. I can even get my fiance to help assemble the patties. To keep the patties HOT keep the habanero seeds in; less hot but still with spice take out the seeds, and omit the habanero if you have a person who just can't take the heat.

 

Made these and photo-ed them awhile ago. I too used the GoyaBrand Discos for pure ease of not having to fuss with the dough process too since I probably did not follow the recipe to a tee but definitely used as a starting point. I like to taste as I go to try and imitate that unique flavor I am desiring. These came out a bit spicy on my fault alone (too much cayenne ) . With that they were perfect little patties but not quite completely authentic tasting. They were good. I hope you enjoy the photos.

 

This is an awesome recipe. I've made it three times now. Be warned it can be very labor intensive, but it's really worth it. The first time, I think it took me about 3-4 hours. The last time I got down to 2 hours. The changes I made: 1. The meat needed alot more salt than the recipe calls for, so I added to taste. 2. I increased the habanero for extra spicyness. 3. I added 4 or 5 cloves of garlic to the meat. 4. I eliminated the thyme, due to personal taste preference. The texture of the dough was wonderful and perfectly complimented the filling. I would suggest splitting the dough into equal parts of 7-8 dough balls. It's very easy to get the exact dough necessary that way, basically this gets you restaurant-sized patties. I made the mistake of filling the patties up too much, I would say use about 1/4 cup of filling. My family are huge fans of jamaican foods and they gobbled these right up!

 

I love patties and have tried a few different recipes so I thought I would try one more. My search continues for the perfect authentic pattie! The dough was easy to make, I used 1/2 cup of shortening and 1/2 cup of butter instead of 1cup of shortening. The crust turned out flaky and delicious but I will omit the butter next time as it ws a little too buttery tasting. The filling was tasty but I definitely like a bit more kick to mine. Something is missing but I cannot figure out what. Perhaps a bit of curry in the meat and a few cloves of garlic. I will try it next time. Overall, a good recipe but you may want to tinker around with the filling depending on the intenisty of heat you desire.

 
Tweaks
I love jamaican beef patties and this was my first attempt at homemade. Unfortunately the dough didn't turn out nice and flaky and was very bland. As for the filling, after doubling all the seasonings, the filling was very, very tasty. Ialso used 2 tbls of tomato paste instead of 2 tsp ketchup, 1 1/2 tbls onion powder (didn't have an onion), and added 1 tbls of garlic powder. This is a good starter recipe however I'm in search of a flakier, tastier shell.