Gluten-Free Caraway "rye" Dough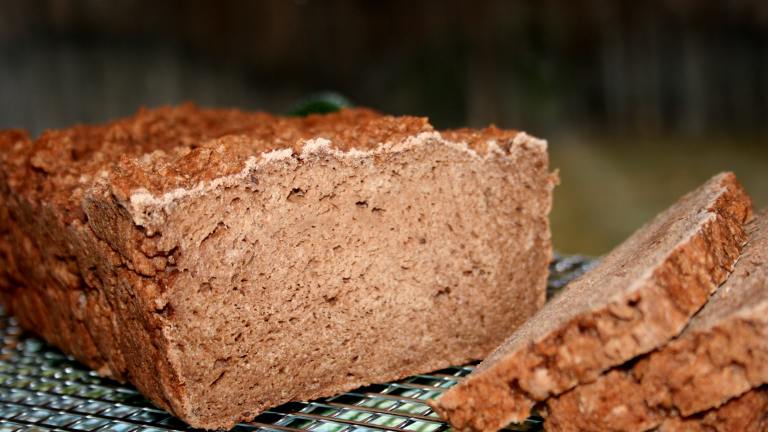 This is from Judith Fertig's book 200 Fast & Easy Artisan Breads. I have never made it, but am posting it by request. The master recipe is already dairy free, and you can use an egg substitute if you need to. It is the assortment of flours & other ingredients that is supposed to give you a finished product that resembles a rye bread. The recipe notes that the dough is unique, at first it will resemble a very wet batter. After an hour it will thicken to the consistency of brownie batter. After 2 hours it rises to about 1 inch from the top of the bowl & looks like cornbread batter or golden mashed potatoes. The raw dough doesn't taste like a yeast bread dough. I will create a gluten-free recipe book in my shared cookbooks that will include all of the gluten-free recipes from this book. If you don't have a baking stone, you can still make artisan breads, just make sure your oven has preheated for at least 30 minutes & add the 2 cups of water to a broiler pan
Ready In:

3hrs

Serves:

Yields:

Units:
directions
Measure flours and cornstarch into 16 cup bowl, whisk to combine well.
Whisk in xanthan gum, yeast caraway seeds & salt.
Lightly beat eggs in a separate bowl, add cocoa, water, molasses, oil & vinegar to the eggs. Whisk to combine.
Add wet ingredients to flour mixture, and whisk until a smooth, very loose, batter-like dough forms.
Cover bowl with plastic wrap (or a shower cap) & let rise at room temperature for 2 hours or until the dough has nearly risen to the top of the bowl & has a thick, golden, mashed potato-like appearance.
Use immediately, or refrigerate for up to 3 days before baking.
For 1/2 a recipe of dough grease a 9 x 5 loaf pan, or scoop about 1/3 cup of batter into each of 12 greased muffin cups, cover with a teatowel & let rest at room temp for 40 minutes.
For artisan baking, preheat oven to 350°. Heat baking stone on middle rack & broiler pan on lower rack for about 30 minutes while preheating oven.
Pour 2 cups hot water into broiler pan. Place loaf pan or muffin pan on hot stone. If making 2 loaves, place pans at least 3" apart on baking stone.
Bake rolls for 22 - 25 minutes, loaves for 27 - 30 minutes, till crust is medium dark brown. Instant read thermometer inserted in center should read at least 190° F, or 90°C
Cool in pans on wire rack for 10 minutes. Remove from pans & let cool on rack.
Submit a Recipe Correction
RECIPE MADE WITH LOVE BY
"This is from Judith Fertig's book 200 Fast & Easy Artisan Breads. I have never made it, but am posting it by request. The master recipe is already dairy free, and you can use an egg substitute if you need to. It is the assortment of flours & other ingredients that is supposed to give you a finished product that resembles a rye bread. The recipe notes that the dough is unique, at first it will resemble a very wet batter. After an hour it will thicken to the consistency of brownie batter. After 2 hours it rises to about 1 inch from the top of the bowl & looks like cornbread batter or golden mashed potatoes. The raw dough doesn't taste like a yeast bread dough. I will create a gluten-free recipe book in my shared cookbooks that will include all of the gluten-free recipes from this book. If you don't have a baking stone, you can still make artisan breads, just make sure your oven has preheated for at least 30 minutes & add the 2 cups of water to a broiler pan"
Amazing! I love, love, love rye bread! I'm Irish and the Reuben sandwich is one of my very favorite foods, but after going GF, I nearly cried having to give away my rye flour and thinking I would never get to eat rye bread again. I also use rye bread in my homemade stuffing for holidays and really, really missed it this year. I am over the moon happy now that I have a "rye bread" recipe that tastes just as good as a bread using rye flour! I reduced the recipe by half, which was easy except for the oil. After measuring and dividing the 1/3 cup of oil in the full recipe, I ended up using 3 Tablespoons in the half recipe. This loaf of bread is moist, dense and has a beautiful rye flavor that is definitely not over-powering. Even the "light only" rye lover in the house loves this bread. I wasn't able to bake this recipe with the baking stone and water, because I already had a slow-cooking recipe in the lower oven. I had to use the upper oven and there just isn't room for even the baking stone, but it baked up wonderfully anyway! Thanks for posting another awesome, forgot-that-it's-even-gluten-free bread recipe, Demelza!

This is from Judith Fertig's book 200 Fast & Easy Artisan Breads. I have never made it, but am posting it by request. The master recipe is already dairy free, and you can use an egg substitute if you need to. It is the assortment of flours & other ingredients that is supposed to give you a finished product that resembles a rye bread. The recipe notes that the dough is unique, at first it will resemble a very wet batter. After an hour it will thicken to the consistency of brownie batter. After 2 hours it rises to about 1 inch from the top of the bowl & looks like cornbread batter or golden mashed potatoes. The raw dough doesn't taste like a yeast bread dough. I will create a gluten-free recipe book in my shared cookbooks that will include all of the gluten-free recipes from this book. If you don't have a baking stone, you can still make artisan breads, just make sure your oven has preheated for at least 30 minutes & add the 2 cups of water to a broiler pan