German Lebkuchen With German Baking Wafers Oblaten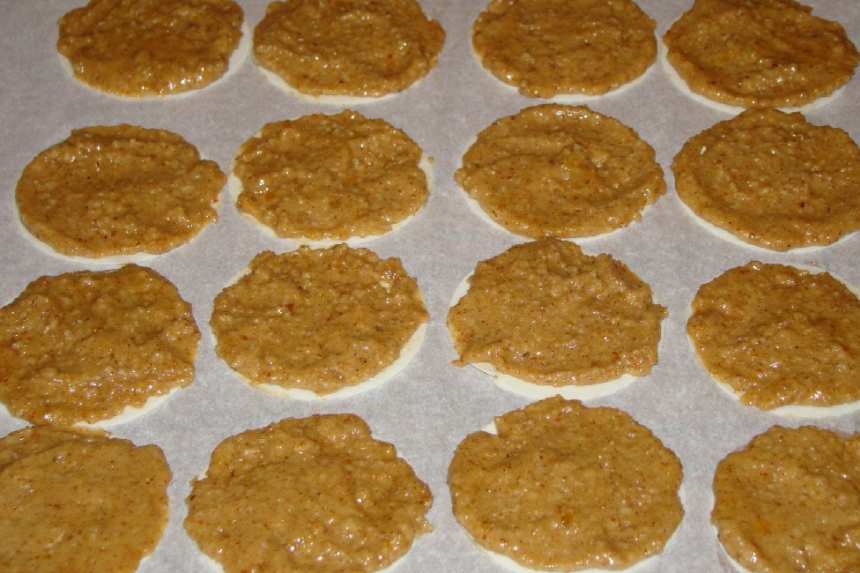 photo by LB in Middle Georgia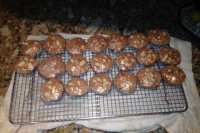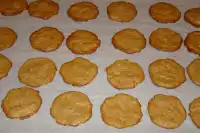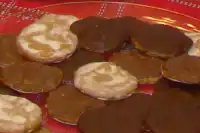 Ready In:

40mins

Ingredients:

17
directions
In the bowl of an electric mixer or in a large bowl, beat or whisk the eggs and sugar together until light and fluffy.
Place the bowl over a pan of simmering water over low heat and heat, whisking until the mixture is thick and very warm (about 130 F) Remove from the water bath and continue beating until the mixture is cool.
Combine the almonds, flour, zests, and spices in another bowl.
Stir into the egg sugar mixture.
Cover and refrigerate overnight.
Place the oblaten on baking sheets 2 inches apart.
Spread 1 rounded tablespoonful of the cookie dough on each oblaten, spreading to the edges of the wafers.
Let the cookies stand, uncovered, for 1 hour before baking so that the top will dry.
Preheat the oven to 350°F.
Bake the cookies for 15 to 20 minutes, until the cookies are crusty on the upper surface, but still moist in the center.
Remove the cookies from the baking sheet and cool on a wire rack.
In a small bowl, stir the sugar and lemon juice together to make a thin glaze.
Spread over half of the cooled cookies.
Place the chocolate into a glass bowl and heat in the microwave at high power for about 2 minutes, stirring every 15 seconds, until melted.
Spread the melted chocolate over the remaining cookies.
Decorate with the almonds.
Makes 42 to 48 cookies.
The Great Holiday Baking Book Beatrice Ojakangas.
Reviews
Having a German husband I have always wanted to make these. I wanted to make these for our Christmas visit as a treat to all of my husband's family. After mixing this I looked at the dough and thought this is soupy so because one of reviewer said she had similar trouble I went ahead and added a half of a cup more flour, my dough now looked sticky like soft ball stage that is the only way to describe it. The flavor is unbelievable Yum, my husband is really excited. And we are both bummed that we have to wait until tomorrow, but if they are as good as the dough I am happy to wait. When it came time to cook I was worried I know that I should NOT have added more flour. When my cookies came out of the oven they were flat and denser. The amount that I put on the oblaten was not enough in my opinion, next time I will spread it on and then put another blob in the middle to make a mound. I got 60 cookies. We personal all liked the lemon sugar glaze the best, and the cookie was even better after being in the refrigerator for a few days and the flavor was better than store bough, even my German mother in law said so. If I only make one Christmas cookie next year this would be the one. Thank you so much I got 60 cookies

 

WOW! This is my new lebkuchen recipe! Much, much better than my own recipe (which a German baker told me was the best she'd ever had). Lots of work for this one, but well worth it. I used only the orange rind, and a German lebkuchen spice mix (3 1/2 tsp) instead of the individual spices. I used 3" wafers, and it made about 36. I did not chill overnight, but about 3 hours. I had to use a wet spoon to smooth them out, but that's normal. Covered half in glaze and half in chocolate. Terrific!

 

Have made these for years. My husband was born in Germany and his parents like them better than the ones they grew up with. I also candy my own fruit peels for this recipe and it's so much better! My absolute favorite cookie! Plus my SIL found a stash of them I had wrapped individually in plastic wrap and given to my MIL six months ago and she said they were still yummy!!