Chilean Empanadas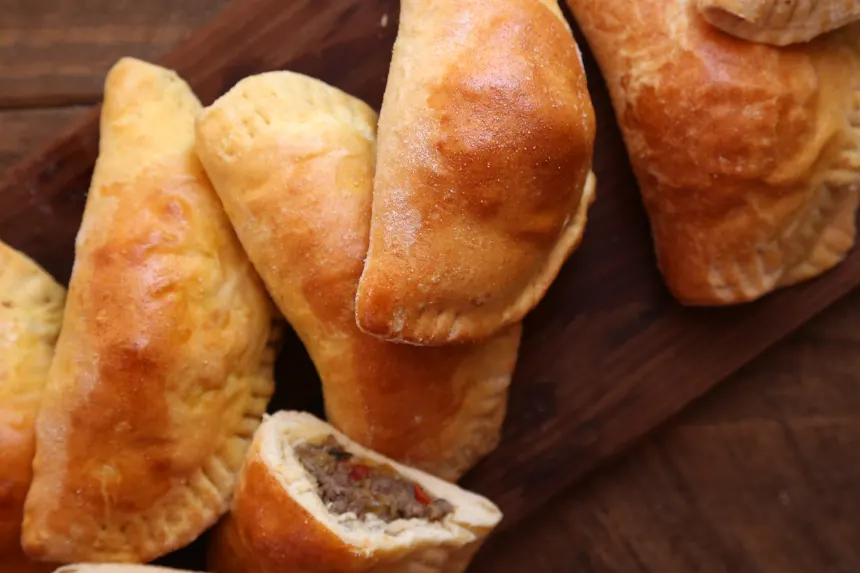 photo by Probably This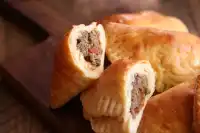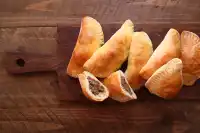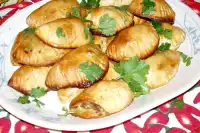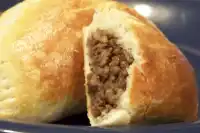 Ready In:

45mins

Ingredients:

15
directions
Heat oil in heavy skillet over medium heat.
Add beef, bell pepper and garlic.
Cook until beef loses its pink color and vegetables begin to soften, about 6 minutes.
Add raisins and next 6 ingredients and cook until mixture is thick, about 5 minutes.
Season to taste with salt and pepper.
Mix in cheese and cilantro.
Preheat oven to 375º.
Roll out one biscuit on lightly floured surface to 4-inch circle.
Brush half the dough with egg wash.
Place 1 rounded tablespoon filling on dough.
Fold over to crate half circle; press edges to seal.
Using fork, crimp edges.
Place on large baking sheet.
Brush with egg wash.
Bake until golden brown, about 12 minutes.
Reviews
Buttermilk Biscuits? really? As someone who's wife is from Chile; and myself been their several times, that surely is not how you make Chilean empanadas. Traditional chilean empanadas contain; simply, 1lb ground beef, cumin, paprika, 2 cups diced onions (cook with garlic till soft an golden), 3 cloves garlic, raisins (which are optional), one or two black olives (whole), and half of a hard boiled egg. Do yourself a favor and take the hour to make the dough..mix 3 cups flour, 1 teaspoon salt / baking powder, add 1/3 cup melted crisco, 3/4 cup warm milk, and 1/4 cup warm water. mix well and knead till dough is soft but not sticky...let it rest for 30 min....roll away. i will add my own recipe page

 

A few years back a sweet older Chilean man from my old job would bring in empanadas that his wife made to make some extra money. They were simply delicious! Since then I've been searching for an empanada recipe that was like his. I've found it in this one. To make it more like his, I added some chopped raisins. I adjusted some of the seasoning and added some Adobo all purpose seasoning (Goya makes it). Next time I will add some chopped hard boiled eggs to bring it closer to the empanadas that I miss so much. Instead of using the biscuits, I used empanada disks made by Goya (discos grandes para empanadas) to make it more authentic (they are found in most supermarkets, especially those located where a Spanish community lives). I too brought these to my current work place(for free though) and my co-workers loved them as well. Thank you Charmie777 for bringing a bit of nostalgia into my life.

 
Tweaks
We loved these, Charmie!! I did decrease the spices a bit to suit us. I am not sure what I did wrong but in step 4 there was nothing to thicken in with the meat. I used extra lean ground beef so that may have made a diff. I did use peas instead of raisins as I have a raisin hater here! I ended up adding in nearly a 1/2 cup of water to make it a bit juicy. It didn't seem to hurt the flavour. They went together very quickly after I got the hang of it. We will be fighting over the leftovers for lunch tomorrow. I made these for ZWT4. Thanks for sharing another great recipe.

 

I used the filling with some variations - put some grated celery root in it because i had to use it up and I put dried cranberries in it instead of the raisins and seasoned it with cinnamon instead of allspice- and it was grea! I put the filling between two sheets of pastry dough and cut it afterwards into small squares. It was the appetizer at our big family christmas meal. It went down really well with the wine from my sisters own vineyard. The square empanadas were also well recieved by the youngsters (2-10 years)! Thankls, charmie - I love it! Perl