Bacon and Cheese Souffles
photo by Swirling F.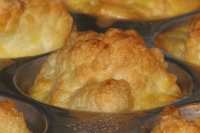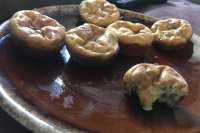 Ready In:

45mins

Ingredients:

7
directions
Preheat oven to 350 degrees.
Melt butter in medium saucepan on medium heat.
Stir in flour.
Cook 1 minute.
Gradually add milk, stirring until well blended.
Cook and stir until mixture comes to a boil.
Remove from heat.
Add cheese, stiring until melted.
Stir in mustard and bacon.
Cool slightly.
Stir in egg yolks, 1 at a time.
Beat egg whites with electric mixer on medium heat until stiff but not dry, about 5 minutes.
Gently fold into yolk mixture.
Pour into 12 lightly greased nonstick muffin cups.
Bake 25 minutes or until puffed and set.
Reviews
omg so good the two of us ate them all!. I had a few pieces of bacon left and some eggs and ive never made a soufflé but googled it and got this! It was very thick like dough and i thought i did it wrong but when i added the eggs it loosened up. It says bring to a boil but its weird to boil dough... either way i followed the directions and it came out killer. my gf said it was fluffy and delicious but recommended adding jalapenos. I thought it would be good with spinach, i will try the variations in the future. great recipe and fun :)

 

Great flavour, very easy to make and something that I would attempt again. I made this as directly but they collapsed as soon as I gently removed them from the oven. My oven light doesn't work so it could have been because I had to open the oven door to check in on their progress. They didn't look as nice but they tasted very good! Made for Went To The Market tag game. Thanks CoffeeB! :)

 

WOW! These are super yummy. I've always heard souffles are hard to make, so I've never attempted one, but come on...bacon...cheese...how could i resist this one? It was so good! It wasn't nearly as hard as I expected to make either. I never got my flour, butter, milk mixture to boil, but it was getting super thick so I just took it off the heat after waiting for quite some time...but they turned out great anyway. I only have a regular small muffin tin, I would love to make these again in jumbo tins. I'll have to go out and buy one. Great recipe and easy to make! This is a keeper. Thanks CoffeeB!

 

I liked the flavor ok, but I will never again make a souffle in a muffin pan. You have to wreck the lovely airy rise to get them out and mine stuck terribly despite a greased, non stick pan. Next time I'll just grease individual souffle cups and serve them hot out of the oven. If I take the time to make a souffle, I want to enjoy that fluffy goodness.