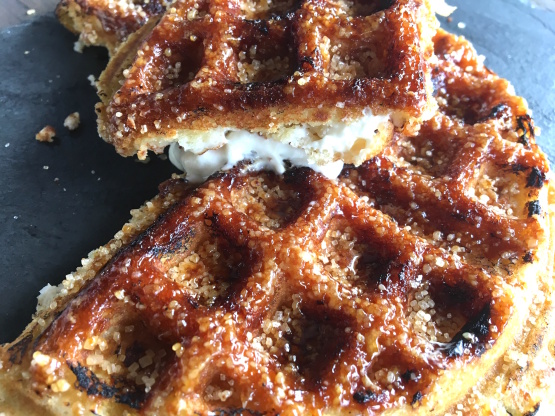 Brulee Your Breakfast With Cream Cheese-Filled Waffles
Crème brulee waffles celebrate the crispy sugar crust and creamy custard of the classic dessert, married with a fluffy buttermilk waffle.
For me, breakfast and dessert are interchangeable. I mean, let's face it, a muffin is really just a naked cupcake. These waffles are the ultimate example: they're great for a winter brunch or as a dessert served with a scoop of ice cream!
get the Food.com app.
Watch on your iPhone, iPad, Apple TV, Android, Roku, or Fire TV.
Learn More
1
Make Cream Cheese Filling
Using a stand or hand mixer, or a whisk, blend all cream cheese filling ingredients (cream cheese, powdered sugar, vanilla extract and salt) ingredients until smooth.

Place the filling in a piping bag or scrape it into a small bowl. Set the filling aside.

2
Make the Batter
Whisk together the flour, baking soda and salt and set aside.

In a large bowl, whisk together the brown sugar and egg yolks. Add the buttermilk, melted butter and vanilla and set aside.

In the bowl of an electric mixer fitted with the whisk attachment, whisk the egg whites until medium-stiff peaks form. You can also do this by hand.

Whisk the dry ingredients into the wet until smooth, then fold in the egg whites.

3
Make the Waffles
Preheat a waffle iron to the medium heat setting.

Generously spray both sides of the iron with non-stick spray.

Sprinkle 3 to 4 tablespoons of raw sugar onto the bottom of the iron, then spoon a scant cup of batter evenly on top of the sugar.

If using a piping bag, pipe a swirl of the cream cheese filling on top of the batter.

If not using a piping bag, drop 4 generous tablespoons of filling randomly over the batter.

Sprinkle a tablespoon of raw sugar on top of the waffle and close the iron. Cook for 2 to 3 minutes until the top is golden brown and releases from the iron when opened.

Spray the top of the iron with non-stick spray and sprinkle the top of the waffle with another generous tablespoon of raw sugar. Close the lid and cook for 1 minute more or until the sugar has melted and formed a crust.

Remove the waffle from the iron and place on a cooling rack. Wipe down the iron and repeat with the remaining batter.

Serve with lightly sweetened whipped cream.