A Perfect Aperitivo Pairing
Sip, eat, repeat.
I remember my first encounters with aperitivo all too well. Back in my days as a model agent, Milan Fashion Week was obligatory. Normally, these kinds of weeks tend to be work-hard-play-hard affairs. But Milan is a little bit different. As the work day ground down, the streets began to fill with people and the air began to thrum with conversation. The aperitivo hour was upon us. My first Negroni, was almost a mystical experience, as though, in one taste, my Britishness fell away.

While we cannot all be Bellucci or Mastroianni (or even Lucy Honeychurch), there is absolutely no reason why we can't bring a little of this spirited Italian ritual home with us.

Aperitivi is city drinking — a blast of something bittersweet to start the juices flowing before dinner and before whatever else old Diadochus had in mind. But to grasp these drinks' particular Italian qualities, we need to pay attention to two key components that feature either singularly or together in almost every Italian cocktail imaginable: vermouth and Campari.

Want to know more? Pick up Kay's book, Aperitivo, today.

get the Food.com app.
Watch on your iPhone, iPad, Apple TV, Android, Roku, or Fire TV.
Learn More
Start with an Aperitif
There is nothing else like Campari. It has its imitators. The big Turin drinks companies Martini and Gancia both make things that try to compete with it. Even they fall short of the mark. For Campari is unique.

It belongs in a class of drinks known as digestive bitters. These are distinct from cocktail bitters, which are "non-beverage products", that is to say, you don't drink them on their own. Other digestive bitters include Fernet Branca and Cynar (read more in Aperitivo), Jägermeister from Germany, Suze from France, Becherovka from the Czech Republic and so on.

While all have their merits, none hold the yin and yang of bitter and sweet together in such sublime tension as Campari.

Make Yourself a Cocktail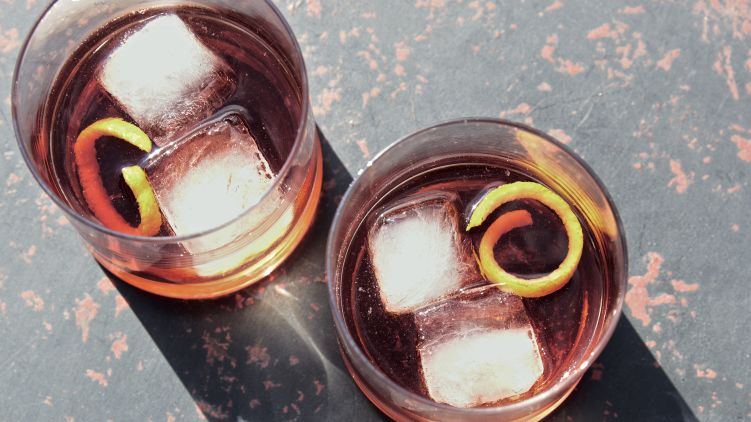 Find my favorite Campari-based cocktail recipe here. Hint: It's a Negroni.

Pair with Nibbles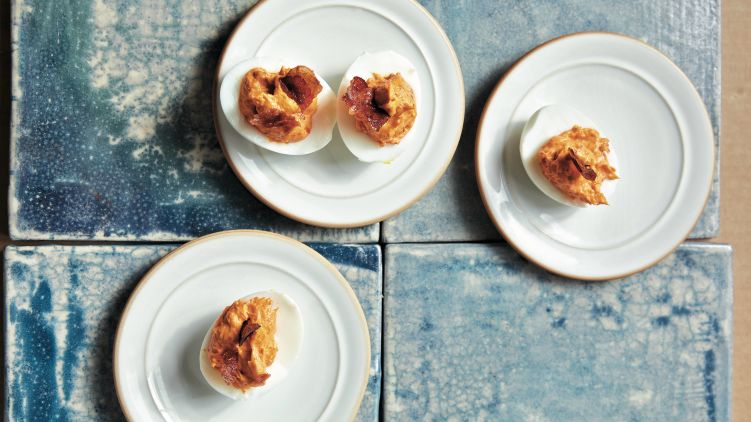 Make Calabrian Deviled Eggs — the sharp, hot, salty bite goes so well with the bittersweet notes of the Negroni. And, really, who doesn't love a deviled egg?

Find the recipe here.

Feast on Braesola Wrapped Asparagus — salt and crunch combine for the perfect finger food: this way you are guaranteed not to spill your precious drink!

18-24 spears of asparagus, washed and trimmed
3-4 sprigs fresh thyme
2 garlic cloves, bashed in their skins
18-24 slices of bresaola (cured beef)
2 tablespoons olive oil
sea salt and freshly ground black pepper

Roast asparagus, thyme, garlic and olive oil at 400 degrees F for 15-20 minutes. Remove from oven, let cool. When cool enough to handle, wrap each spear in bresaola and serve.

Looking for something a bit heartier? Desmond Payne, the Master Distiller at Beefeater Gin and a man with over 40 years' gin making experience, tells me that the most delicious thing with a Negroni is… mac 'n' cheese… with bacon! This is about as close to a cocktail pairing Commandment as you will ever get. Imagine you've found it carved in stone on the slopes of Mount Sinai.

Read more about the Genius Kitchen Cookbook Club!

--
All photos: Tamin Jones