You Will Get Better Soup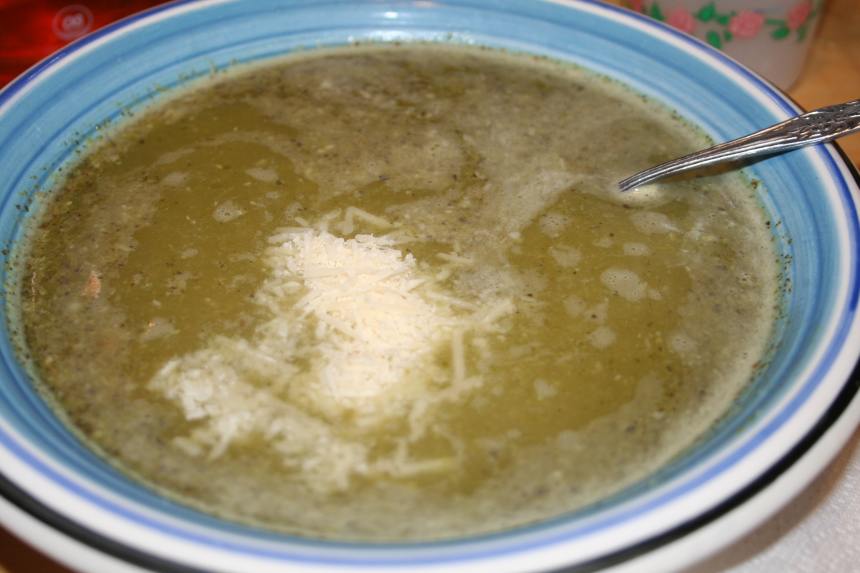 photo by Miss Diggy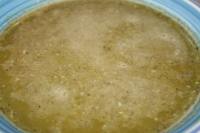 Ready In:

40mins

Ingredients:

7
directions
Combine stock, garlic, jalapenos, and herbs in pan, bring to a boil.
Reduce and simmer until garlic is soft, about 30 minutes.
Transfer to a blender, puree until smooth.
Season with salt, serve in mugs, topped with cheese.
Questions & Replies

Got a question?
Share it with the community!
Reviews
This soup was delightful! I made it because I've got a chest cold, and just "felt the need" to make something spicy to help clear my chest. I had tucked it away in my cookbook awhile back, figuring it would be there if I needed it. This last weekend...I needed it! I made a few changes, based on what I had on hand, which I'll document both for others and to remind myself what I did later... :D I used 8 cups of a very good quality chicken broth (I used Kitchen Basics brand), the 2 full heads of garlic, 2 very large, plump jalapenos (about 4-5" long each), 1 1/4 tsp. oregano leaves, 1 tsp. ground thyme, and grated "Mexican cheese" (4 cheese mix) from Costco. I skipped the salt by choice...tasted fine without it. Re. preparation, I didn't have any gloves, so I CAREFULLY used chicken tongs and a knife to cut the peppers lengthwise, then used the tongs and knife to cut the seeds (the hottest part) out. I left the peppers in quarters and didn't chop them...didn't want to risk it. After simmering the soup, I discovered my blender blade had "grown legs" (gotta love kids and DH's)...so I took all the solids out of the pot and transferred it to my food processor. I pulsed it a few times, then gradually added about 1 1/2 cups of broth to help it puree. Worked fine. Poured it back into the pot and stired. I have to agree with Miss Diggy on the flavor of this soup. It is absolutely delightful, and I guarantee I'll make it again! In fact, I went to Costco today and picked up a six-pack of chicken broth (I use two boxes per batch) so I can make some more. DH made all sorts of sad faces when he discovered he wasn't getting any of the last batch...figured I'd better make some for him since he was the hero that picked up the supplies for me when I wasn't feeling well. Thanks for an incredibly good recipe...and thanks for making me feel better when I was feeling icky.

 

I dont know *yet* of the healing properties that this soup claims to have, but I will let you know that this is HANDS DOWN the BEST broth like soup I have ever had! I used 4 jalapenos, and 2 heads (bulbs) of garlic. It is spicy, and it didnt make a ton (and at the last minutes kids decided they wanted cereal instead). DH and I ate all of it ourselves!! I did everything exactly as stated, and we even used grated parmesan cheese on top. I will definitely be making this again and again and again. Easy, yummy, and comforting!!! I will let you know how I feel tomorrow. Thanks Sudie!

 

I finally made this today... been feeling sick the last 2 days. Wonderful! Of course my nose is stuffy, but I think it tastes great! I used homemade bone broth, 3 jalapenos with seeds, a bit under the tsp of thyme (personal taste). Haven't added any cheese, I don't need the dairy but I bet it would be the bomb! I plan on adding some leftover chicken meat from last nights roast chicken... hubby asked me to, so he could share :)

 
RECIPE SUBMITTED BY
I live just outside the Big Apple. I am passionate about my husband, my kids, my cats, my friends, reading, cooking, and Santa Fe. I love "Marcella Cucina" and have enjoyed everything I made from it, but on a daily basis I use Mark Bittman's "How to Cook Everything". My pet peeve is procrastinators - don't they know it's ALWAYS later than you think????
View Full Profile