World's Best Cinnamon Raisin Bread (Not Bread Machine)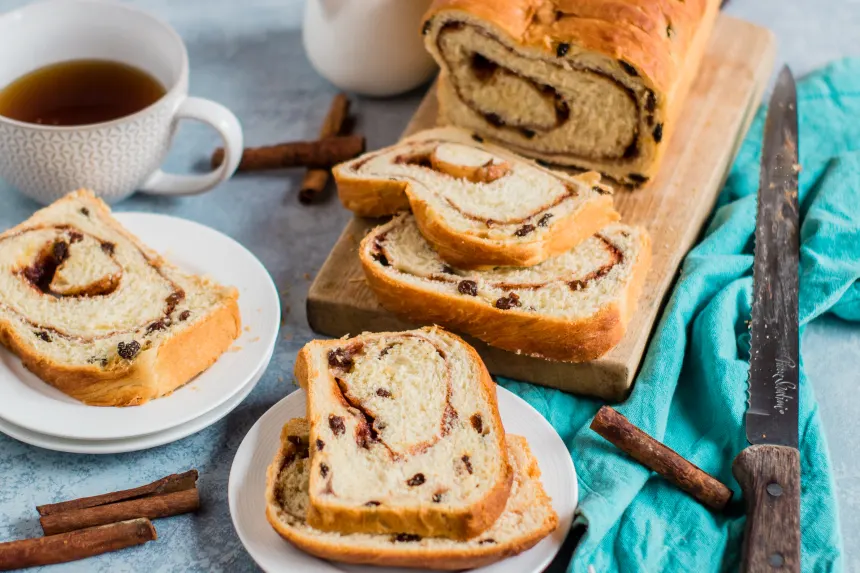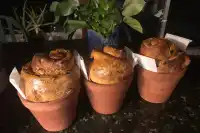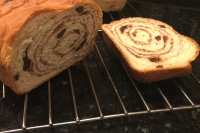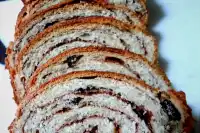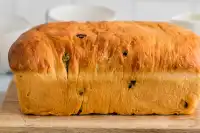 Ready In:

3hrs 45mins

Ingredients:

13

Serves:

36
directions
Warm the milk in a small sauce pan on the stove until it just starts to bubble, stirring occasionally.
Remove from heat.
Let cool until lukewarm, about 120-125 degrees.
Dissolve yeast in warm water and set aside until yeast is frothy, about 10 minutes or so (make sure your water is at the correct temperature or the yeast won't activate.) Then mix in eggs, sugar, butter salt and raisins (stir in the cooled milk slowly so you don't cook the eggs.) Add the flour gradually to make a stiff dough.
Knead the dough on a lightly floured surface for a few minutes until smooth.
Place in a large, buttered, mixing bowl and turn to grease the surface of the dough.
Cover with a warm, damp cloth and let rise (I like to let my bread rise in the oven with the light on. It has just the right amount of heat and keeps the bread out of drafts.) Allow to rise until doubled, usually about 1 1/2 hours.
Roll out on a lightly floured surface into a large rectangle 1/2 inch thick.
Moisten the dough with 2 tablespoons milk and rub all over the dough with your hands.
Mix together 1 cup of sugar and 3 tablespoons cinnamon and sprinkle mixture evenly on top of the moistened dough.
Roll up tightly (the long way).
The roll should be about 3 inches in diameter.
Cut into thirds, and tuck under ends and pinch bottom together.
Place loaves into well greased (you can use Crisco or butter for this) 9 x 5 inch pans and lightly grease tops of loaves.
Let rise in warm place, uncovered, again for about an hour.
Bake at 350 degrees for 45 minutes or until loaves are lightly browned and sound hollow when tapped.
Remove from oven and let cool on rack.
Take melted butter and spread over tops of loaves.
After about 20 minutes, lay loaves on their sides and remove from pans.
Allow to cool before slicing.
Questions & Replies

I was going to make these for teacher/staff gifts this year (our school requires a homemade gift) but I have to make 14... Do you think this recipe would work in the smaller foil loaf pans? Would you break one loaf recipe into thirds for the smaller loaf? How long does it keep for and how do you store the bread to keep it fresh. I hope this makes sense. Thank you for the recipe.

 
Reviews
I made this bread today, and it is amazing! I read all the reviews, and I did make some additions based on the helpful suggestions of others: I added 1 Tablespoon of sugar to the water that the yeast was proofing in, and I also added 1/4 c. white sugar, 1 Tablespoon cinnamon, and 1/2 tsp. salt to the dough. I also added 2 cups of raisins to the overall recipe (so there are 3 c. TOTAL), and put half of them (1 1/2 c.) in the dough, and half of them in the filling. I was a little worried that the chunks of softened butter would screw up the dough, but they were fine, and it didn't matter that they were all chunky before I put the flour in. I guess the kneading took care of them. It took me about 9 cups of flour to have a dough that was manageable. I also changed the filling a bit. I used 2/3 c. brown sugar (packed), 2/3 c. white sugar, 1/4 c. cinnamon, and I mixed it all together and sprinkled 1/3 of it in each loaf with the remaining raisins. The baking temperature was right on, and my loaves were done in 30 minutes. I'm sorry I messed with your recipe so much, but thanks so much for posting it! I am SO glad I took the time to try it and for all the others who have tried it and made the suggestions that made mine such a success. Thank you Lydia. :)

 

I don't write reviews nor did I decide to read any from this recipe...except for the one just before this one...I have tried to make bread for years and gave up trying to find one that was good enough for a repeat. I've been living in Denmark for about five years. They make wonderful bread here but they don't do cinnamon raisin bread here. Needless to say I miss it. Like I said I didn't read any reviews here and made this exactly as it read and lo and behold it was the best bread I've ever made. Holy crap was this good. I was so impressed that I had to set up a profile here to tell you how much I liked it...in fact I have more baking as we speak.

 

Oh My Stars! Ya'll weren't kidding about the "World's Best Cinnamon Raisin Bread" recipe! I took the advice of some of the others who wrote in and added a couple of my own. It is easier to divide the dough into thirds before you roll it. I did, however, "plump" up my raisins with some hot tap water and a little vanilla extract. And step 18, I just took a stick of butter with a piece of paper towel and lightly rubbed it on the hot bread when I took it out of the oven. This is by far, the BEST cinnamon-raisin recipe ever! Thank you very much!

 

WOW! This bread definitely lives up to its title! I made it last night and my husband was still raving about it as he was leaving for work this morning. Don't let the long list of directions scare you off-it's really pretty simple if you just take it step-by-step and follow the directions.<br/><br/>I had read that the stickier your dough, the fluffier and moister it will be once baked. I didn't use all 8 cups (about 7 instead) and the dough was still a bit sticky but elastic and in one piece. Loved the tip about letting the bread rise in the oven with the light on- worked perfectly in my old, cold kitchen! How have I not known about this before?? Also, when you roll your rectangle up, I found mine to be approximately 24 inches long (in addition to 3 inches thick) if that helps. I also didn't use the whole cup of sugar, only about 1/2 cup, and we found it to be be plenty sweet. <br/><br/>This is a fantastic recipe and I can't wait to try it, as one reviewer suggested, in bread pudding! Yum!!!

 
Tweaks
I soaked the raisins in Rum, water, sugar and vanilla extract. I didn't have any milk so I used a mixture of almond milk and heavy cream. I added a little cinnamon to the dough itself and used 2 cups of raisins. I also added 1 tsp vanilla extract, 1/2 tsp nutmeg and about 5 Tbl light brown sugar. Yummy!!!!! I'm sure most of you may already do this, but for those who don't; I lined my pans with parchment paper and lightly sprayed with Bakers Joy. It makes it so much easier to remove the loaves and clean up is a breeze!!! Great recipe, thank you!!!

 

Well it looks like I found a great recipe to make. I volunteer for a program that delivers meals to the Elderly and Disabled. This is one of the best recipes I have found yet to make for this program because it makes more than 1 loaf at a time and with the cinnamon and raisins definitely makes it a "WINNER!" I can guarantee you they will be thrilled.. 1 for having something homemade and 2 many of them will save it to eat with a hot cup of tea or coffee for a snack or for breakfast the next morning. Thank you for such a great recipe.. I'm always on the hunt for great recipes like this.

 
RECIPE SUBMITTED BY
I am a stay-at-home mom with a daughter who is almost 2 (will be December 1). My husband is in the Navy and is stationed here at NAS Brunswick. I am originally from Cape Girardeau, Missouri and lived there all my life until 2 years ago when we got transferred to Maine. I love to bake. I really just got into it after my daughter was born and I was able to stay home and have time to do it. I made my first yeast bread about a year ago and I am addicted to making them. I love to bake any kind of sweets, cookies, cakes, etc.
View Full Profile