Wonton Soup
photo by AcadiaTwo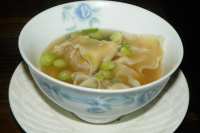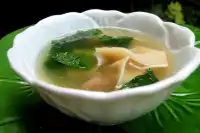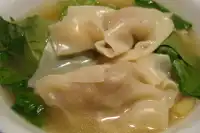 Ready In:

46mins

Ingredients:

15
directions
Soup Base:.
Place ingredients for soup base into a large soup pot and bring to a boil over medium heat.
Once boiling, reduce heat to low, cover and simmer for 10 minutes to combine flavors.
Remove broth from heat and set aside.
Wontons:.
Place 2 tbsp chicken stock and cornstarch into a large mixing bowl and stir to combine.
Add minced scallions, minced ginger, pork, soy sauce, dry sherry, sesame oil, and sugar, and stir well.
Fill a cup with water and set it nearby.
Place a wrapper in front of you so that it looks like a diamond.
Dip your finger in the water and moisten all 4 edges of the wrapper.
Place about 1 tsp of the meat mixture in the center of the wrapper and fold in half over the filling to make a triangle.
Press firmly along the sides to seal it and remove any excess trapped air.
Moisten the left and right corners of the triangle and pinch them together.
Place stuffed wonton on a wax paper lined baking sheet and cover lightly with a kitchen towel.
Repeat until all wontons are made.
Soup:.
Bring reserved broth to a boil, cover and reduce heat to medium low.
Add wontons to simmering broth.
Stir occasionally until wonton filling is firm and cooked through - about 5 minutes.
Stir in spinach leaves and cook for 30 seconds until they wilt.
Serve hot.
Questions & Replies

Got a question?
Share it with the community!
Reviews
I had submitted my review for this but it doesn't seem to be here anymore...... Oh Well ...let's do this again. I have my own broth recipe I use all the time which I love....but I wanted to try a different Wonton recipe and thought I would try this one. It sounded delicious...And delicious it was !!! I had doubled the recipe because I make them and freeze them in food saver bags to go with my wonton broths I freeze. I had gotten 48 wontons. I make the wontons and cook them in some boiling water that I had added chicken cubes or bouillon to. Cook them for the indicated time and then let them cool and then freeze with desired amounts in each bag. Then I take out the bag of wontons with the container of broth and let defrost, then simmer the broth then add the wontons so they could warm back up. No wontons fall apart this way. Has worked for me...I find if frozen in the soups they tend to fall apart more easily. <br/>Anyways these little bundles were absolutely yummy !!! Will definitely make again. Thanks for sharing your recipe PanNan.....I will take another pic when I have the soup again...I had one here but that disappeared with my review....Thanks once again.....

 

This was delicious and fun to make! I nearly doubled the wontons because I wanted some extra, but in doing that, I lost a lot of my broth cooking them (too much of it, even though I started with extra just in case.) I ended up throwing in a bunch of homemade veggie stock cubes I had frozen in trays (which added a lot of great flavor.) The only other changes I made were adding crushed red pepper to my meat, mushrooms with the spinach, and a dash of soy sauce to the broth. I was SO good. More filling than we expected. I would keep some extra broth around just in case!

 

LOVE em...The only thing I do differently is that I add a few water chestnuts (not necessary, but I like a little crunch) to the mix. Also, instead of mincing everything I throw it all into the food processer and pulse. I usually use about one pork chop sliced into strips or 1/2 chicken breast. I also add a couple of shrimp to the filling if I have them. A sprinkle of red pepper, too. Then I add whatever vegetables I have to the broth for a healthy main dish. Broccoli, carrots, mushrooms water chestnuts, pea pods, canned baby corn. You can also add some strips of pork or chicken and a few shrimp to the broth, too. Also, once I fried the wontons before adding to the soup. Love em, but not as healthy...thanks for posting...

 
Tweaks
I easily quadruple the recipe and then have extras for the freezer. I've frozen them uncooked and toss them in the broth when it's boiling and don't have any issues with them falling apart. It's such a quick, yummy winter soup. I also add a bunch of veggies to the broth and voila, a quick healthy lunch.