White Chocolate Gelato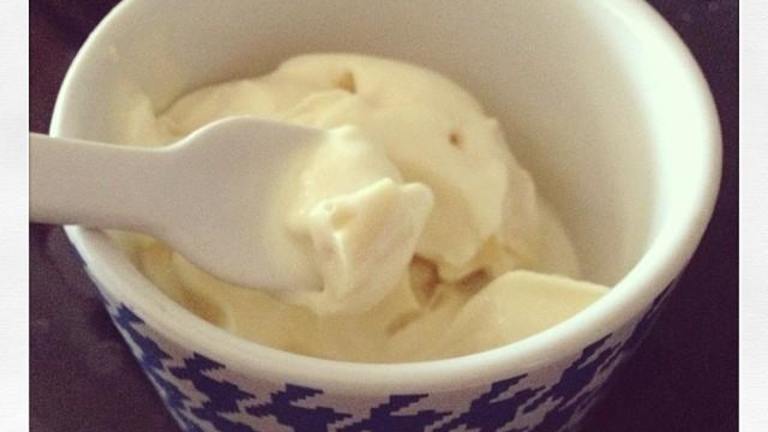 Use white chocolate made without hydrogenated oil, if possible.
Ready In:

50mins

Yields:

Units:
Nutrition Information
directions
Beat the egg yolks and sugar in a bowl using an electric mixer at medium speed until the consistency of a very grainy quick-bread batter, about 2 minutes; set aside.
Heat the milk and cream in a saucepan set over medium heat until tiny bubbles pop up around the pan's inner rim; do not boil.
Whisk about 1/3 of the hot milk mixture into the egg yolk mixture until smooth, then whisk this combined mixture back into the pan with the remaining hot milk mixture.
Immediately turn down the heat to very low (if using an electric stove, move the pan to a second burner just now set on low).
Cook slowly, stirring constantly, until the mixture thickens to the consistency of very wet, loose cake batter and can coat the back of a wooden spoon, about 5 minutes.
Remove the pan from the heat and stir in the white chocolate, vanilla, and salt until smooth.
Strain through a fine-mesh sieve into a clean bowl to remove any bits of scrambled eggs.
Refrigerate until cold, at least 4 hours or overnight.
As you prepare your ice cream machine, place the white chocolate custard in the freezer to assure it is very cold, for no more than 10 minutes.
Freeze the custard in your ice cream machine according to manufacturer's instructions.
Serve at once--or transfer to a freezer container, seal tightly, and store in the freezer for no more than 3 days; soften at room temperature for up to 10 minutes before serving.
Submit a Recipe Correction
RECIPE MADE WITH LOVE BY
"Use white chocolate made without hydrogenated oil, if possible."
Join The Conversation
Tried this recipe today and absolutely loved it! :) Like another reviewer I also added more chopped white chocolate at the last minute of the churning process and it turned out amazing! The salt amount doesn't seem much to me. I don't understand what the problem was that the other reviewer encountered.... maybe she used kosher salt or something like that that might not have blended in as it should? I dont know. I used regular table salt and you can't taste any of it. :) I also made this using my kitchenaid ice cream maker attachment :) super easy and delicious! Definitely keeping this one. :)

This was fantastic! I had delicious white chocolate gelato in southern California while back and wanted the recipe so badly! I found this and it came out exactly how I remembered :) I gave this recipe 5 stars but I did make a slight adjustment. After it was done in my ice cream maker I added about 6 oz. of roughly chopped white chocolate chunks then froze it. As for "carriage princess" I'm a little confused...1/4 teaspoon of salt is a tiny amount. I didn't even taste any salt with my finished product. I'm thinking maybe some of the rock salt may have seeped into your mix while it was freezing in the ice cream maker..?? I kept my ice and salt level low and away from the lid. Since the recipe doesn't make alot, there was no chance of it accidentally getting into my mix (which sadly I've done before). Hope this helps others because my fiance and I LOVED the way this came out...Thank you for a great recipe "ratherbeswimmin"!!