Warm Black Bean & Chipotle Dip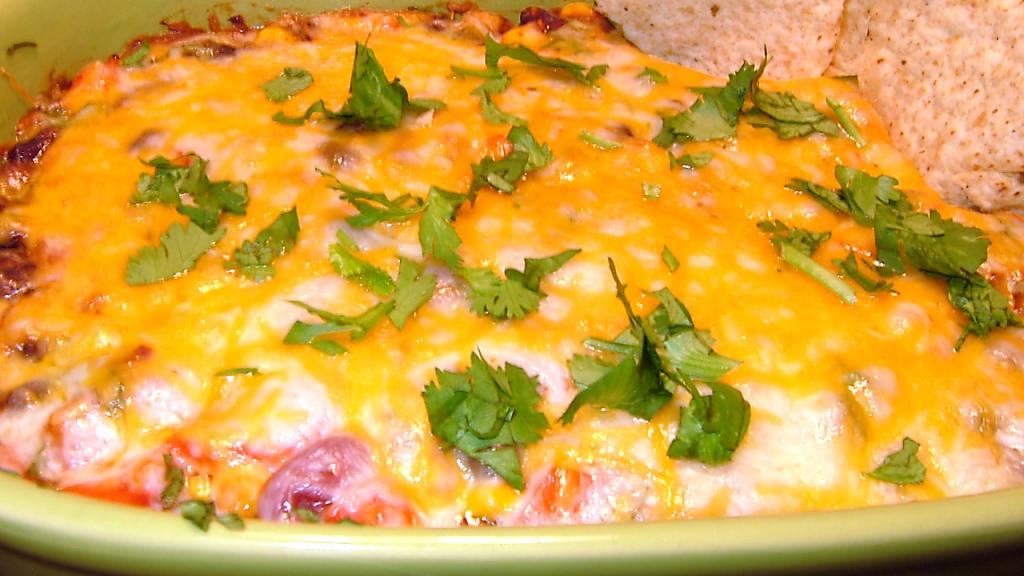 Ready In:

40mins

Ingredients:

16
directions
Heat the oven to 425ºF. Grease a 1-1/2 quart baking dish with oil and line a baking sheet with foil. Set the tomatoes in a colander over the sink and sprinkle with 1 teaspoons of the salt.
Heat the oil in a large (12-inch) skillet over medium-high heat until shimmering hot. Reduce the heat to medium, add the onion, sprinkle with 1 teaspoons salt, and cook, stirring, until softened and translucent, 4 to 6 minutes. Add the garlic and chili powder and cook, stirring, for 1 minute. Add half of the black beans, the chipotles and adobo sauce, and 3/4 cup water and bring to a boil. Cook until the liquid reduces by about half, 2 to 3 minutes.
Transfer the bean mixture to a food processor, add the vinegar, and process until smooth. Let cool for a couple of minutes and then transfer to a large bowl. Add the rest of the beans, the tomatoes, corn, half of each of the cheeses, and 1/2 cup of the cilantro. Mix well and season to taste with salt and pepper.
Transfer to the baking dish and sprinkle with the remaining cheese. Bake on the foil-lined baking sheet (to catch drips) until the cheese melts and browns around the edges, about 15 minutes (longer if refrigerated). Sprinkle with the remaining cilantro and serve with the tortilla chips for dipping.
Join The Conversation
Lots of compliments! I prepared it as written except for omitting the cilantro (the only herb my family can't tolerate) and subbing canned tomatoes since fresh were unavailable. Because the tomatoes used were the standard type rather than 'salt-free', I cut back the amount of salt added to slightly under 1-1/2 tsp. to compensate, and that worked well. One kid requested more tomatoes next time, another asked me to double the corn, and yet another voted for even more cheese. Once my crew goes into their James Beard routine, critiquing a dish and making suggestions, it's a sure sign that they loved it! Thanks so much for sharing. We'll enjoy 'tweaking' this to personal taste, but it's just wonderful as is!