Walnut Rolls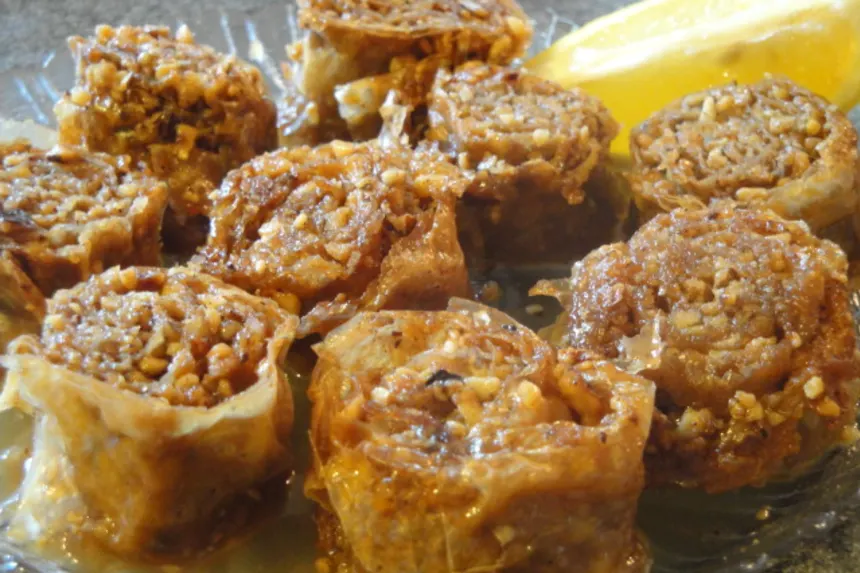 photo by Muffin Goddess

Ready In:

1hr

Ingredients:

9
directions
Preheat oven to 375.
Mix nuts, cinnamon, cloves, and 1/4 cup sugar and set aside.
Brush 3 sheets of phyllo with butter and stack on top of each other. Sprinkle evenly with thin layer of nut mixture. Repeat with 3 more sheets and another layer of nuts. Roll up like a cinnamon roll. Brush top of roll with butter.
Repeat to make 2 more rolls.
Cut each roll in 1" slices. Place slices next to each other in baking pans.
Bake 30 minutes, until pastry is brown.
Meanwhile, make glaze. Combine 2 cups water, 1 1/2 cups sugar and piece of lemon in pot and simmer about 10 minutes.
Pour warm syrup over cookies as soon as they come out of the oven.
Questions & Replies

Got a question?
Share it with the community!
Reviews
Well, these were quite a roller coaster ride for me, lol! I messed them up, but didn't catch my mistake until it was too late, so I just ran with it. After I made my three rolls, I was out of the walnut mixture but still had another 9 sheets of phyllo left over. I went back and reread the recipe, and realized that I had misunderstood it and made each of my rolls with only three sheets of the phyllo instead of 6. Since there was no way I was unrolling the three rolls to add the extra phyllo, I just used the remaining sheets to make two other types of cookies: I made two rolls filled with cinnamon and coconut sugar, and I made a third roll filled with raspberry orange mango jam. The cinnamon sugar ones I cut into logs, and the jam filled roll I sliced just like the walnut filled ones. The cinnamon sugar logs were actually pretty good, but the jam filled ones were just way too sweet. They baked up pretty, because they spread into rose shapes once the jam melted, but I ended up throwing them away because if something is too sweet for ME, I know no one else will be able to handle them, lol. The walnut filled ones were good with just the three sheets of phyllo in them, but they were really fragile. I baked these for the full 30 minutes, but I think I could've shaved off a minute or two, because some of the bottoms were starting to get a little bit burnt at 30 minutes. I poured the syrup over the baked cookies, but it seemed to just go right through them to the bottom of the pan. I tried one of the warm walnut filled ones, and was kind of disappointed because they were super-sweet and kind of dry. I thought about it for a minute, and realized that what I needed to do was: 1. Keep spooning the syrup over the cookies, flipping them periodically so the syrup wouldn't just sit and make the bottoms soggy, and 2. Allow these to cool. After I got the syrup to start soaking into the whole cookies, I popped the whole pan into the fridge. Not long enough to chill them, but just long enough to make everything a bit less squishy and more cohesive. Once I did those two things, these became much more like the familiar texture of baklava, and it tamed the sweetness a bit. No getting around it, syrup-soaked phyllo pastries are gonna be really sweet regardless, but letting them cool first keeps the sweetness from being overly cloying. These definitely need a time out after baking to be their best selves. In the end, these tasted good enough to be comparable to the little Greek phyllo pastries on a tray that my mom buys for the holidays. Thanks for posting, sheepdoc! Made for CQ 2016 Greece for Team Iota Eta Pi