Vietnamese beef and rice noodle soup (pho)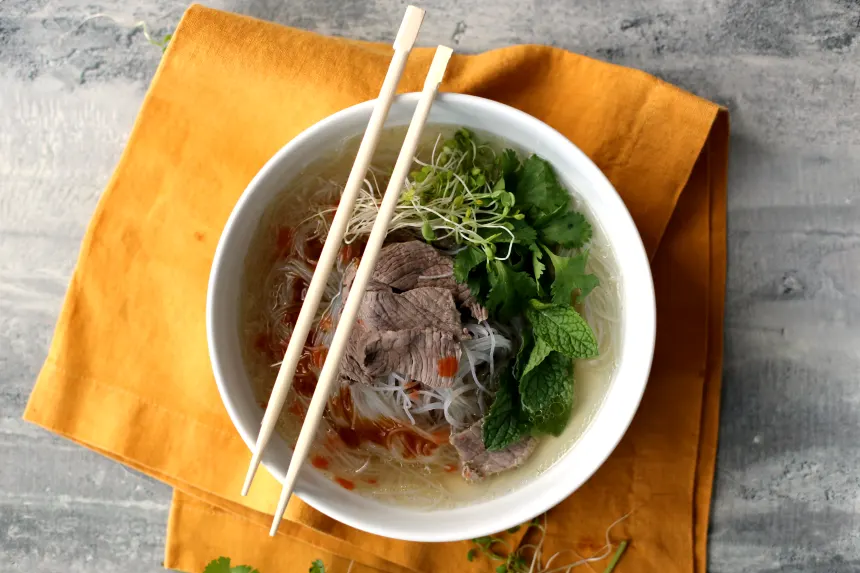 photo by Ashley Cuoco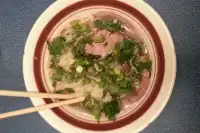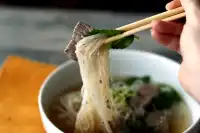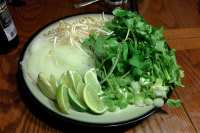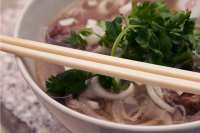 Ready In:

9hrs

Ingredients:

22
directions
Place the oxtails in a large stockpot and add the water.
Bring the water to a full boil, then reduce heat and bring water to a simmer.
Scrape any scum off the top of the water and discard.
Cut the onion in half and peel off the outer portion.
Place on a baking sheet along with the ginger and broil in the over about 20 minutes, making sure not to blacken it.
Turn over halfway through.
Allow to cool.
Place the star anise, cloves, cinnamon, and fennel seeds in a piece of cheesecloth and tie it shut with twine.
Add the spice pack, onion halves, ginger, bay leaves, salt, and fish sauce to the broth.
Allow the broth to simmer at least 5-6 hours (to your taste) uncovered.
Remove the spice pack, onions, ginger, and bay leaves and discard.
Remove the oxtails and set them aside.
When cool enough to handle, remove the meat and trim of any remaining fat.
Set the meat aside and return the bones to the broth.
Allow the broth to simmer another hour or two until you achieve the desired taste then remove the bones.
You may adjust the salt, but you don't want it too salty.
Soak the rice noodles in COLD water 15-20 minutes, while starting a large pot of water boiling.
While the noodles are soaking, place the cilantro, basil leaves, mint leaves, sliced onions, sliced scallions, and bean sprouts on a serving platter.
After the noodles have soaked, place them in the boiling water and allow to cook until tender, but don't let them get mushy.
It should only take a couple minutes.
Rinse the noodles in cold water if not serving immediately.
When ready to eat (you can do this earlier, like when you're boiling the water for the noodles) return the broth to a rolling boil.
Place the noodles in a serving bowl and arrange the sliced meat (leftover oxtail meat if desired) over them.
Ladle the boiling broth over the noodles and beef, making sure to cover the meat.
Serve and allow each person to place the desired amount of garnish from the platter, hoisin sauce, and sriracha in their own bowl to taste.
Reviews
This recipe is excellent and very authentic tasting. The only thing I found a little difficult was gathering all the spices. This was resolved by purchasing a premade package with all the spices (except bay leaves) & a cheesecloth bag for $1.89. It is called Gia Vi Nau Pho Bac Que Huong! I highly recommend it. Although some have mentioned that this recipe is time consuming I assure you it is well worth it. I recommend making a double batch & freezing half or I even freeze individual servings.

 

This is a pretty good recipe. My husband is cambodian, and eats all types of asian food. He loves his pho! This was my 1st attempt at making it, as I don't really care for it, or much asian food for that matter. This was a pretty simple recipe to follow. I left out the scallions and fennel, as he prefers it without. I could not get whole star anise, so I subbed about a tablespoon of anise seed, and a dash of all spice. As a previous reviewer mentioned using a coffee filter, which worked out perfectly. The only thing I would say to add is that as the broth is cooking for the 5-6 hours, a lot of the water evaporated, even on the lowest setting. So I would say to add about a cup of water an hour. I was surprised at how much my husband enjoyed this. He said the broth was outstanding. (he would tell me if it wasn't) Once the broth is cooking there's not much to do but let it simmer. Prep time to get the broth going is quite quick, so don't let the cooking time mislead you. I halved the recipe, and it made enough for about 4-5 large size bowls. I couldn't be more pleased with this recipe. Now that my husband knows I can make this, he will be requesting it a lot more. Thanks for a great recipe!

 

Kevin, I'm very impressed with your recipe; however, the Vietnamese traditional pho both do not use Fennel seed. I'm Vietnamese and my family cooked Pho each week during winter month. Here is another website every similar to our family recipe. http://www.vietworldkitchen.com/blog/2008/10/pho-beef-noodle-soup.html http://wanderingchopsticks.blogspot.com/2007/03/pho-bo-vietnamese-beef-noodle-soup.html

 
Tweaks
DH has been talking about this soup he had while he was in Canada. I never heard of it before. He loved my version. We used Beef Shanks instead of oxtail and placed a deep fried spring roll in the centre before serving (this is how it was served up to DH in the resturant). We will definately make again.

 

This was fantastic! My mother-in-law is Thai and she makes this soup every time that she comes to visit but I crave it more than 2 times a year so I decided to try it out myself! Instead of oxtails I used beef ribs and I left out the cinnamon and fennel. The only other change I made was to add celery. (My MIL says the leaves add lots of flavor.) We served it up with beef meatballs with tendon (from the asian store), shredded beef from the ribs, rice noodles, green onions, cilantro, basil, mint, sugar, lime, fish sauce, sriracha, hoisin sauce, bean sprouts and to make it truly Thai- ground peanuts. My hubby says it was right up there with his mom's. I will make this again!