Victorious Vegetable Stock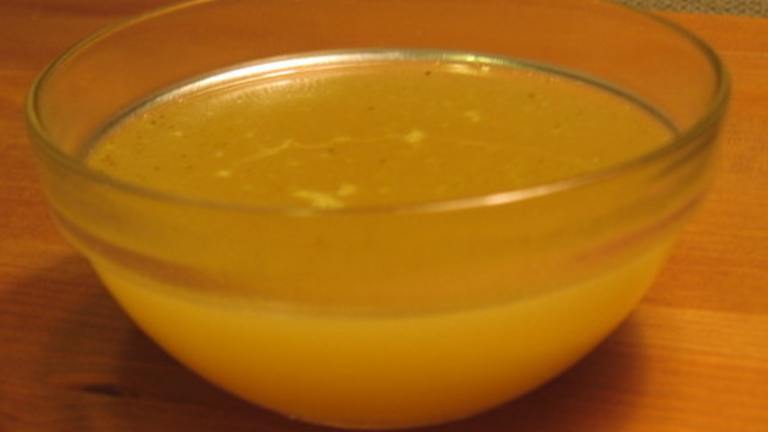 Finally, a vegetarian stock so rich, flavorful and fragrant that it can really hold its own against chicken stock! Use this in any recipe that calls for chicken stock, or eat it alone as a lovely broth. The nutritional yeast adds nutrients, flavor and a golden color to the broth (please make sure you are not using any other type of yeast! Baker's yeast and Brewer's yeast will not work). The optional addition of parmesan rind increases the richness in a wonderful way - My local Italian deli gives it to me for free. But leave it out for a vegan / parve stock. This broth beats any packaged vegetable stock hands down, if I do say so myself :)
Ready In:

1hr 45mins

Serves:

Units:
directions
Use the flat side of a chef's knife to gently crush the garlic cloves.
Wash unpeeled vegetables well and cut them roughly into large pieces. Add to a large stock pot along with all other ingredients. Add entire sprigs of the herbs rather than removing the leaves from the stem.
Cover with water. Water level should be about 4 inches above the top of the vegetables. Bring to a boil, skim off any foam from the top of the broth, then partially cover. Reduce heat and simmer for 1 1/2 hours. At the end of the cooking time, if you wish to make the stock richer, remove the lid and continue cooking uncovered to slightly reduce it.
When the stock has cooled slightly, strain it through a sieve or cloth, pressing all of the remaining liquid out of the vegetables. Compost or discard the remaining vegetables. What you don't eat immediately can be refrigerated for 3-5 days, or frozen.
Submit a Recipe Correction
RECIPE MADE WITH LOVE BY
"Finally, a vegetarian stock so rich, flavorful and fragrant that it can really hold its own against chicken stock! Use this in any recipe that calls for chicken stock, or eat it alone as a lovely broth. The nutritional yeast adds nutrients, flavor and a golden color to the broth (please make sure you are not using any other type of yeast! Baker's yeast and Brewer's yeast will not work). The optional addition of parmesan rind increases the richness in a wonderful way - My local Italian deli gives it to me for free. But leave it out for a vegan / parve stock. This broth beats any packaged vegetable stock hands down, if I do say so myself :)"
Made a batch today and it was great! I followed the recipe except I used dried Rosemary and thyme because I couldnt find fresh. I also found the nutritional yeast. Only form I could find was one they use to make home beer. The broth still tasted good and the health store lady said people sometimes put the beer yeast on salads etc so I think it was the right one. Thanks for a great recipe! I will be keeping my freezer stocked with this from now on :)

Finally, a vegetarian stock so rich, flavorful and fragrant that it can really hold its own against chicken stock! Use this in any recipe that calls for chicken stock, or eat it alone as a lovely broth. The nutritional yeast adds nutrients, flavor and a golden color to the broth (please make sure you are not using any other type of yeast! Baker's yeast and Brewer's yeast will not work). The optional addition of parmesan rind increases the richness in a wonderful way - My local Italian deli gives it to me for free. But leave it out for a vegan / parve stock. This broth beats any packaged vegetable stock hands down, if I do say so myself :)