Very Low-Carb Hamburger Bun!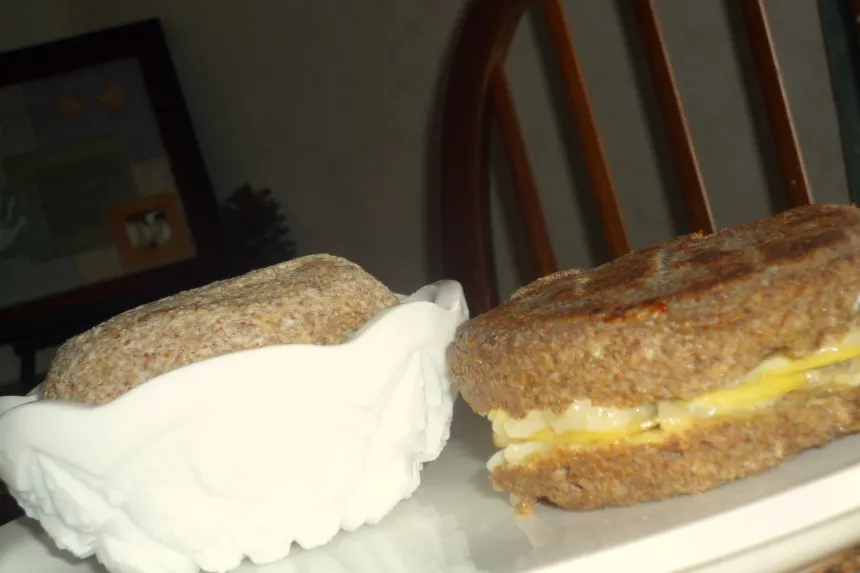 photo by Peachie Keene

Ready In:

6mins

Ingredients:

5
directions
Mix all ingredients together in a microwave safe bowl or container.
Put the bowl/container in the microwave and nuke for 1 minute or until center is set.
It will billow up in the bowl.
Leave it in the bowl for another minute then turn it out on a cooling rack and let it cool.
Once it has cooled take a long bread knife and slice the bun in half and make your hamburger as usual.
Questions & Replies

Reviews
I feel like I just found the pot of gold at the end of the rainbow. I mean come on: 12 grams of protein and 8 grams of dietary fiber per bun, wow! Now, let me tell you, applesauce is a decent substitute for butter in bread like recipes (quick breads, muffins, etc.) - Though to test this hypothesis, and so I didn't risk giving this recipe a faulty review, I made it both ways. Both turned out equally as moist and bouncy; although, they varied in taste ever so slightly. If you are a health-nut (in training) like I am, forgo the butter and use an equal measurement of applesauce. Also be aware of the bowl size you use: the width at the largest point of your bowl will likely be the size of your bun. I used this for the Recipe #410472. Made for PAC Spring 2010.

 

Amazing low carb bun! I added 2-3 extra tbsp of the ground flax seed to get mine more like a paste and microwaved for about 1 minute 10 seconds. I thought this recipe sounded odd, but it turned out yummy, and tasted like a light fluffy bread. I will definitely be making this again - it made me feel like I wasn't missing out on a nice cheeseburger dinner by trying to make a lettuce wrap. Thanks for the recipe!

 

this is a fantastic recipe, thank you for sharing it! I tried it just as is with flaxseed meal and enjoyed it. I then tried it with golden flax and found it even better. it had a milder taste and was more visually appealing. I like that I am able to add different seasonings depending on my mood or dish. but I always add s&p, thyme and a couple dashes of tabasco.<br/><br/>I don't like to use the microwave more than I have to so I tried baking them. it works! and quite well. I multiplied the recipe by 4 and scooped the dough/batter onto a parchment lined tray in approx. 3-4" circles and baked in a 300 oven for 20-30 minutes.it yielded 8-10 "buns" and they freeze well.<br/><br/>I've used this recipe to make pizza crust by adding garlic powder, parmesan cheese and oregano to the mix.<br/><br/>my next experiment will be "cinnamon rolls". a little cinnamon, vanilla and maybe sweetener.<br/><br/>i'm a little confused tho with the nutritional facts shown. the flax i'm using has 4 grams carbs per 2 T with 4 grams of fiber. they should cancel each other out making it a zero carb bun. right? :D

 

Perfect for anyone watching their carbs! I am on Atkins and was very hesitant to try this but figured I had nothing to lose. I made this with a turkey burger, some lettuce and a little bit of Caesar dressing - yum! With grilling season here I have really missed a bun for my burger but I actually forgot I wasn't eating a real bun. Another benefit is I couldn't finish the burger because it was filling. That never happens with me! This is a keeper.

 
RECIPE SUBMITTED BY
Hi there! I'm a writer by soul, and a cheerful, in-depth experimenter with pretty much everything else. I am also a happy newlywed. My husband and I first started informal pre-dating stuff while cooking odd ingredients into tasty dishes. I've done some form of cooking ever since I was six, with a particular fondness for baking. A few years ago I was diagnosed with various allergies and intolerances, including wheat, apples, bananas, pears, yeast and most things that are fermented. It radically changed my cooking style and thankfully opened up a whole new world of cuisine to try! However, I have plenty of people who still enjoy the treats I used to make (and eat), so I have the best of both worlds; playing around with high-calorie dishes without having to eat them!
View Full Profile