Vegetarian Spring Rolls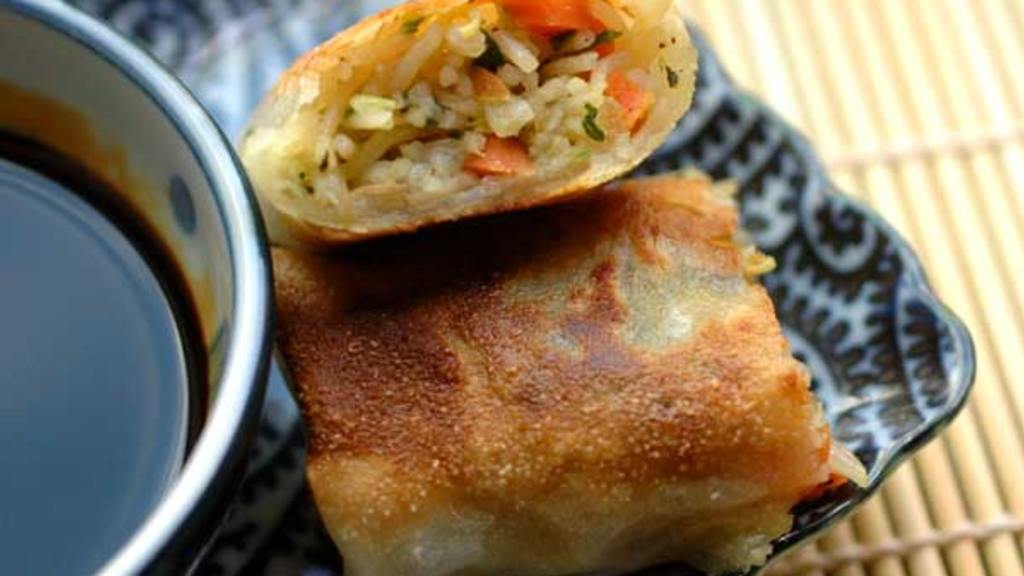 Ready In:

40mins

Ingredients:

15
directions
Place the noodles in a bowl and pour over enough boiling water to cover. Let stand for 4 minutes.
Drain, rinse in cold water and drain again.
Cut into 2-inch lengths.
Heat the peanut oil in a wok over high heat.
Add the garlic, ginger, scallions, beansprouts, cabbage and carrot and fry for a minute.
Stir in the sesame oil, soy sauce, rice wine, pepper, cilantro and mint and take off the heat.
Stir in the rice noodles.
Arrange the wrappers on the counter, pointing diagonally.
Spoon a bit of the filling onto the bottom corner of the wrapper.
Roll the point of the wrapper over the filling, then fold the side points inward over the filling.
Continue to roll up the wrapper away from you, using a bit of water to seal the roll if needed.
Brush with oil and bake in a 400 F oven until crispy, about 15-20 minutes.
You may want to flip the spring rolls halfway through baking.
You can also freeze these unbaked and then bake from frozen. This will take about 25 minutes.
Join The Conversation
I had always eaten spring rolls without baking and thought I would give this a try. Didn't know you could do that. I had roasted veggies that had that need to be used without adding any oil to them. Had a variety of peppers, mushrooms, asparagus and even some steamed kale and beet greens.Had very firm tofu in tiny squares that I did in skillet till browned-again no oil and I got them crispy. IE: Didn't add rice noodles this time. Just added a few tabs. of each veggie to the spring roll. I did a sauce with ingredients you listed plus two tablespoons of Powdered peanut butter (PB2) plus 1 tab water, and one tab. of rice vinegar too as I had seen in another recipe. Great sauce for the veggies and also for dipping. Sauce cooked up well with the veggies and it was not too wet when added to the rice papers. Baked in a 400 degree oven on parchment paper and didn't even use oil and they browned just fine. A couple fell apart when I turned them but it is due to being filled a bit too full. No problem just spooned the spilled contents in middle and kept roasting. Used some extra sauce for dipping. Loved the fresh ginger, mint, cilantro, garlic combo. Also had some fresh pineapple that I tossed in the sauce in the skillet as a side for these. Great. Really can use a combo of anything you want. The sauce is great. (double sauce)

This does not turn out. It sticks to the pan no matter how much oil you use, and when you attempt to remove them they come apart horribly. Using more oil just makes them super greasy. Yuck. Might as well fry them. I have no idea how to make this work so that they don't rip to pieces. If there is some way to make this so that they stay intact, then maybe better or more complete instructions would help.

So good and easier than I thought! I never knew how easy it was to make spring rolls! I baked them in the oven as the recipe suggests and they were fantastic! I skipped the noodles as it was more work than it was worth (in my opinion) and it didn't even taste like anything was missing. I only got about 10 rolls out of this recipe and they were packed kind of thin so I will probably double the recipe next time. Thanks for sharing!