Vegan Sweet Potato Chili - Slow Cooker Version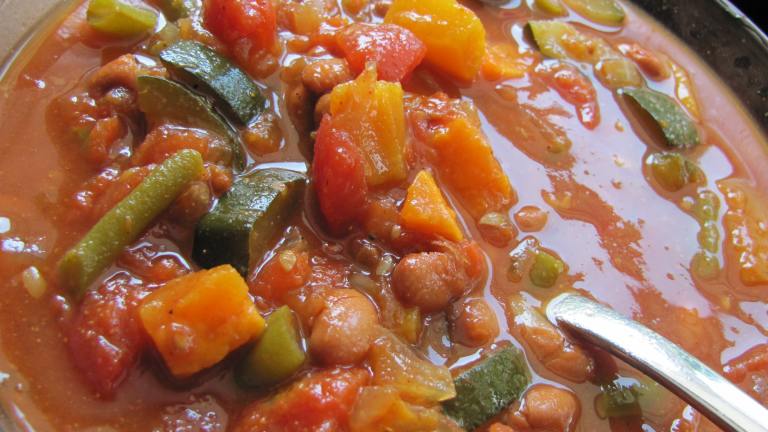 Posting for ZWT 5 - I believe it originated from a WW book, but I found it online and tweaked the spices slightly. Easy Peasy!
Ready In:

5hrs 15mins

Serves:

Units:
RECIPE MADE WITH LOVE BY
"Posting for ZWT 5 - I believe it originated from a WW book, but I found it online and tweaked the spices slightly. Easy Peasy!"
This recipe changed my life. I know that sounds nuts, but I love this! I make it every three weeks in 2 different crockpots and then freeze in pyrex glass containers (15 to be exact). I literally eat this every day for lunch at work. I love the pyrex containers because they microwave without fear of plastic taste. I just made it again today and thought..."I probably should go and review that." I add a full extra tablespoon of chili powder. I also add cayenne because I'm from the south and like things spicy. I cut the cinnamon a little (I think I use about 3/4 of what the recipe calls for). I like to add corn and okra to this occasionally. Okra adds a really nice flavor in my opinion. I serve with crackers and actually put a smidgey olive oil in it. I do this not for the taste but because beta carotene rich foods are fat soluble. I prefer to cut up the tomatoes myself rather than used canned. Also, I use Bertolli brand organic tomato sauce from a jar and it makes ALL the difference. Bertolli is actually very cheap when purchased from Sam's in a 3 pack. You can't get healthier than this. PLEASE use Bertolli. It's so good.<br/><br/>By the way, the vast majority of the ingredients to fill 2 crockpots (I doubled/almost tripled the recipe) worth cost me $20 at the fruit stand. Buy from your local farmer's market or produce stand. Wal-mart's fruits and veggies don't taste ripe or healthy in my opinion. You get a much better value by buying local. Also, keep in mind this $20 is feeding me for lunch for 3 weeks! Thanks for this recipe. <br/><br/>I agree with the other reviewer than said it's more of a stew. Really? Who cares. It still tastes fantastic. What else do you need? I let my boss try it, and she asked me for the recipe. My co-workers, who both eat meat, regularly comment on how good my lunch smells.<br/><br/>Oh! One more thing. DO NOT try to put items in the food processor other than the onions. This tastes better and freezes better when all the vegetables are chunky (not slicey or dicey). Trust me. I make this all this time. :)

WOW. . .Magpie, this is delightful!!! Only changes I made were as follows: my tomato sauce was only like 8 oz, but my can of diced tomatoes was like 25 oz, then only added 1/2 of the curry powder (hubby doesn't care for it, but I don't think he will be able to identify it in here), and used Pinto beans since that's what I had on hand. So happy I made this. It is wonderful now (right after making it) and I am sure it will be even more wonderful tomorrow. I am freezing some for later too. Thanks for posting! Made for ZWT8 for Mexico for Team Jammin' Jazzberries.

We loved this! The minor changes I made was using a 8 ounce can of tomato sauce and a 10 oz can of Rotel tomatoes (tomatoes w/chilies) and added one yam (thought it was probably left out of the ingredients) -- I also didn't weight the squash or green beans but used what I had (a small butternut squash and the green beans that were in the fridge). DH loved it! Thanks for sharing this keeper which will be regular fare in our house!