Vegan Gingerbread Cut-Out Cookies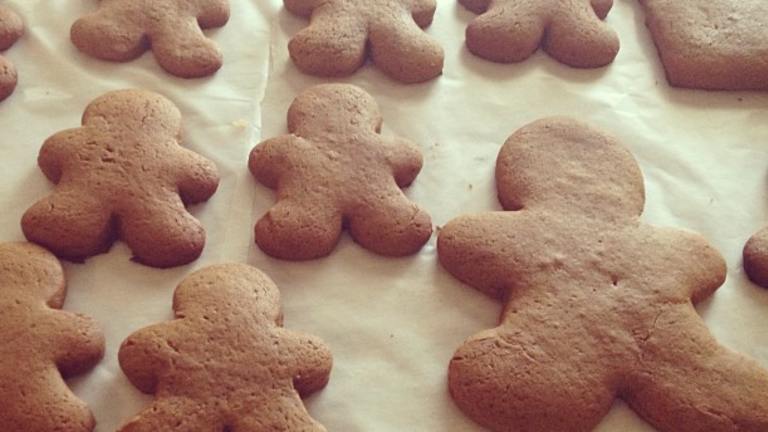 This egg-free and dairy-free recipe for a chewy gingerbread cookie is from Sarah Kramer's cookbook, "La Dolce Vegan!" (2005) and reprinted in today's local paper. For vegan frosting, use five parts icing sugar to one part water, blending until thick. or you can use chocolate peanut butter spread. Dough must chill for 2-4 hours. (While baking the first batch, return the dough to the fridge to chill it so dough doesn't stick to the rolling pin. Allow cookie sheet to cool before reusing.)
Ready In:

28mins

Yields:

Units:
Nutrition Information
directions
In medium bowl, mix flour, baking powder, baking soda, cinnamon, ginger, allspice and salt. Set aside.
In large bowl, cream shortening and sugar with fork. Stir in molasses, hot water and vanilla with large spoon. Stir in flour mixture until smooth, 1 minute.
Cover dough. Chill 2 to 4 hours.
On lightly floured surface, roll out dough. Cut out shapes. Bake on cookie sheet in 400F oven 8 to 10 minutes, depending on size. Cool on sheet. Decorate as you like.
Submit a Recipe Correction
RECIPE MADE WITH LOVE BY
"This egg-free and dairy-free recipe for a chewy gingerbread cookie is from Sarah Kramer's cookbook, "La Dolce Vegan!" (2005) and reprinted in today's local paper. For vegan frosting, use five parts icing sugar to one part water, blending until thick. or you can use chocolate peanut butter spread. Dough must chill for 2-4 hours. (While baking the first batch, return the dough to the fridge to chill it so dough doesn't stick to the rolling pin. Allow cookie sheet to cool before reusing.)"
Join The Conversation
The basis for this recipe is good, but it is not very sweet. I am not sure whether it has to do with the type of molasses used (mine was an organic health food brand that was very dark and somewhat bitter), and could see why one reviewer compared the results to poo. :) I found I needed to double the sugar so it would taste close to a standard Gingerbread. The dough was also already not forming, so I added a little extra water to make it form. The dough is a little tricky to roll. It does work best if you press it out with your hands or the pin, and then roll to evenly spread. The dough is also pretty sticky, so we had to flour or grease any cookie cutters with a closed top. After baking, and with the modifications, the cookies turned out pretty good. If you don't roll them too thinly and don't overbake they are perfect. It was nice to have a Gingerbread cookie we could all enjoy with our vegan daughter.

This recipe is the best! The cookies came out perfect! I made some changes, like I used coconut oil (melted) and I used coconut palm sugar in place of regular and I baked the cookies for 8 minutes, otherwise they would come out hard. I made the dough and placed in in refri overnight. The dough was hard to work with, but I just let it thaw for 4 hours and it turned out great. I will replace all my gingerbread cookie recipe with this one. Thank you for sharing the wonderful recipe.

I made this recipe about a week ago and overall it was good, but I would like to make some improvements for next time. It was probably mostly just human error and not the recipe. They turned out a bit hard (I probably baked them for too long) and they were a struggle to roll out. We tried to use a rolling pin but the dough kept breaking and falling apart so we ended up just doing it by hand and it was fine. The only adjustment I made was using coconut oil instead of vegetable shortening, which might be why the dough was a bit brittle. Overall it worked well for us! We plan on using it next year for a gingerbread house. If you're on the fence, give it a try!