Vegan Fried Cauliflower
photo by saraw94931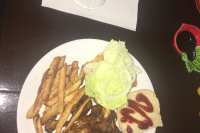 Ready In:

50mins

Ingredients:

9

Serves:

2
directions
First let's rinse the cauliflower make sure its nice and clean and then you can turn the oven on to 355ºf and just let that pre heat.
Then you can take that cauliflower to the cutting board and peel away all the green stems cratiling the cauliflower. After its all peeled you can break apart the head of the cauliflower Or you can cut it to keep the stems a little longer.
After the cauliflower is separated you can get the baking sheet and lay down some parchment paper. Once that's done all you need to do is put the cauliflower pieces on to the baking sheet and add 1 tablespooms of coconut oil over the cauliflower. Vegitable oil works just as well. Once the preheat is done you can stick them In the oven for around 15- 20 minute. They should not be Browning all over but it usually does have a few crispy edges on some.
Now while that's in the oven you can make your batter. First put the flour in the bowl. You'll need a larger bowl for this. Make sure all the clumps are broken up and then you can add the seasoning. Now when it comes to the seasoning the measurements you dont have to be exact. If you like spiciness you could add a little more Cajun and the same goes for the rest. Once all the seasoning is added just mix it all together.
Okay so now take a little bit of your mix about 1/4 cup and put it in a separate bowl. Once that's done just add a little water at a time till it's a creamy consistency. You'll know it's perfect if it's thick enough to stick to the fork or wisk but cant be picked up in clumps.
If your cauliflower is done you can take that out and prepare the oil but if not then I recommend waiting until the cauliflower is done to heat your oil. I heated my oil in a pot but if you have a deep fryer that will work too. Once the cauliflower is done you can heat the oil on medium heat and begin rolling the cauliflower in the creamy mix and then into the dry mix. I recommend not coating a lot at a time unless you plan on cooking them all at once. When the cauliflower is in the oil I let them cook for a minute some for two minutes depending on size. If you feel they aren't cooked long enough I recommend an extra minute to avoid a gooey inside.
After they are cooked then you are all done! Let them sit on a paper towel for a few minutes to get rid of excess oil! Hope you enjoy!
Questions & Replies

Got a question?
Share it with the community!