Vegan / Eggless Royal Icing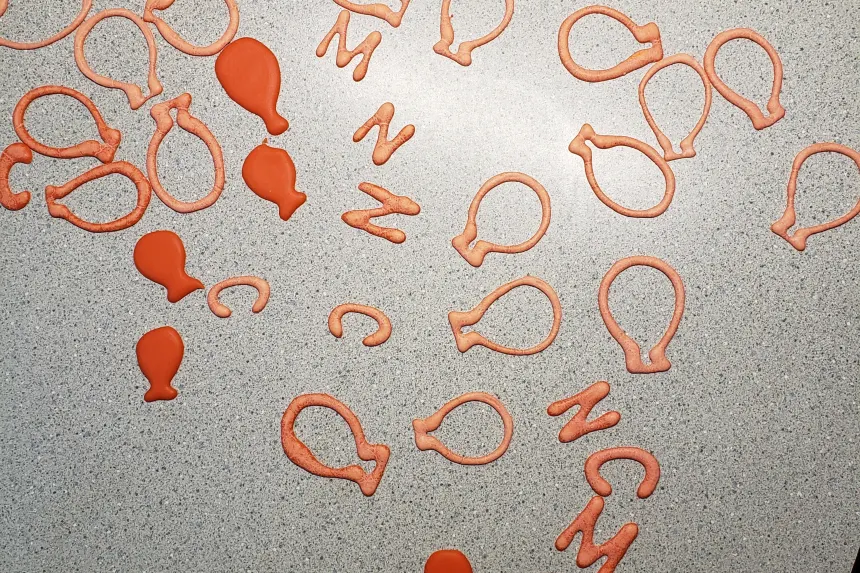 photo by eberry

Ready In:

5mins

Ingredients:

5
directions
1. In a small bowl, stir together confectioners' sugar and first liquid (water or rice milk) until smooth.
2. Add corn syrup and almond extract until icing is smooth and glossy. If icing is too thick, add more corn syrup.
3. Divide into bowls, and add food colorings to each to desired intensity. Remember, colors will lighten slightly when dry. Dip, pour or paint with a brush onto the cookies. Set aside to dry.
4. Cover icing with damp cloth when not using to prevent crusting.
Reviews
I used this to make letters and balloons to put as a decoration on cupcakes but the letters didn't harden in time. It took about 24 hours before they were fully set. Additionally, I put some in the freezer in an attempt to speed up the setting process (didn't work) and these were the only shapes that actually worked and didn't fall apart immediately. I'm sure they would work well for cookie decorating so I'm grateful for this recipe! The texture was really nice and easy to work with. However, they do lighten up a LOT as one of the earlier reviews mentioned -- if you're looking at the pictures, the solid balloons were the original color and everything else faded. Additionally, definitely put them in the freezer for a few hours or everything will fall apart.

 

Works well and the icing does harden. There's no need for the egg whites. I've used it for decorating cookies, but not for building gingerbread houses because the icing does take some time to dry. I will use this again since many of my family and friends are allergic to eggs and I'm always looking for eggless dessert recipes.

 

This recipe is fantastic! It works perfectly. I'm not sure why anyone would think it could cover a large amount of cookies. It says in the directions that it only makes 1/2c. You will most likely have to triple the recipe if you are going to make one doz 3" round cookies. I haven't tried it yet as a means to hold together anything like a gingerbread house but that's next. I've seen a review saying it works and I believe it will. Highly recommend this recipe.

 

This was my first time making royal icing and it didn't work out too well. I expected the recipe to cover at least half a dozen large cookies but it only yielded enough to decorate 3 large cookies. I also ended up having to add many more teaspoons of milk and syrup to get it to the right consistency as it was too thick. I doubled the recipe and got 5 large cookies decorated :(. I was testing this recipe because I need to decorate 36 large vegan sugar cookies next week but now I don't know what I'm going to do...