Vegan Egg Foo Yung (Tofu Yung)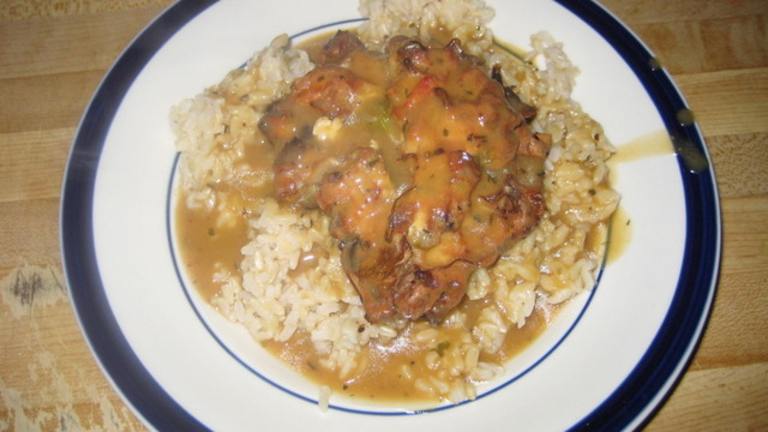 After making the Chicago Diner's recipe for Tofu Loaf ( http://www.recipezaar.com/244215 ), I realized that the consistency was similar to that of Egg Foo Yung. So I experimented and came up with this. Use whatever vegetables and seasoning you like, or even some vegan immitation seafood! There was a comment about it tasting "cheesey"...I realized I put in the wrong measurement for the toasted sesame oil and that could give it a cheesey taste. It it corrected now, my apologies. This gravy recipe works very well, just add some more tamari to the finished gravy: http://www.recipezaar.com/244337
Ready In:

1hr 20mins

Serves:

Units:
directions
Heat 1 tbsp of the canola oil in a wok or large pan over medium heat. Sauté the garlic, celery, mushrooms, onions, and water chestnuts until the onions begin to soften. Add the bean sprouts last and stir constantly for 2 minutes then remove from heat.
Preheat the oven to 375°F.
Put the tofu, 2 tbsp of canola oil, sesame oil and tamari in a food processor and blend until smooth. Scrape the mixture into a bowl and fold in the vegetables.
Grease a baking sheet with more canola oil or oil spray and drop large spoonfuls of the tofu mixture onto the pan, as big or small as you want.
Bake in the oven for at least 25 minutes, or until the tofu browns. While the tofu is cooking, make the gravy and rice. Remove and let the tofu yung rest for 5 minutes before serving over rice with brown gravy.
Submit a Recipe Correction
RECIPE MADE WITH LOVE BY
"After making the Chicago Diner's recipe for Tofu Loaf ( http://www.recipezaar.com/244215 ), I realized that the consistency was similar to that of Egg Foo Yung. So I experimented and came up with this. Use whatever vegetables and seasoning you like, or even some vegan immitation seafood! There was a comment about it tasting "cheesey"...I realized I put in the wrong measurement for the toasted sesame oil and that could give it a cheesey taste. It it corrected now, my apologies. This gravy recipe works very well, just add some more tamari to the finished gravy: http://www.recipezaar.com/244337"
I'm so sorry to give it this rating, but I just didn't like it. I've tried some of your other recipes before and loved them all, but this one just didn't taste right. There is something about the flavor that's wrong, but I can't put my finger on it. It tasted kind of "cheesy", would be the best way to describe it. But the gravy was good.

After making the Chicago Diner's recipe for Tofu Loaf ( http://www.recipezaar.com/244215 ), I realized that the consistency was similar to that of Egg Foo Yung. So I experimented and came up with this. Use whatever vegetables and seasoning you like, or even some vegan immitation seafood! There was a comment about it tasting "cheesey"...I realized I put in the wrong measurement for the toasted sesame oil and that could give it a cheesey taste. It it corrected now, my apologies. This gravy recipe works very well, just add some more tamari to the finished gravy: http://www.recipezaar.com/244337