Vanocka - Vánoèka - Czech Christmas Bread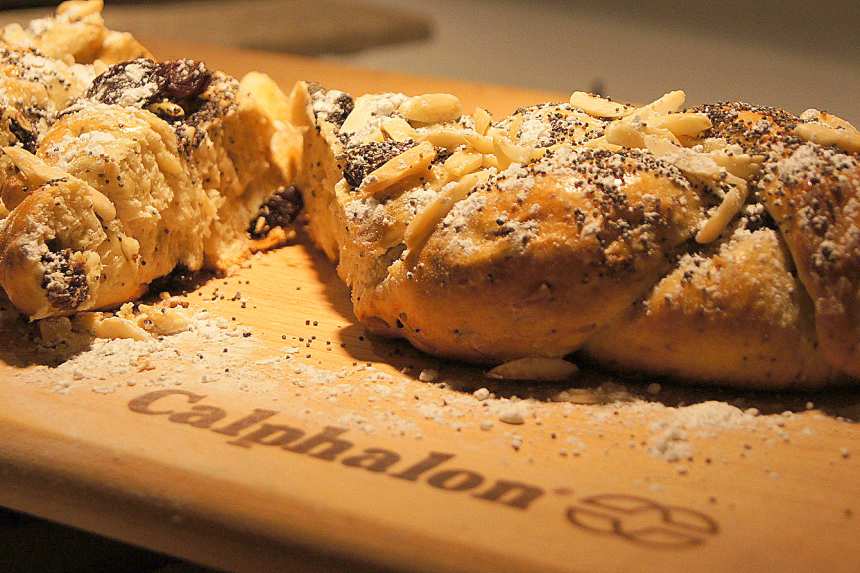 photo by SunMoonImages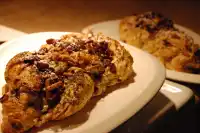 Ready In:

2hrs 40mins

Ingredients:

13
directions
Soften yeast in warm water.
In a mixer bowl, beat together sugar, margarine, and salt.
Add eggs and beat well.
Beat in 1 cup of flour.
Beat in milk, lemon peel, mace, and yeast mixture.
Stir in as much remaining flour as you can with a spoon.
Stir in raisins and nuts.
Turn out onto floured surface.
Knead in enough of the remaining flour to make a moderately soft dough that is smooth and elastic (3-5 minutes total).
Place in a lightly greased bowl; turn once to grease surface.
Cover, let rise in warm place till double; divide in half.
Divide one portion of the dough into fourths for the bottom braid.
Cover and let rest 10 minutes.
Meanwhile, divide the remaining dough into 5 portions for the other two layers of the dough.
Cover those portions and set aside.
On a lightly floured surface, form each of the first 4 portions into 16-inch long ropes.
On a greased baking sheet, arrange the 4 ropes, 1 inch apart.
Beginning in the middle of the ropes, braid together toward each end.
To braid 4 ropes, overlap the center 2 ropes to form an X.
Take the outside left rope and cross over the closest middle rope.
Then, take the outside right rope and cross under the closest middle rope.
Repeat braiding until you reach the end.
Pinch ends together; tuck under.
Turn baking sheet and braid on opposite end.
Gently pull width of braid out slightly.
Form remaining 5 portions into 16-inch long ropes.
Braid 3 of the ropes together.
Brush the 4-strand braid with water and center the second braid on top; gently pull width of top braid out.
Twist the remaining two ropes of dough together.
Brush the top braid with water; place the twist on top of the second braid.
Cover the shaped dough and let rise till nearly double.
While loaves are rising, preheat oven to 350°F.
Brush surface of the shaped dough with egg yolk.
Bake in oven for 35-40 minutes.
Questions & Replies

Got a question?
Share it with the community!
Reviews
This recipe brings me down memory lane... It's exactly how my Grandma used to make it! She passed this recipe down to me. She learned it from the Sokol Hall where she grew up in Omaha, Nebraska during the great depression. We would eat this wonderful bread on her deck overlooking the mountains in Northern California.