' Utah ' Scones (Deep-Fried)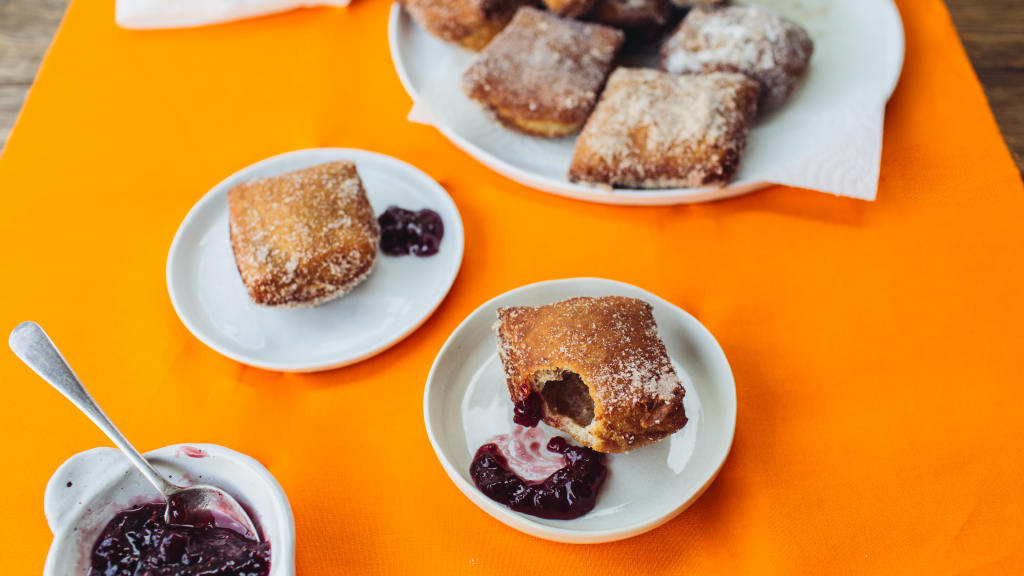 Ready In:

4hrs

Ingredients:

11

Serves:

18
directions
Dissolve yeast in the 1/2 cup of warm water.
Add the tablespoon of sugar to the yeast-water mixture and set aside.
Beat the 3 eggs in a small bowl and set aside.
Put honey, brown sugar, smart balance, and salt in a large bowl (preferably the bowl for your Kitchen-Aid mixer, if you have one).
Add 1 cup boiling water to the large bowl (with the sugar, salt, etc.).
Add the 3 beaten eggs to the large bowl and mix.
Add the yeast mixture to the large bowl.
Slowly add the flour to the large bowl while mixing.
Continue beating the mixture with a mixer until smooth.
Cover the bowl with a dish towel, and let the dough rise for 1 hour.
Refrigerate the dough until cold. (Sometimes it's nice to make the dough the night before, and finish them in the morning).
Roll the dough out on a floured surface to about 1/4" thin (careful not to get any water on it, as water and deep-frying DO NOT MIX!).
Heat oil with a high smoke point (peanut oil, sunflower oil, safflower oil, canola oil in a pinch) in a deep-fryer or electric skillet to around 350 degrees F. Make sure not to use olive oil, as it has a low smoke point and is not suited for deep-frying. Use a deep-frying thermometer to check the temperature of the oil, if at all possible. (Make sure to have at least 2 inches of clearance between the top of the skillet and the top of the oil to allow room for bubbling). If your oil starts to smoke (and you'll know it if this happens! Oil smoke smells really nasty), turn off the heat, let the oil cool, then throw out the oil; it's no good.
While oil is heating, cut the dough into pieces, 4 inch squares seem best to me, but you can make them smaller or larger.
Fry the pieces of dough in the heated oil, preferably one at a time, until puffy and golden brown. Remove from oil using an all-metal utensil.
Place on paper towels to cool, but serve warm with the topping of your choice.