Unknownchef86's Green Tomato or Zucchini Relish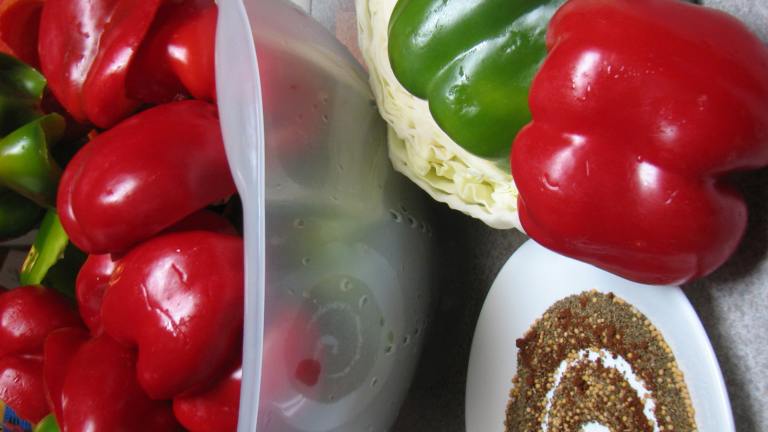 This mighty relish is one that I grew up with. This was originally a green tomato relish recipe, but one year my mom found herself with a lack of green tomatoes and an excess of monster zucchini. So she adapted. Different than most relishes in that it contains cabbage, I haven't yet found one that will match the flavor and texture. It's wonderful for hamburgers and hot dogs. And it makes killer tartar sauce for fish and chips (see recipe #170444). Once when I was a kid, and she was making fish and chips, my mom ran out of this relish. She sent one of my brothers to the store for tartar sauce. It eventually wound up being thrown out, because no one would eat it. In a houseful of non-picky eaters...that says something! PS: This recipe works best with those huge zucchini that you can occasionally find in your garden...and that other people are usually desperate to get rid of! While my mom used to peel the zucchini before making this, I find I prefer it unpeeled, as it adds to the color. Sorry I can't tell you the quantity...we never counted. Prep time is approximate, and does not include the drain-time. Note (11/03/2006): I accidentally omitted the onions when I originally posted the recipe. That has been corrected. Thanks to Chef 238044 for catching that error for me! (I wondered why you added extra onions when I read your review...oops!)
Ready In:

2hrs

Yields:

Units:
directions
Note: Grind vegetables with the coarsest blade on a meat grinder (hand-crank or otherwise); you can usually buy the hand-crank kind fairly cheaply at a thrift store.
Mix ground tomato or zucchini and salt, then pour into a cloth bag. Hang and let drain, overnight, over a non-metal container.
In the morning, remove tomato/zucchini to a large, non-reactive (non-aluminum) pot and add remaining ingredients.
Bring to a boil; simmer slowly for 20 minutes.
Pour into sterilized pints and seal.
Process in a boiling water bath for 10 minutes.
Submit a Recipe Correction
RECIPE MADE WITH LOVE BY
"This mighty relish is one that I grew up with. This was originally a green tomato relish recipe, but one year my mom found herself with a lack of green tomatoes and an excess of monster zucchini. So she adapted. Different than most relishes in that it contains cabbage, I haven't yet found one that will match the flavor and texture. It's wonderful for hamburgers and hot dogs. And it makes killer tartar sauce for fish and chips (see recipe #170444). Once when I was a kid, and she was making fish and chips, my mom ran out of this relish. She sent one of my brothers to the store for tartar sauce. It eventually wound up being thrown out, because no one would eat it. In a houseful of non-picky eaters...that says something! PS: This recipe works best with those huge zucchini that you can occasionally find in your garden...and that other people are usually desperate to get rid of! While my mom used to peel the zucchini before making this, I find I prefer it unpeeled, as it adds to the color. Sorry I can't tell you the quantity...we never counted. Prep time is approximate, and does not include the drain-time. Note (11/03/2006): I accidentally omitted the onions when I originally posted the recipe. That has been corrected. Thanks to Chef 238044 for catching that error for me! (I wondered why you added extra onions when I read your review...oops!)"
I originally reviewed this April 16, 2008. I still give it 5 stars. Hubby still prefers store-bought but he LOVES it as a tartar sauce. This year I bought a box of tomatoes and made a full batch. It filled my 13 qt stock pot! Total yield was 21 pints so I will update the recipe for you. Also I have been adding 2 jalepenos which adds just the right amount of kick. Open kettle method is not recommended, not all the pathogens will be killed by boiling alone. 10 min processing in water bath is recommended.