Uncle John's Brussels Sprouts With Prosciutto and Leeks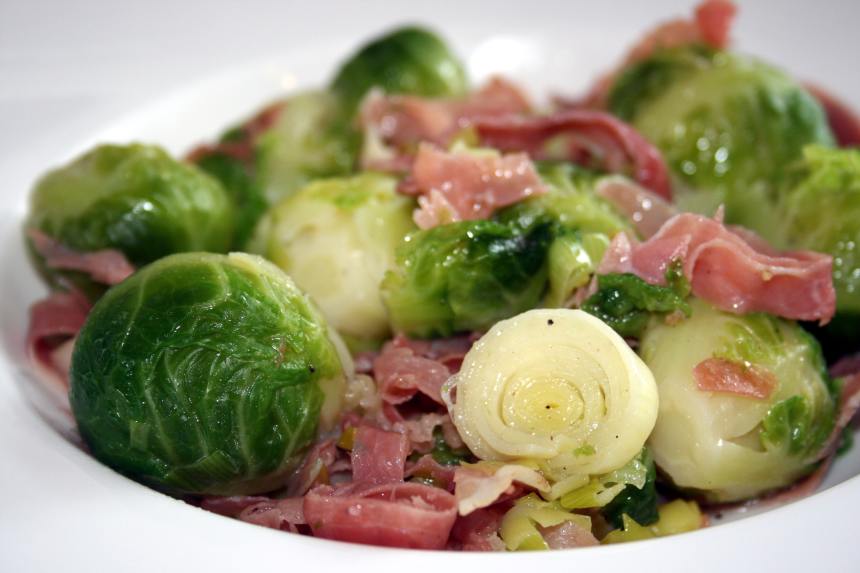 photo by Tinkerbell

Ready In:

50mins

Ingredients:

5

Serves:

16
directions
Fill a large pot like a Dutch oven or stock pot about half way full; heat water to boiling.
While water is heating, wash and trim Brussels sprouts stalks, remove bruised or tough outer leaves, and cut in half. (This takes forever, so get a helper -- it's more fun that way!).
Place cleaned and halved Brussels sprouts in boiling water (adding water to cover if needed), return to boiling, and lower heat to prevent boiling over. Simmer sprouts until the outer leaves are bright green and just barely crisp-tender (can stick a fork into one without going all the way through easily). The amount of time this takes will vary depending on the starting temperature of the sprouts, but usually takes about 6 - 10 minutes. Drain and rinse sprouts with cold water to stop cooking; allow to drain again thoroughly.
While the sprouts are boiling, wash and trim leeks, and chop into roughly 1/4-inch segments. You can include the dark green tops if you want, but they sometimes add a bitter taste, so we usually just use the light colored part of the stalk.
Chop the butter into roughly half-inch lumps. In a large frying pan (we use one of those giant saute/wok pans), melt the butter over medium heat. When butter is almost melted, add the sliced leeks and saute until they begin to soften. In breaks between stirring, cut the thinly-sliced prosciutto into roughly 1/4-inch strips, and add to the leeks. Takes about 4 minutes.
Add the drained Brussels sprouts to the pan with the butter, leeks, and prosciutto; saute over medium to medium-high heat until thoroughly heated, stirring frequently, until sprouts are soft and tender. How long takes depends on your crisp to tender ratio preference (I like them slightly on the crisp side, my husband likes them very thoroughly cooked); in general, it takes about 6 to 10 minutes, depending on how cold they were and how much you have when they went into the pan.
Serve warm. (This is a dish that, if you don't mind very soft Brussels sprouts, will tolerate being kept warm covered on the stove or in the oven for half an hour or so, but we usually cook it as one of the last elements of the feast.).
Questions & Replies

Got a question?
Share it with the community!
Reviews
I don't think I've ever been happier to write a review for a recipe as I am writing this one :) I bought the sprouts last weekend, and wasn't confident they'd stay fresh for a week so I prepped them, then blanched and froze. Made this for our holiday meal today and prepped the leeks and prosciutto last night, pulled sprouts out of freezer for defrosting. This came together this morning in no time. I used only about half the butter called for and topped with some fresh grated parm cheese. All that being said...when was the last time someone asked you for your brussels sprouts recipe? Honestly, I think it is rare. Several family members requested this one and were really surprised at how easy it was to make (and there were no leftovers, darnit). This is a keeper and will be made over and over. Thank you for taking that poor, blah sprout and making it a star :)

 

This recipe DID make brussel sprout lovers out of DH & DS! The flavor combination of butter, leeks & prosciutto is outstanding. The dish itself, in color & contrast was gorgeous. I can certainly see why it would be a hit on a holiday table. I'm so glad I tried this recipe and I'll never use frozen sprouts again. I really didn't think it took too long to prep them & the actual cook time was very easy to manage while making another side & the main dish at the same time. Thanks for passing this recipe on to all of us, ohbother! Made & enjoyed for Spring 2009 Pick A Chef.

 
RECIPE SUBMITTED BY
My husband, two sons, and I just moved to Fresno after having lived in the Palm Springs area since 1995. These days, I am primarily a stay at home mom, homeschooling our 15 year old son and trying to help our 20 year old son get started in life. In my previous life, I worked as a researcher for not for profit organizations of various types, mostly in the area of fund raising. I am also a volunteer for AFS, the international student exchange program. I'm an OK cook (my husband is terrific and used to do a lot of the family cooking), and both my husband and I enjoy playing with food ideas and making up recipes. RecipeZaar has been a godsend for us because we are getting so many new and wonderful ideas on how to fix things that appeal to everyone in our family! We have a lot of food allergies (all different, naturally), and that plus some of our younger son's food phobias has made fixing meals everyone can eat very difficult. The 'Zaar's search "Sifter" has made everything much easier!!! My favorite cookbook, before the 'Zaar came into my life, was The Joy of Cooking, but I collected many dozens of other ones, everything from the little ones that come along with appliances to interesting finds at thrift stores and others. I particularly like ethnic foods, but the recipes are sometimes hard to translate.
View Full Profile