Ultimate Time-Consuming Seafood Gumbo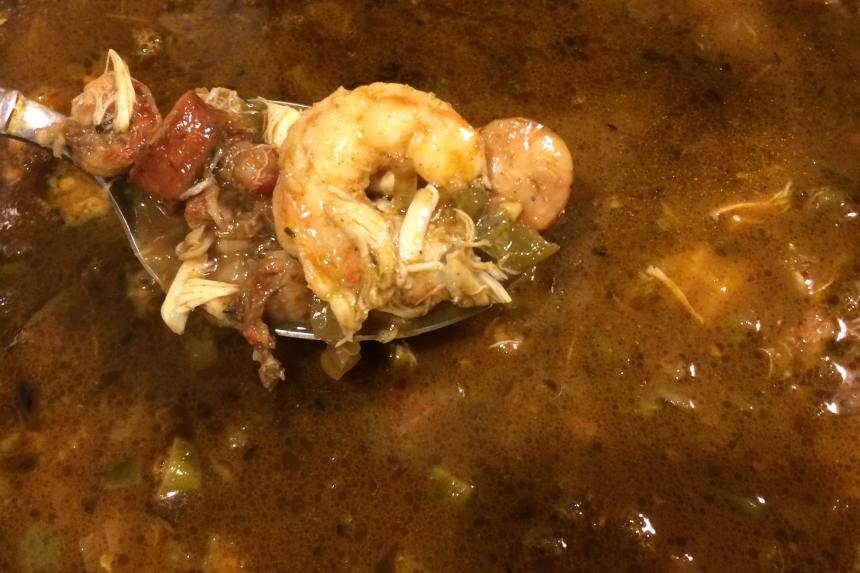 photo by dkharding

Ready In:

7hrs

Ingredients:

36
directions
STOCK: Bake shrimp shells at 375 degrees F until dried and starting to brown on edges.
About 15 to 20 minutes.
Put everything into an 8-quart pot and bring to a boil.
Reduce heat to low and cook 5 hours, uncovered.
When stock is cooled, drain all liquid from the vegetables (I squeezed by hand), then discard all solids.
GUMBO: Combine the cayenne, white and black peppers, paprika, thyme, oregano, bay leaf and salt in small bowl.
In a heavy pot, 6 quart or larger, heat oil over medium heat until hot.
Add onions, celery, and green bell peppers.
Turn heat to high, stirring frequently.
Add garlic, file powder, and the pepper-herb mixture.
Cook for 5 minutes, stirring constantly.
Add tomato sauce and stock, bring to a boil.
Reduce heat and simmer for 30 minutes, stirring occasionally.
Add okra and sausage and simmer for 30 more minutes, stirring occasionally.
When ready to serve, add all seafood and cook for 3 minutes.
Turn off heat, and let stand for 10 minutes, covered.
Serve over long-grain rice.
Reviews
We made this for New Years dinner. It was the BEST meal! So delicious we wished we had company. This may become an annual tradition. Just the right amount of spice, fantastic stock, awesome seafood. Perfect! PS - there is actually a roux of sorts in here - it's with a large amount of File and oil. YUM

 

This title of this recipe is absolutely correct…this is the most time-consuming recipe I've ever made. I do think the prep and cook time is a little misleading because the time to chill the stock was not factored in the total time of 7 hours to prepare. It actually took me about 10 hours to prepare this recipe. By the time I finally got the gumbo finished, I was thinking to myself that it ought to be the most fantastic gumbo I've ever tasted. Well it was! This is without a doubt the best gumbo I've ever had the pleasure to eat. I followed the recipe exactly as written except I didn't have fresh parsley for the stock. I used 1 T dried parsley. I also omitted the crawfish tails because I couldn't find any. The blend of flavors was superb with just the right amount of kick. I had never made gumbo before using a stock and I believe this was the key to such a delicious taste. I'm throwing out all the other gumbo recipes that I have. This is the only recipe I ever care to use again. Thank you so much for sharing this wonderful recipe!

 

It takes me longer than this to make a gumbo. Of course, when you make stock, you should make a lot. It freezes well. I would not make a gumbo without a roux. I don't think anyone in Louisiana would consider it a gumbo without a roux. My other suggestion is to fry off the okra. Use butter or oil at low/medium heat until the okra is no longer ropey/slimey. I have eaten gumbo with okra that has not been fried off and it always seem slimey to me. For the roux, I would use a cast iron skillet, but not to fry off the okra.