Ugly Naked Chicken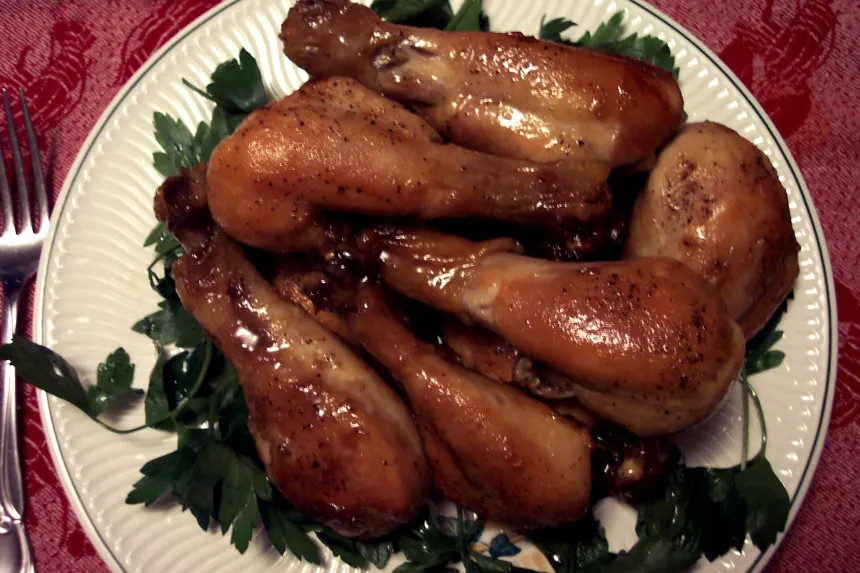 photo by HeatherFeather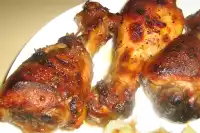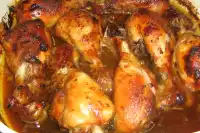 Ready In:

1hr 10mins

Ingredients:

9
directions
Preheat oven to 350 degrees F.
Place chicken pieces in a 9x13" casserole sprayed with nonstick cooking spray.
Generously sprinkle chicken pieces with garlic powder, salt and pepper to taste on both sides.
Bake, uncovered, for 40 minutes.
Meanwhile, in a microwaveable bowl, combine honey, soy sauce, butter, Worcestershire sauce, and lemon juice and heat on HIGH power for about 30-45 seconds, or until butter melts and you can easily stir ingredients together- watch carefully so you don't overheat it and end up with a melted butter mess in your microwave.
After chicken has baked for the 40 minutes, pour the honey mixture all over the chicken and bake another 10 minutes, flip chicken over, bake another 10 minutes longer or until chicken is cooked all the way through and is tender.
Note: If you prefer your chicken"dressed," go ahead and leave the skin on.
Questions & Replies

Got a question?
Share it with the community!
Reviews
This is truly a 5 star recipe with out a doubt! This chicken tastes exactly like the Jack Daniel's Chicken recipe used by TGI Friday's, which we do love! I used freshly ground pepper, the juice of one whole large lemon (about 1/3 cup) and used a small saucepan to combine the sauce and melt the butter. I left the skin on for the cooking process and removed it for serving. This chicken very well may be "UGLY", but it SURE IS DELICIOUS!! DO NOT DISCARD this sauce!! Save it to serve with the chicken in a small dipping bowl!! I've already been told to put this recipe at the top of my list to make again!! We enjoyed this so much, Heather! Thank you so very much for sharing this recipe!!

 

Ugly is a truthful statement here BUT so is DELICIOUS!!!!! I was cleaning out the freezer and used the chicken I had....boneless/skinless, boned/skinless and boned with skin. Used it all and it didnt matter a bit. Managed to save 1 piece for my lunch the next day but when I went to retrieve it, DD had eaten it on a salad as a late night homework snack! This will become a staple in our house for sure. TY Heather!!!!

 

Thank you all for your very nice comments about my recipe! I have noticed that several folks have tried this with boneless chicken breasts instead of the bone-in parts called for in the recipe. You may certainly do so, if that is what you prefer, but please be aware that boneless chicken will cook in far less time than parts with bones. If using boneless breasts, I would start checking the chicken for doneness at 20 minutes and I imagine it would take no longer than 30 minutes to cook. Also - for those of you who enjoy a thicker sauce, I recommend pouring the remaining cooking liquid into a small saucepan and reducing it for a few minutes on medium-high heat - stirring and watching carefully so it does not burn. You could even add a few spoonfuls of cornstarch to some a small amount of cold water, then whisk that misture into the dripppings and reduce in a small saucepan if you prefer more of a gravy texture. I usually just set all of the chicken onto a serving platter and pour some of the cooking liquid over it. Enjoy!

 
Tweaks
OMG!! I thought everyone was just saying this recipe was good just to be doing so, but BOY WAS I WRONG!! This is one of the best chicken recipes Ive tried in a very long time... The chicken was moist and tender with just the right amount of sweetness. I did make a couple of alterations though.... Instead of using garlic powder, I used onion powder and added some parsley flakes and some dried basil leaves. And when I made the sauce, I added some red pepper flakes for some extra spice. I cant WAIT to make this again!! Kudos HeatherFeather, KUDOS!!!

 

This is one of my hubby's favourite recipes... He says the sauce tastes similar to T.G.I.FRIDAYS Jack Daniel's sauce... The only change I make is I use about 1/3 cup honey and 1/3 cup brown sugar instead of the 1 cup honey... Hubby likes the runny sauce and he even pours some over his rice and he usually doesn't like any kind of sauce on his rice... This recipe is a keeper...