Uber-Easy Chicken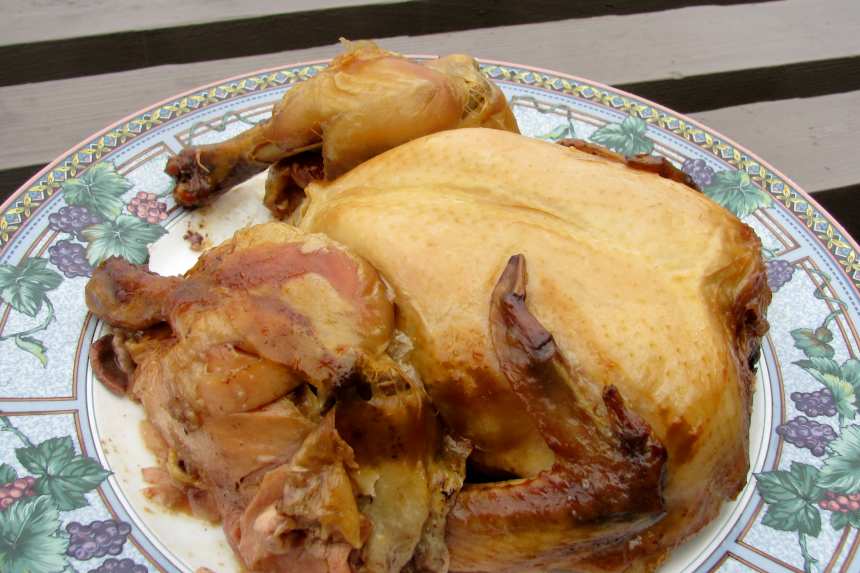 photo by lazyme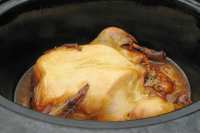 Ready In:

8hrs 3mins

Ingredients:

2
directions
Place chicken in a small crockpot with the legs pointing downward; or if you have a large model, place it upside down, legs on top. Cook on low--put it in before you leave for work or go to bed and it will be ready when you get home or wake up. No need to add liquid. [I don't really add a teaspoon of water but I wasn't allowed to post a recipe with only one ingredient! LOL] There will be a little bit of broth in the pot that is good on rice or other starch or can be frozen as chicken stock. When cooking frozen food in a crockpot, do NOT preheat the pot. Put the food in and then turn on the heat. Note: My crockpot has the heating element that wraps around the sides of the pot; if yours is large and has the element on the bottom, you should probably place the chicken breast side up.
You can make good broth from this too. After removing the meat, put the bones and skin and any giblets back in the crockpot, cover with water, add about 2T soy sauce, a little black or red pepper, and (optional) some onion, carrot, celery cut in half and 1-2T vinegar. Cook on low for 36 hours, strain. This was so good that I didn't make soup, I just drank it as bouillon. Would be great for aspic too as it is full of gelatin.
Questions & Replies

Got a question?
Share it with the community!
Reviews
You can't get much easier than this! My chicken was already defrosted so I cooked it on low for about 8 hours. I think if it was frozen, I'd try cooking it for about 10 hours.? I did put a spice rub over the chicken before throwing it into the crock pot. The chicken came out so tender. Next time, I'd like to try it using a frozen chicken. Thanks for posting!

 

What a great and fun recipe. I was really interested in using a frozen bird for this and a little afraid of not adding any liquid. But it worked out perfectly. I cooked it on low for about 12 hours and it was fall-apart tender and moist. After shredding the chicken I put the carcass back in the crockpot, added some more water, and simmered for a few hours to make a delicious broth. My 2nd picture we were calling 'frankenstein chicken' because it literally fell apart taking it out of the crockpot. I tried to put pieces back into place - but it was perfect for Halloween. lol. Thanks firefly68 for a nice new keeper. Made for Fall PAC 2012.

 

Okay, I thought no way! I decided though that I would season this chicken -- garlic salt and onion powder. Wow!! Delicious melt in your mouth tender chicken. Yes, I will make this again and again. (LOL on the second ingredient by the way.) My chicken was already thawed out, however, I had to do two seperate shifts and knew I would not have time in-between to bake the bird -- so I tossed it into the crock before leaving on my first shift and it was ready before I left for my second shift. (6 hour shift with 2 hour break for a 12 hour shift.) I would give it 10 stars if I could. Thank you for sharing.

 
RECIPE SUBMITTED BY
I want to try growing small amounts of many different fruits and veg and discovered a website that sells tiny sample packets of seeds for 35c. http://www.artisticgardens.com/ As a beginner cook I found Adele Davis's book "Let's Cook It Right" very helpful. This is not a recipe book (although there are some in there), but an explanation of the science of cooking. What heat does to food, how one method makes meat tough but another tenderizes it, how to cook a moist turkey, that sort of thing.
View Full Profile