Tuscan Pork Roast (Weight Watchers)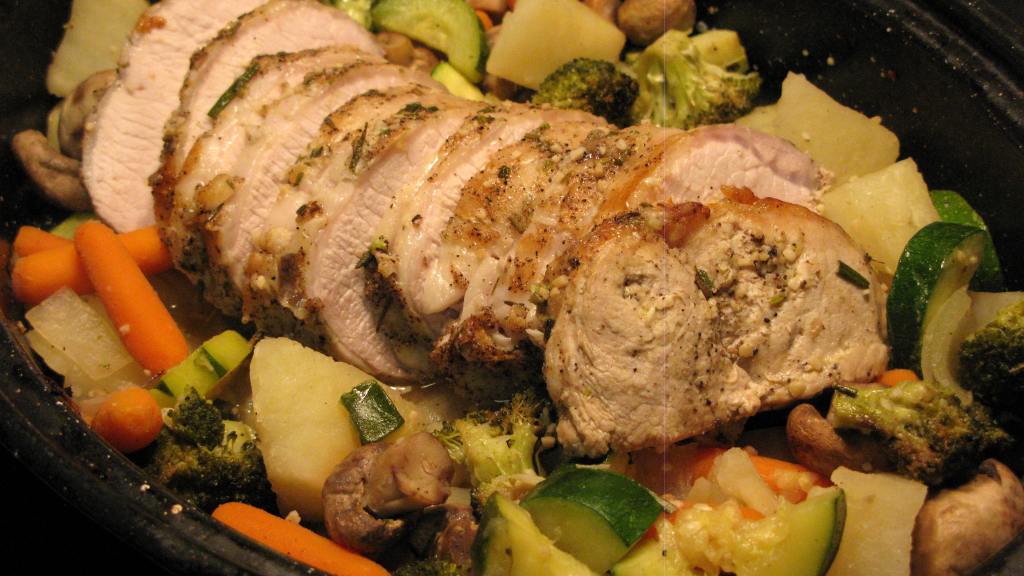 Ready In:

1hr 55mins

Ingredients:

7
directions
Preheat oven to 350°. With a small sharp knife, make several small incisions in the roast; insert a sliver of garlic in each incision. If desired, rub the roast with oil. Then sprinkle over it the rosemary, salt and pepper.
Place the roast in a shallow roasting pan; pour 1/4 cup of the wine into the pan.
Roast, basting occasionally with the pan juices (adding 1/4 cup of the wine after half an hour, and the other 1/4 cup a few minutes before the roast is done), until cooked through and an instant-read thermometer inserted in the pork (not touching bone) registers 160°, about 1 3/4 hours.
Let stand 10 minutes before slicing.
Join The Conversation
I wanted to do lots of veggies with my roast, so I cut up some potatoes and added those and, some chopped onions and some baby carrots right at the start. About 45 minutes in I added some sliced zucchini, whole mushrooms, and broccoli. Cook time was right at 1.5 hours for a 2 lb roast. YUMMY! I think next time I might stir in a can of cream of mushroom or celery for some "gravy" into the veggies for the 10 minutes that the roast is resting before slicing. Thanks for posting this. It was great!

 

This was excellent! After an hour I added garlic cloves, quartered potatoes, carrots and onions to the pan. I tossed in some mushrooms about 30 minutes after that and cooked everything until the pork was done. I omitted the salt and subbed chicken broth for the white wine, but my roast was very lean and I needed about 3 cups total. This was an extremely tasty, very easy meal. And clean-up was a breeze! Oh, I used the Costco pork sirloin tip roast too - what a deal!!