Tuscan Chicken in Lemon-Wine Sauce (Scaloppine Al Limone)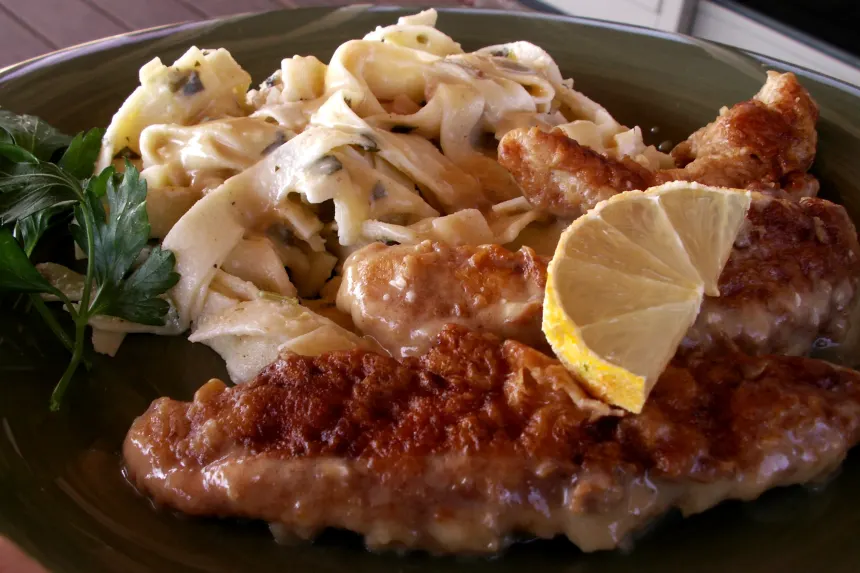 photo by CookinDiva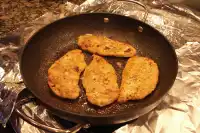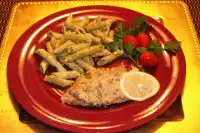 Ready In:

30mins

Ingredients:

11
directions
Flatten each chicken breast by pounding gently with a flat meat mallet (Hint - pound chicken inside a Ziploc bag - no mess!). Sprinkle flattened breasts with salt and pepper. Then dredge chicken in flour; shake off excess.
Heat butter and oil over HIGH heat; just before butter starts to brown, add the chicken pieces and saute quickly to brown, about 3 minutes. Flip and brown other side (3 more minutes). It doesn't need to be totally cooked through because it will cook more in the sauce later.
Remove chicken to platter but leave all browned bits in the skillet.
Add wine to browned bits in skillet and boil to reduce wine by almost half (about 3 minutes). Add chicken broth and bring to a boil.
In a small bowl, whisk together egg and lemon juice. Stir egg/lemon mixture into simmering wine and broth, whisking constantly until sauce is smooth and a little thickened (about 2 minutes). It will thicken more when you put in the chicken breasts which have a flour coating.
Add chicken and any juices back into the sauce; allow to simmer about 5 minutes until chicken is cooked through, turning chicken once. Add chopped parsley.
Place chicken on platter and pour sauce over top; garnish with lemon slices and additional parsley sprigs.
HINT: Please use FRESH lemons and parsley; it has a big impact on the flavor of the dish, and besides, no aspiring Italian chef would consider using otherwise!
Questions & Replies

Got a question?
Share it with the community!
Reviews
My partner and I loved the sauce created in this recipe so much so that I created a pasta side dish that takes full advantage of it: Chef-Boy-I-Be Illinois' Cavatappi With Swiss Chard Recipe # 287820 I did not flour my breasts as I find that it becomes soggy when put back into the sauce. I also thickened my sauce with 2T cornstarch dissolved in 4T water. I agree wholeheartedly that fresh lemons and parsley are a must. Wonderful recipe, thanks so much for sharing!

 

I prepared 1/2 of the chicken amount and the whole amount of sauce for this recipe and served it over whole wheat pasta. I was concerned that the lemon would be overpowering, but it was not at all. It gave it a light summery flavor that was delicious! This recipe came together much quicker than I realized it would and was quite easy (I like easy). Thanks Cookin'Diva!

 

Thumbs up for using fresh lemon and parsley. Thumbs down for pounding boneless chicken breasts with a mallet. Chicken breasts are never to be pounded flat with a mallet! Never! This makes the chicken tougher when you cook it and ruins the texture. The original Italian recipe is for Veal, veal you can flatten all day long with a mallet, ditto for bistecca alla fiorentina. You need to either buy chicken breasts that have been prepared as cutlets by the butcher, or learn how to butterfly your own chicken breasts, which will usually save you 30 cents a pound or more. Pounding chicken breasts is a very common novice mistake. You will notice a huge difference if you prepare the chicken with proper techniques.

 

I made this with 2 boneless breasts but the full amount of sauce. My problem came when I poured the lemon juice/egg mixture into the pan with the wine/chicken broth. Even though I tempered the egg mixture it still began to scramble. I lowered the heat and very gradually poured the egg mixture in, so I am not sure how to prevent the scrambling. Did anyone else have this issue? I used fresh dill rather than parsley and served with mashed potatoes. It was too lemony for the potatoes so would serve with pasta if I make this again. Overall, I don't think the egg is a necessity since the flour bits in the pan would thicken the sauce anyway and this sauce was the consistency of gravy. On the positive side, my partner loved it!

 
Tweaks
Good stuff! I actually made this with seitan instead of chicken, and it was great, really different from the usual vegetarian fare. I didn't brown the seitan, but simmered it in some broth, lemon juice, white wine, and soy sauce while working on the rest of it. The way I made it, it was more of a 4-star recipe - without the flavor from the browned chicken, I'll need to season the sauce some more next time, maybe with thyme, oregano, and/or a little garlic. I also made a version of Chef-Boy-I-Be Illinois' Cavatappi With Swiss Chard Recipe # 287820, which complemented it perfectly. Now my boyfriend thinks I am some sort of culinary wunderkind. So, thanks!!