Turkish Coffee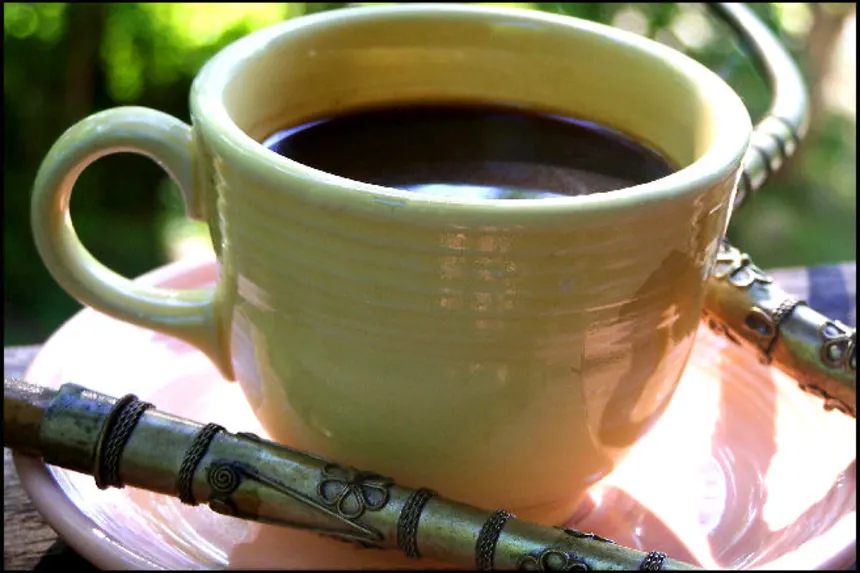 photo by ncmysteryshopper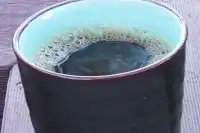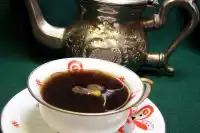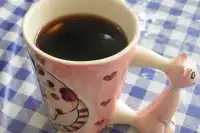 Ready In:

10mins

Ingredients:

4
directions
Bring water and sugar to a boil in ibrik.
If you do not have an ibrik, a small saucepan will work.
Remove from heat, add coffee and cardamom.
Return saucepan to heat and allow to come to a boil.
Remove from heat when coffee foams.
Again, return to heat, allowing to foam and remove from heat.
Pour into cup, and allow to sit for a few minutes for the grounds to settle to the bottom of the cup.
Cardamom pod may be served in cup for added flavor.

TURKISH COFFEE TIPS:

****** Many people have made note that the coffee did not foam the second boiling. Sorry about that. Maybe if, when you pour the coffee into the cup, you do it from up high. I think I read that somewhere.
Turkish coffee must always be served with foam on top.
If you can't find finely ground Arabic coffee, you can purchase a bag of coffee at any coffeehouse and ask them to grind it for Turkish coffee. You need to have a powder-like consistency.
Do not stir after pouring into cups; the foam will collapse.
Always use cold water.
Reviews
Yay! Ever since I spent my KG2 in Syria 17 years ago (my mom comes from there), I longed for that smell. To me, nothing beats the smell of coffee and cardamom, especially in the morning or after a large meal. I just enjoyed a cup of this recipe, and it's almost as good as when I was there! (There's only one thing missing to make it as good : Syria) When I went back with my mom 6 years ago, we brought back some bags of Turkish coffee. There was 3 types : 5% cardamom, 10% and 15%. I'm always annoyed that my mom never chooses 15%, but I can make my own now! It's simple, I go by weight (yeah, 15% is really a LOT) and I choose a blend of very dark bitter coffee mixed with a light sweet one. Here are some approximations. 5% is regular : it means that for 1 tbsp coffee, you put about 1/8 tsp cardamom. 10% is strong : 1/4 tsp cardamom. 15% is very strong : for the same amount of coffee, you put 1/2 tsp cardamom. That's how I like it!

 

As An Arabic person who drinks 4 to 5 cups of turkish coffee a day, you did it extremely well. This is the way Nana Lee. but you can serve this coffee without foam, it depends on the taste of the person and the sugar should be used to the taste like 1/2 coffee spoon of sugar for the same recipe is u like it medium sweet and 1 if u like it sweet and when u want it little sweet let it be just on the top of the spoon. the spoon of sugar should be leveled not full. Good appetite. By the way my nick name is Nana Too.

 

We call this Greek Coffee here in Greece...love it! I like the addition of cardamom in this recipe - provides a nice fragrant brew. Be prepared for a kind of coffee 'cream' to form on top and coffee sediment (the fine grounds) to settle to the bottom of your cup. Do not drink these. If you were in Greece or in Turkey, you would swirl the last few drops of coffee in your cup, overturn the cup to eliminate the sediment and allow the pattern formed on the cup to dry, upside-down. Then, a nice local lady would 'read' your cup and predict your future.

 

Thank You for this. I haven't made it myself but I will! Not long ago I had Turkish Coffee for the first time - and its my favorite!!!! I've always disliked adding creme/milk to my coffee, but felt I needed to because of the taste and how it made my stomach feel. Turkish coffee was gentle on my stomach, love the taste - of course and no need to add anything to it - pure coffee bliss!!!! thanks again Rosario

 
Tweaks
Here's a technique for keeping the foam on your Turkish coffee: Add the coffee (and sugar, etc) to the water before heating. Don't bring it to a "boil". Bring it up to just below a boil, where the mixture just starts to bubble and the "plug" of coffee starts to expand. (The advantage of the ibrik over a saucepan is that the ibrik's "chimney" gathers the floating coffee into a more compact mass.) Take it off the heat and let the foam reduce a bit (say about 20 seconds), then repeat one or two times. NEVER bring Turkish coffee to a full boil, boiling breaks down the elastic characteristics of the "plug" of coffee.

 
RECIPE SUBMITTED BY
<p>Click to feed animals I'm a retired teacher now living in&nbsp;the Jamaica Plain area of Boston. I have one daughter, 2 granddaughters, and 1 great-grandson(17 yo Dec '11)! I've travelled a bit throughout Europe and the U.S. as well as Honduras and Costa Rica. I think I may have some gypsy ancestors! I love to travel but am not able to anymore. So I do a LOT of reading instead. My current craft passion is knittng but I have dabbled in just about everything. I've done leaded glass work(stained glass), which I love; am working on counted cross stitch; and am willing to try any craft, at least once! I've also worked for a major insurance company as a case analyst. I have 2 cats, Teddy BB 11 .o. on the 19th of Feb, and CiCi who will be 5 years old on Mar 6th. src=http://i23.photobucket.com/albums/b399/susied214/orn.jpg&gt;</p>
View Full Profile