Turkey Burger Extraordinaire!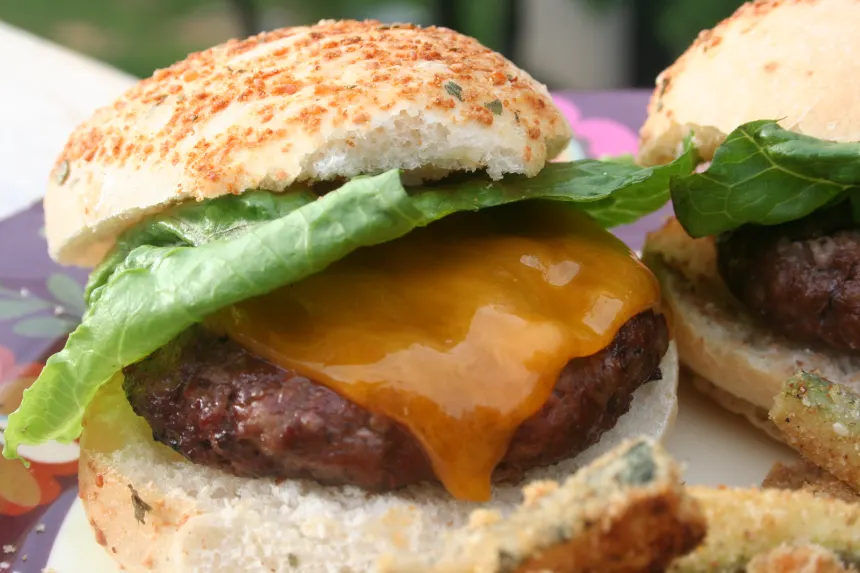 photo by Kitchen Witch Steph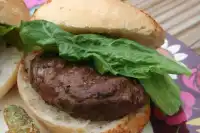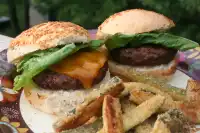 Ready In:

20mins

Ingredients:

10
directions
Preheat oven to 350 degrees and place rack in the middle of the oven; .
Combine the ground turkey, salt and pepper in a large bowl. Add 1 tablespoon oil, 1 tablespoon of the wine, soy sauce, red wine vinegar, chili sauce, if desired, mustard and marjoram. Use your hands to mix just until the ingredients are incorporated. (Avoid over mixing, which will toughen the burgers.).
Shape into 4 equal-size burgers, about 1 inch thick. Season them on both sides with salt and pepper to taste.
In a large, oven proof skillet over medium-high heat, heat the remaining 1 tablespoon of oil until it simmers.
Add the burger and sear, undisturbed, for 2 to 4 minutes, until a crust has formed on the bottom.
Carefully turn the burgers over and sear on the second side, 2 to 4 minutes. (They will not be cooked through).
Add the remaining wine to the pan and transfer the skillet to the oven.
Roast for about 10 minutes, or just until the center of the burgers registers 165 degrees on a meat thermometer.
Check the temperature early and often to avoid overcooking. The burgers should be just firm, but not hard to the touch, when they're done.
Serve warm, with a little of the wine from the pan, if desired.
Questions & Replies

Got a question?
Share it with the community!
Reviews
I had turkey burgers in the freezer, I made a marinade out of the ingredients (minus the marjoram - personal preference). I marinated the burgers for a few minutes before frying. Wow, great flavor! I would (and will) use this combination on regular burgers and chicken, too! Thanks for the recipe. I loved it.

 

Fabulous. Only modified a few things -- didn't use oven -- just used my covered electric skillet. I had 20 oz of ground white turkey after mixing, it seemed really wet so I threw in 6 reduced-fat Ritz crackers, crushed, which was perfect (for my preference). Pulled it all together and let them sit in fridge all day (made before work). I also only used Pam spray in skillet but browned each side per directions and then poured in a bit of wine (just a splash) and covered for 10' -- PERFECT. Only garnished with lettuce and tomatoes. Hubby gave it the nod of "Yep, this is a do-over" -- his jargon for "yes, we can have this again" -- Thanks for sharing -- best turkey burger I've ever had!

 

burgers came out great except the red wine taste was a bit too strong for me (and i love red wine). i thought it would cook out but it didn't. (i used 1 cup of red wine for 2 pounds of ground turkey). i added a bit more salt, red pepper flakes and hot sauce to kick up the spiciness a notch. sharp cheddar melted over the burger with no bun set it off nicely.

 

Very nice turkey burgers! Super moist and lots of flavor. With a little revision, I did these on the grill. I took the remaining red wine and added a wee bit ketchup to give it some stick and used that to baste the burgers on the grill. I made 8 teeny burgers out of the recipe which made a nice meal for us with some of Recipe #83807. Thanks, Mama.