Trini Doubles: Caribbean Fried Dough and Chickpea Sandwiches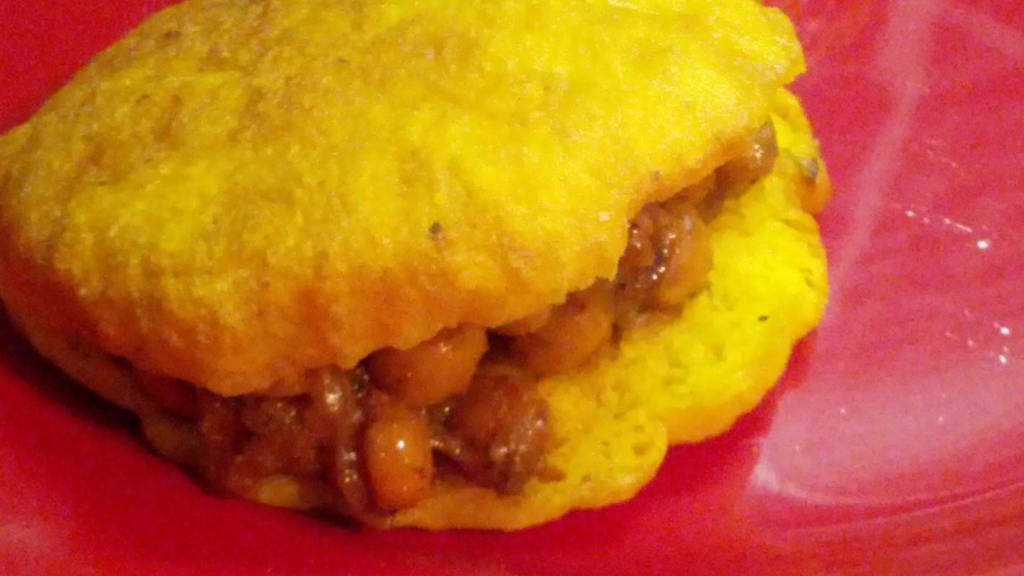 Ready In:

1hr 45mins

Ingredients:

18
directions
To make the dough:

Place the warm water, sugar, and yeast in a separate small bowl. Set aside until the mixture bubbles.
In a large bowl combine the flour, salt, turmeric, cumin, and black pepper. Stir the yeast mixture into the flour mixture and add additional lukewarm water as needed—about 1/2 cup—until the mixture comes together into slightly firm dough. Knead until smooth and elastic and cover with a damp cloth. Set aside in a warm place to rise until doubled in size, about an hour.
To make the filling:.
If using dried chickpeas, drain, place in a pot with 6 cups of fresh water. Simmer for about 1 hour, or until tender. Drain and set aside.
If using canned chickpeas, drain in a colander and rinse well with cold water. Set aside.
Heat the oil in a heavy skillet and add the onion. Cook until translucent. Add the garlic and stir well, frying for 1 minute more. Add the curry powder and mix well. Cook for 30 seconds and add 1/4 cup of water. Stir in the chickpeas, cover and simmer for 5 minutes. Remove the lid and add 1 more cup of water. Stir in the cumin, and salt and pepper, and lower the heat. Simmer until the chickpeas are very tender. Set aside.
To complete the doubles: Punch down the dough and allow it to sit for 10 minutes. Pinch off walnut-size pieces of dough and flatten each into a circle about 4 1/2 inches in diameter. Dampen your hands with water if the dough is sticky.
Heat about 1 cup of canola oil, at least 3 inches deep in a frying pan or medium saucepan. Test the oil by sprinkling a bit of flour into it. If the flour bubbles and sizzles the oil is ready. Add the dough circles and fry, turning once, until lightly browned on both sides, about 40 seconds. Place 2 tablespoons of chickpeas on each piece of fried dough Add the pepper sauce, Kuchela, and cucumber, if desired. Top with another piece of fried dough. Serve.
* Kuchela is a spicy condiment made from green mangoes and Scotch bonnet peppers. Check West Indian markets.
Join The Conversation
These are surprisingly good! I used regular yeast first and couldn't get back to it in a timely manner. I fried that up, and it was still good, but not what I thought it should be. Made a new batch of dough today using 1 teaspoon of instant yeast and did everything correctly, and ... WOW! My dough rounds puffed up like pitas which was really good for us. I cut them and filled them and my husband can't stop raving about them. He is the one who shared the recipe with me. 10 stars on this one.

I really enjoyed making this recipe. It was very easy to follow the instructions. Now that I know how easy these are to make I'll make them regularly. Actually making my second batch only a week after my first because the bara did not last. The young ones don't really like chickpeas so they ate it without. I thought I had to sweeten the deal for them and gave them the first with a little powdered sugar on top. They snatched up the next ones plain without a fuss!!

This is what I call fun food. Loved making the bread, and the way it puffed up when I fried it. Chickpeas were awesome. My normally picky son crushed them. I made them with dried chickpeas and spices from my pantry and figure the whole meal cost less than five dollars. We really should eat more legumes. Thanks for the keeper.