Trdelnik - Slovak/Czech Sweet Pastry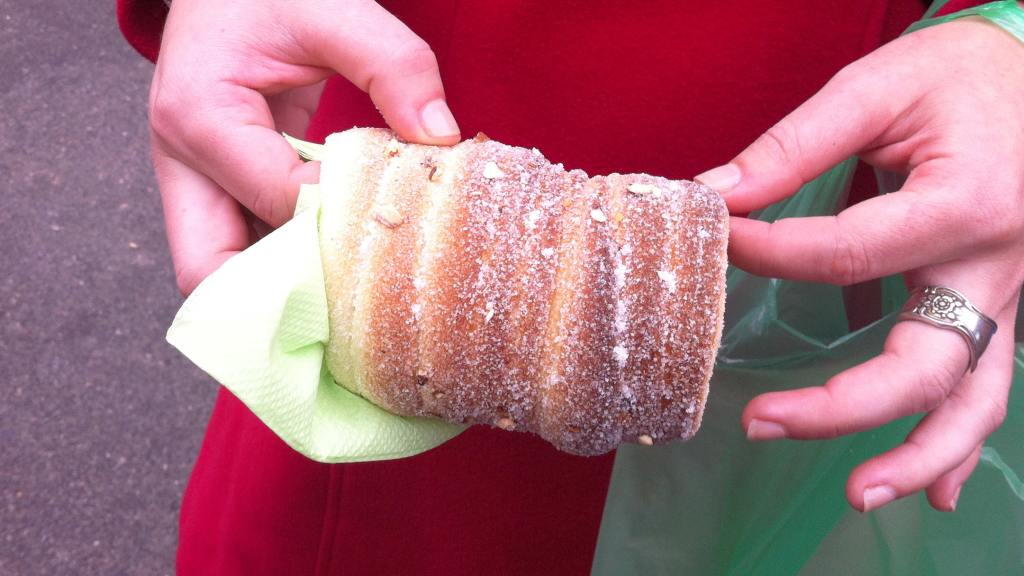 Ready In:

2hrs 40mins

Ingredients:

9

Yields:

5

pastries, five servings each

Serves:

25
directions
Please read the description part first, as it's essential for this recipe. Thak you.
First stiff into large mixing bowl flour and powdered sugar. Make a small hole in the middle and place into it crumbled fresh yeast. Pour lukewarm milk over the yeast. Let it rise for about 10 minutes.
Meanwhile melt the butter.
Add egg yolks into the bowl, pour in melted, but not hot butter, add pinch of salt.
Mix together to make fairly firm dough, well worked (use stand mixer, it's easy).
Let the dough rise for 20 minutes in warm place.
Divide into five equal parts, make loafs.
You can let it rise for another 20 minutes (it's better, but not necessary if fresh yeast used, a must with dry yeast).
Roll out each loaf into 2/3 inch diameter /caster?/ - you know what I mean, thin, cylindrical shape, like a small snake :-)).
lol.
Wrap the dough tighty around the BUTTERED "trdlo" wooden stick. Let it stand for ten more minutes (support the ends, so it will be in the air).
Glair with the last egg, cover all around with chopped walnuts and granulated sugar.
Bake as described above over hot coals on the grill. Results MAY be achieved with oven, but . . . .
The pastry need to be turned pretty often during baking, and baked until golden red color. Baking time is not determined, since baking over hot coals and on open air, but from my experience about 20 to 40 minutes, also depends on size you making.
When cooled down a little,
slide the baked pastry of the wooden stick, cut into individual servings, sprinkle with powdered sugar, enjoy.
Also you can cover it in various nuts, coconut and such.
Makes five, baked on two feet long, three inch diameter wooden stick.
I tried to have your reading bit more enjoyable, if there is something not so clear (this recipe is VERY unusuall), feel free to ask.
Tomas Sedlacek.
Join The Conversation
I LOVE THIS!! I can't wait to make this now! Thanks for posting it! We have a polka party coming up next Saturday & will be selling homemade kolsches as a fund-raising to improve our Bohemian Hall north of Rossville, KS. This recipe would be GREAT to add to our repertoire!!! My question is: I don't like walnuts so what other icing can be tried?