Traditional Senegalese Soup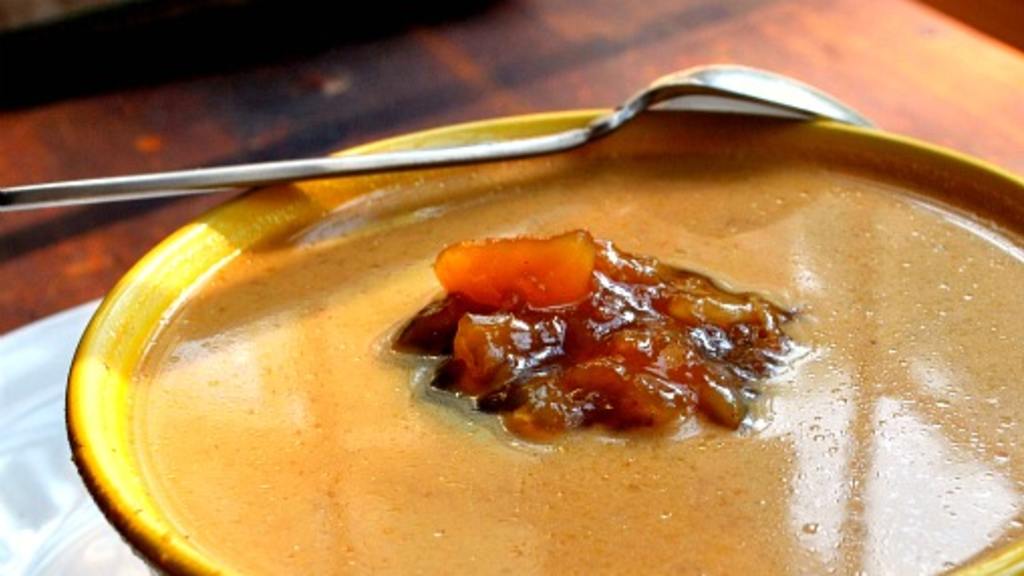 Ready In:

2hrs

Ingredients:

12

Serves:

6-8
directions
Peel, core and chop apples.
In a heavy kettle heat butter over moderate heat until foam subsides. Add apples, carrots, onion, raisins, and garlic, stirring occasionally, and cook until they begin to soften, about 10 to 12 minutes. Add curry powder, cook and stir, for 1 minute. Add flour and cook, stirring, for 2 minutes. Stir in broth and tomato puree, and cover kettle. Let simmer, covered, for 1 hour and 20 minutes. Stir in cream and salt to taste and simmer, uncovered, 10 minutes.
Cool soup. While is still warm, place in a food processor or blender and puree in batches until smooth. Strain soup through a sieve into a large bowl and serve while still warm, or chill 2 to 3 hours and serve cold.
Garnish each serving with about 1/2 teaspoon chutney.
Join The Conversation
I had been inside cooking most of the day but had to step out for a minute and when I came back in I was hit with the most amazing aroma and the taste did not disappoint! I made this for a vegetarian picnic so used vegetable broth but it wasn't vegan as I still used real cream. This soup is absolutely going to be a summer staple for me as it was just wonderful at the end of a warm day. I'll be making it on cooler days and keeping jugs of it in my fridge. Thanks so much for posting NWG! Made and thoroughly enjoyed for team Mischief Makers - ZWT #7.

I wasn't sure what to expect with this soup as it is a little different from what I usually eat. But I love curries and had everything on hand. I'm so happy that I made this. It was wonderful and smelled incredible while it was simmering. Loved everything about it! I ate the first bowl warm and had the leftovers cold. I guess I'm with the Epicurious reviewers - it was good both ways but I think it was better warm. Thanks Vickie for a great new keeper. Made for ZWT7 for the Emerald City Shakers.

Ok, you stopped by to take a look at this soup. This is THE soup you want to M A K E. It can be easily vegetarian just by subbing the broth, and using some soy cream. I used my own chicken broth, and otherwise stayed exactly to the ingredients, and directions. I served warm...not hot, not cold (although I suspect it would be wonderful either way) with that dab of mango chutney affixed firmly floating atop, you will seriously be in heaven. So go ahead, it takes minutes. The longest part is waiting for this heavenly mixture to simmer on the back of your stove, you won't even know it's there, except for the amazing aroma that comes rafting out of your kitchen. Made for ZWT7