Traditional Irish Shepherd's Pie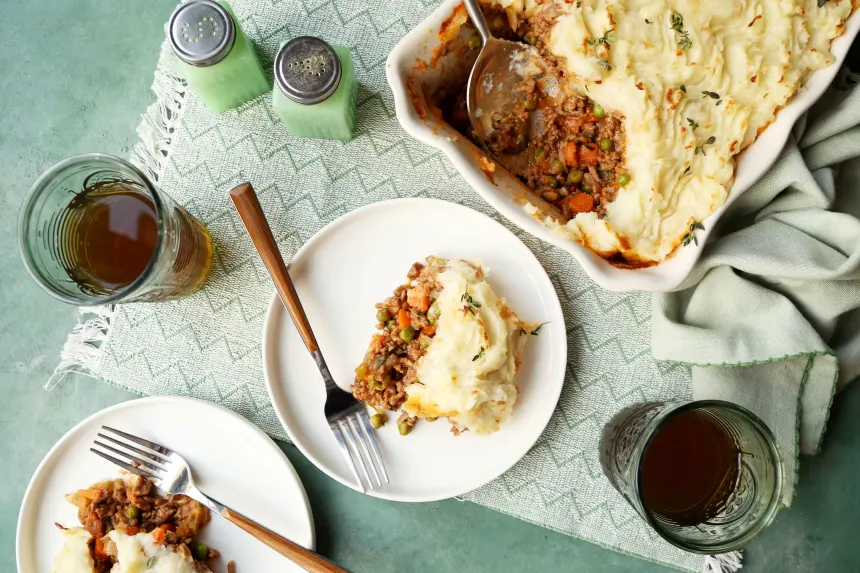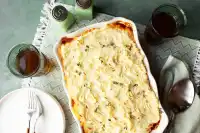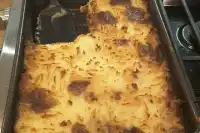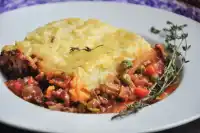 Ready In:

40mins

Ingredients:

16

Serves:

4-6
directions
Pre-heat oven to 200C/400°F.
Saute carrots in the olive oil until starting to get tender.
Add in the onions and saute for a minute or two then add the meat.
Season with black pepper and thyme.
Cook until browned then drain fat.
Add the butter and peas.
Sprinkle with flour and stir through.
Add tomato paste, wine and Worcestershire sauce.
Let this reduce slightly then add the chicken stock. Allow to reduce down until you have a thick meaty gravy. Season to your taste.
Remove from heat. Grease an oven proof dish** (9x13 works for me, as does an oval baker) with butter and add the sauce.
Spoon or pipe the mashed potatoes over top. Brush with egg and sprinkle with Parmesan cheese if using.
Bake for about 20 minutes or until the potato is nice and browned on top.
Serve as is or with some crusty bread to mop up that yummy sauce!
Questions & Replies

Someone needs to explain to me why this is called Shepard's Pie. Traditionally Shepard's Pie is made with lamb...which is how it is made in our household. Sheep were cared for by shepard's. Shepard's do not take care of cattle. Traditionally they would have moved the sheep around from meadow to meadow.Lamb that was slaughtered for meat would have had some of it made into Shepard's pie. This would have been made from scrapes that were ground. On the other hand, this type of dish made using beef is called Cottage Pie, as the bovine (cows/cattle) are not sheparded, but usually just pastured. When slaughtered for meat, scrapes or ground meat would have had been made into Cottage Pie. Either way, these recipes would have been made to insure nothing was wasted. Neither would have been made with prime cuts. So I ask again why is this called Shepard's Pie? Any Irish old time must cringe at the thought...the Scots and British as well.

 
Reviews
I must say...this recipe is HIGHLY recommended to all. I am a very particular about recipes; but THIS ONE IS A KEEPER. I used all the ingredients mentioned in the recipe as well as followed all of the instructions. The only thing that I did different, not on purpose, was use White Zinfandel wine, instead of red wine (I didn't have any red wine and didn't feel like driving down the mountain to get it when I had everything else cooking--lol). Unless you like that kind of wine, don't use it. When I buy more red wine, I will try it--so I could decided which one is best. Also, it really makes a difference when you season your potatoes and get them into a semi-creamy texture with butter and canned milk. Whip on HIGH with hand mixer. Just a thought, if you haven't tried it that way. : )

 

Hubby has been asking for Shepherd's Pie for a couple weeks. Rather than my usual throw together, I decided to consult my Food.com peeps. Am I ever glad I did. This was amazing!!! Followed the recipe almost exactly, with the exception of using dried thyme and Sherry. For those concerned about not having red or white on hand, I have found that using Sherry for either is a great alternative. You can pick up a big bottle in any liquor store for about $6. For those concerned about the prep time, try using instant potatoes. They have changed so much over the last few years and honestly you cannot tell the difference. Our favorite is Idahoan Four Cheese. Remember too that Shepherd's Pie is one of those dishes that can be made earlier in the day and just tossed in the oven when you are ready. A chilled dish just takes a bit longer to heat.