TRADITIONAL ADOBO (Pork in Vinegar and Soy Sauce)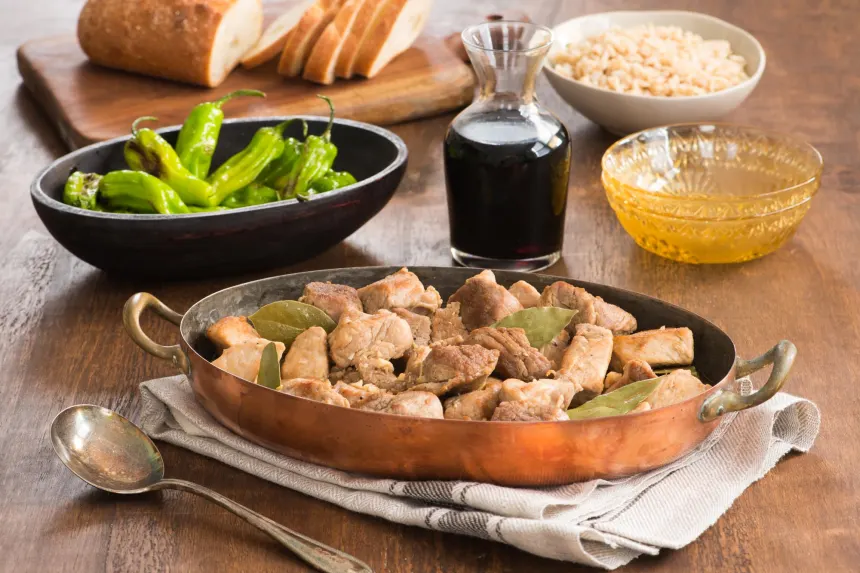 photo by Robin and Sue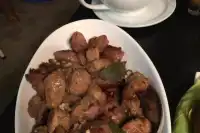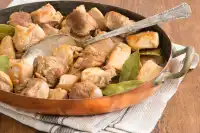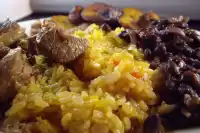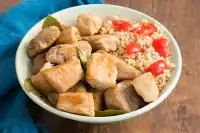 Ready In:

1hr 5mins

Ingredients:

10
directions
Combine all ingredients except cooking oil in a pot and let stand for at least 30 minutes.
Simmer covered for 1 hour or until meat is tender.
Drain and reserve the sauce.
Heat cooking oil in a skillet.
Brown meat on all sides.
Transfer to a serving dish.
Pour off all remaining oil from skillet.
Add reserved sauce and cook for a minute or two scraping all browned bits sticking to pan.
Pour sauce over meat and serve.
Reviews
This recipe is as good as my friend's mom's recipe and my kids love it! Since we move a lot, this is a great recipe for finishing up vinegars in my cupboard. I have used a variety of different vinegars and all have worked fine. A combination of red wine and rice vinegar gives it a more subtle flavor. Apple cider vinegar gives it a fresher flavor and white vinegar gives it the traditional tart taste. You may have to adjust the amount of sugar to compensate. I use raw sugar instead since the slightly molasses flavor compliments the soy sauce. Low-sodium soy sauce also keeps it from getting too salty. I double the sauce ingredients because my family loves the gravy over rice but I thicken it slightly with a cornstarch+water mixture after browning the meat. And, for speed and ease, I use country ribs and increase cooking time until tender.

 

It was FABULOUS! I have made it repeatedly since my husband has a coworker who brings in authentic adobo and he loves it. I totally changed this one up seeing as how we are trying to lose weight though: I use chicken breasts or pork chops cut into pieces, Splenda instead of sugar, add onion and no cooking oil. I brown the meat, onion and garlic. Then I combine the remaining ingredients with 1/2 c. extra water and 1 c. instant brown rice, and simmer for a good 10-15 minutes. The rice soaks up the gravy and is SOOO flavorful. I serve with steamed broccoli. DEFINATELY A FAVORITE! Thanks for posting!

 

I've been keeping this recipe more than 6 months now. I've always wanted to eat adobo but never successfully cooked it. I tried more than 20 times before I succeeded making a good one and it only happened through this fail-proof recipe. With all the recipes I have found online, this one didn't disappoint me. It was easy to follow and easy to execute. The ingredients are easily available and its the same adobo I've been craving for whenever I visit my boyfriend's grandma. (I can't go there often coz its really far like airplane far so imagine if I crave for it but i have no choice) His grandma gave me a recipe actually but they always say "estimate: it to your liking but I always end up having a sour adobo, bland one or even a burnt one. Even those I found online was not the adobo I was expecting. But this one, this one is GOLD!!! My first try was not a failure nor my 2nd or 3rd and the succeeding days I cooked it. So for beginners like me, try this out. I definitely love this recipe and I am truly grateful for this recipe. I don't know what I was thinking before why I didn't write a review of this recipe earlier but this time, I am thankful for saving my pork from doom.

 
Tweaks
This is good eats. I can see why the pork were braised initially and seared after (reverse searing to achieve maillard reaction and ). It's a quicker way to flavor the meat if you did not have time to marinate it before hand. But this uses quite a bit of pots and pans and a little messy (since you have to pat the pork dry, and you can't sear it if it's wet). Next time, I would sear the pork first (just like you would with beef bourguignon), add the cooking liquid, then bring to a boil (always), then simmer and reduce the liquid (a lot, no need for corn starch to thicken it). I did add some sweet onions (reminiscent of Bo Luc Lac) and sautéed mushrooms at the very end. And instead of using water, I substituted beef stock. This is just my humble opinion and taste is subjective anyway.

 

The recipe is excellent as written. However if you want to take it to the next level: 1. Double everything in the sauce/marinade. Extra sauce is good with the rice. 2. Use brown sugar instead of regular sugar. 3. Add 2 whole star anise pods. 4. Add about 4-6 Thai red chili peppers (more or less to your desired spice level). If you cut up a few, it will be spicier but also more flavorful.

 

I, like another reviewer, didn't care for this adobo recipe. I added orange juice...more like a mojo. Used pork tenderloin on the grill ( I only use boston butt aka pork shoulder for pulled pork) . Served with grilled pineapple spears, Goya yellow rice, corn and lima bean casserole, slaw and angel biscuits.