Tofu Risotto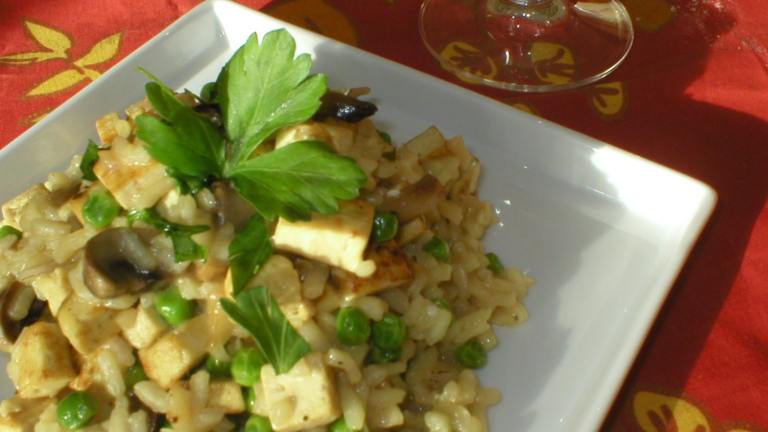 This risotto is a real comfort food. Tofu has a quite bland taste, but I particularly love the texture of it. In this dish the tofu absorbs all the rich tastes of wine, parmesan cheese and garlic!
Ready In:

35mins

Serves:

Units:
directions
Melt butter and oil in large frying pan, cook onions until translucent, add mushrooms saute until golden, add garlic saute for another minute, salt and pepper to taste,set aside.
In same frying pan, saute tofu until golden on all sides, you might want to add more olive oil and butter. The reason why you shouldent use the Mori-Nu Tofu is because even the extra firm one is too soft and will fall apart!
Add arborio rice to the tofu and start adding the chicken stock with the wine one cup at a time until all liquids are absorbed. Continue stirring and adding stock and wine until the rice is tender and add the frozen peas, add salt, pepper and thyme. This step should take approximately 20 minutes.
Finally stir in parmesan cheese (only fresh parmesan should be used for this recipe!) until it melts and risotto becomes creamy.
Serve piping hot -- enjoy!
Submit a Recipe Correction
RECIPE MADE WITH LOVE BY
"This risotto is a real comfort food. Tofu has a quite bland taste, but I particularly love the texture of it. In this dish the tofu absorbs all the rich tastes of wine, parmesan cheese and garlic!"
Kind of underwhelming. I'm an old hand at making risotto. We didn't find that the tofu cubes added much of anything. Perhaps if they'd been marinated and then browned and added at the end with the rest of the "sofrito" the flavoring, which are the mushrooms that were browned in the beginning. On the other hand, adding some silken tofu to the end, rather than lots of butter could give it a much creamier texture and something I might try the next time I make a risotto. And while I used the "baby bella" mushrooms, for another attempt, I would add some dried and reconstituted porcini mushrooms to the mix. <br/><br/>Making risotto isn't difficult or ambitious. The usual order of risotto making is to make your "soffrito" first, that would be something that is usually sauteed beforehand that has a lot of flavors, mushrooms, bell peppers, sausage, etc., and then removed from the pan. Onion is usually added next to the olive oil and butter. Saute until translucent only, don't brown. Add the rice and coat the grains thoroughly. In fact, they should become somewhat translucent with a hard bit in the middle. Have your stock simmering in a pot next to you or at least hot from the microwave. Add the first addition, often wine, and deglaze the pan with it. The pan should be almost dry before you add the next ladle of stock. Figure one addition every 5 minutes. It should take you about 20-25 minutes total to make this. Stir the rice as it absorbs the stock. This does not need to be constant but at least a few seconds out of every minute within the 5. To tell that it's ready for the next addition, draw your spoon though the rice. It if stands up on either side and stays put for about 15 seconds, it's ready. I call it the "Red Sea Test." When the rice is al dente, turn the heat off. The last addition goes in, along with the sofritto and any additions such as the peas. Stir madly. Add some extra butter and good finely grated Parmesan cheese. Stir again. And serve.

Loved this risotto (made for the first time last night). It had a really great flavour, and we ate it all up! Our tofu did come apart completely, but that happens in a few recipes so may be down to the brand I use - you definitely want the tofu as firm and dry as possible! My only other criticism would be that unless you're serving this as a tiny starter there's no way it serves 8 people. Three of us made the recipe as given, expecting to feed ourselves and have a one-person-portion left over (as we feel risotto should have at least 500kcal per portion!) and actually we ate it up AND had pudding. Still, really great flavours :) Edit: Having come back to this some months later I've realised that this is quite an ambiguous recipe. I set aside the onion/mushroom, cook the tofu, add the rice - but when do I add back the onions and mushrooms? Before or after the stock?