Tiramisu Layer Cake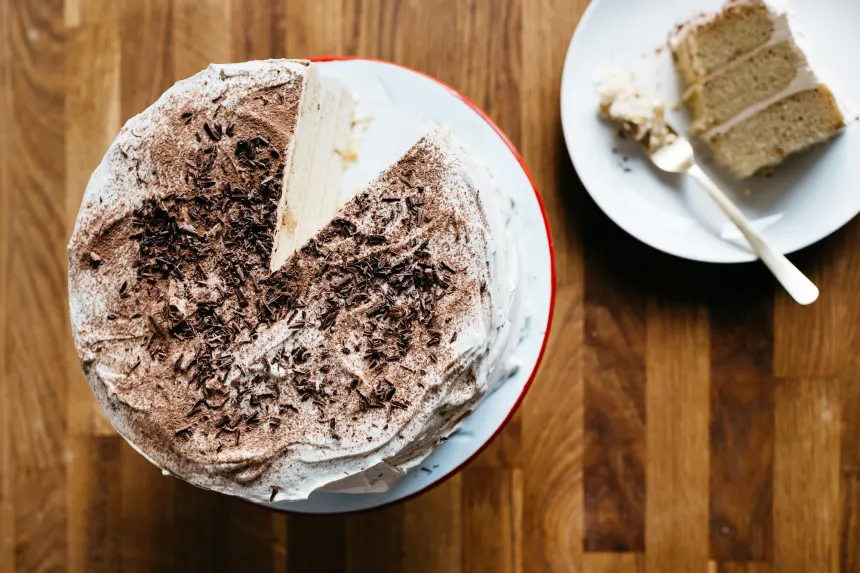 photo by Alana Kysar Fix Fe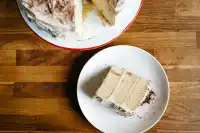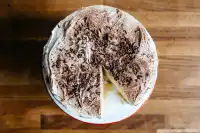 Ready In:

1hr

Ingredients:

15
directions
Preheat oven to 350°F Grease and flour 3 (9-inch) round pans.
Prepare the cake mix according to package directions.
Divide two thirds of batter between 2 pans.
Stir instant coffee into remaining batter; pour into remaining pan.
Bake in the preheated oven for 20-25 minutes, or until a toothpick inserted into the center of the cake comes out clean.
Let cool in pan for 10 minutes, then turn out onto a wire rack and cool completely.
In a measuring cup, combine brewed coffee and 3 tablespoons Kahlua; set aside.
To make the filling: In a small bowl, using an electric mixer set on low speed, combine mascarpone, 1/2 cup powdered sugar and 2 tablespoons Kahlua; beat just until smooth.
Cover with plastic wrap and refrigerate.
To make the frosting: In a medium bowl, using an electric mixer set on medium-high speed, beat the cream, 1/4 cup powdered sugar and 2 tablespoons Kahlua until stiff.
Fold 1/2 cup of cream mixture into filling mixture.
To assemble the cake: Place one plain cake layer on a serving plate. Using a thin skewer, poke holes in cake, about 1 inch apart.
Spoon one third of reserved coffee mixture over cake, then spread with half of the filling mixture.
Top with coffee-flavored cake layer; poke holes in cake.
Spoon another third of the coffee mixture over the second layer and spread with the remaining filling.
Top with remaining cake layer; poke holes in cake.
Spoon remaining coffee mixture on top.
Spread sides and top of cake with frosting.
Place cocoa in a sieve and lightly dust top of cake.
Garnish with chocolate curls.
Refrigerate at least 30 minutes before serving.
To make the chocolate curls, use a vegetable peeler and run it down the edge of the chocolate bar.
Questions & Replies

Reviews
Served this last evening. for a "combined effort" dinner part for 9, in the planning stages of a trip to Sicily. Our friend's DIL had made this the week before, to high praise. After a REALLY big dinner, everyone said they couldn't possibly eat dessert. We explained it was very light -- and ALL plates were scraped clean ! There are many steps, but instructions are clear, and it went together very well. We were concerned about refrigerating without plastic wrap overnight, and decided to complete the recipe to the point of making the icing. We covered the bare cake with plastic, then covered with frosting (using 3/4 of recipe ), in the morning,and refrigerated til dinner time. It held up well and sliced easily. What a yummy finding ! Thanks so much for posting !!

 

Delicious! I lost a bit of the reserved coffee mixture as it ran down the cake sides when I was trying to spoon it onto the cake - and then realized I could brush it on with a pastry brush instead! Worked like a charm and allowed me to coat the cake layers! This recipe is so easy and yet, so elegant!

 

This cake has beautiful presentation and tastes out of this world delicious. It is a little expensive, 8oz Mascarpone cheese is 5.95 here in Georgia, but oh my gosh is it worth it. I agree with the other reviewers, Do not be afraid of all the steps it is very easy. Because we like that strong coffee flavor I added a tablespoon of instant coffee to the 1/2 cup of coffee and 3 tablespoons of Kahlua mixture. Thanks for a beautiful delicious cake that would surely impress anyone.

 

Holy moly this is good! Easy but looks impressive. Couple of notes... the instant coffee didn't really dissolve in the cake so it came out flecked looking... but it actually looked pretty that way so this is not at all a complaint but merely an observation. I used a coffee liquor vs. actual Kahlua as the Kahlua was 3 or 4 times more expensive. Also, I had a ton of the "frosting" left over. It seemed to make a lot and I could not get it all on the cake no matter how determined I might be. The cake, despite the caloric content of the heavy cream and mascarpone, was decidedly light. It had a marvelous flavor and texture and a beautiful look to it. Thanks for sharing!

 
Tweaks
I have made this cake twice for birthdays - the first time for my husband's birthday and the second time at the request of my 16 year old daughter for her birthday. It is a wonderful recipe, please don't hesitate to try it! I followed all instructions as written and it has turned out perfectly both times. I used Duncan Hines white cake mix. Since the mix was spread out over 3 pans it took about 7 minutes less time to cook than the box suggested cooking time and I used dark, coated baking pans. I used 2 Nescafe instant coffee singles and while it gave me slightly more instant coffee than the recipe called for I don't feel like it had any negative impact on the cake. I did find that the instant coffee granules did not completely dissolve as another reviewer mentioned, but I let the mixture sit for about 10 minutes and then went back and mixed it up some more and it seemed to give the granules more time to break down. My kitchen-aid stand mixer was key to making the frosting because it does take a while to whip the cream into stiff peaks. I did put the mixing bowl in the freezer to chill it prior to adding the ingredients to make the frosting. Definitely heed the advice of the other reviewer to use a pastry brush to cover each layer with the coffee mixture - it worked like a charm! I started out trying to spoon it on and all it did was roll off the cake. I used a bamboo skewer to poke the holes in the cake instead of a toothpick, just to be sure that the coffee mixture made it's way down into the cake.<br/> I was worried because I had to keep the finished cake in the fridge on a glass dome covered cake plate over night before we even cut the first slice, but it was moist and absolutely delicious the next day and everyone loved it. Thank you for the recipe - it is a new family treasure!

 
RECIPE SUBMITTED BY
Hello! My name is Carla. I have 5 kids ages 10 and under. I love to cook, sing, paint, bicycle, and play piano. It's hard to squeeze in that many activities anymore though, but I still manage. I grew up in Alabama and learned to cook everything southern. I spent a lot of my childhood and all of my adult life in Colorado, the healtiest state in the nation. I've become a health and fitness fanatic. I'ts a real trick to balance healthy eating and southern cooking. I've learned to make a lot of modifications to make those southern dishes work for us though.
View Full Profile