Tin Roof Sunday Brownies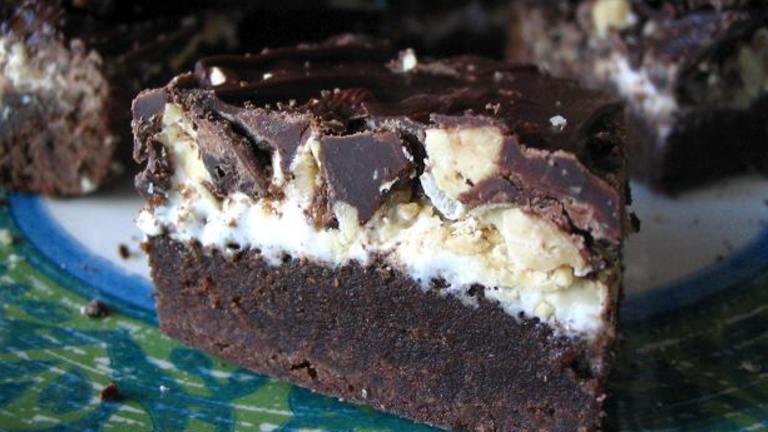 This is my variation of a recipe I found online. It doesn't really taste a whole lot like Tin Roof Sundae icecream, but they follow the same general idea. These brownies are very rich.
Ready In:

40mins

Serves:

Units:
ingredients
2

eggs
1⁄2 cup melted butter

1

teaspoon vanilla

14

ounces brownie mix (for 8x8-inch pan, I use $notetemplate1$)

1⁄2 cup marshmallow cream
1⁄2

cup dry roasted salted peanut, coarsely chopped

6

ounces semi-sweet chocolate chips
directions
Heat oven to 325° and prepare an 8x8" glass pan with cooking spray.
Place eggs, butter, and vanilla in a small mixing bowl. Mix on medium speed for 1 minute. Add brownie mix all at once. Mix on medium/low speed until thoroughly incoporated (mixture will be very thick).
Spread brownie mixute into prepared pan, and place in the oven. Bake for 30 mins, or until a toothpick tests clean. Do NOT overcook brownies. This is a fudgey brownie recipe, and if they are overcooked the bottom will be very tough.
Turn oven off and as soon as you take the brownies out, spread the marshmallow cream on top. Sprinkle peanuts evenly over the cream, and sprinkle chocolate chips over the nuts. Put back in the oven until chocolate is melted (note: chocolate chips don't change their shape as they melt, so watch for them to become glossy). Remove pan from oven and spread chocolate evenly over the nuts.
Chill. When ready to serve, remove from fridge and let stand at room temperature for 20 minutes before cutting.
Note: the chilling the brownies is an issue of preference. The texture of the final product is far too gooey while it's still warm. Chilling and bringing to room temperature keeps things firm and makes cutting them more clean.

Variations:

Instead of marshmallow cream: caramel ice cream topping (which does not become firm when chilled), crunchy peanut butter, toffee bits, mini marshmallows, coconut flakes.
Instead of chocolate chips: peanut butter chips, cinnamon chips (these will make this dessert very sweet).
Instead of peanuts: chopped walnuts, pecans, almonds, candied cherries.
Submit a Recipe Correction
RECIPE MADE WITH LOVE BY
"This is my variation of a recipe I found online. It doesn't really taste a whole lot like Tin Roof Sundae icecream, but they follow the same general idea. These brownies are very rich."
Great recipe! My batch turned out delicious, although my marshmallow cream didn't really puff up as much as the picture shows. Other than that, I had no other problems with the baking. I even left the brownies in the fridge all night long, so the melted chocolate hardened into a nice, crunchy top layer; however, next time around I don't think I will spread the melted chocolate quite as much. Thanks for sharing! I will be making this one in the future!

I made these (or rather had a cooking party with my little sister's friends so they could help me make things) for my boyfriend for Valentine's Day yesterday. After I had filled the gift basket I made with them, I had 3 leftover brownies. Perfect! My boyfriend has 3 roomies. I gave them each a brownie as well. My boyfriend told me his roomie said he would pay my expenses just so I'd stick around and continue to cook. (not that I plan to leave my BF) Anyway, thanks for posting such a great recipe! P.S. I used walnuts because that's what I had. If the marshmallow sauce is at room temperature, there's no problems with spreading like the other posters had problems with.

Made these and had same problems as past reviewer. AnnieH, your photo is so great...can't figure why mine didn't measure up; I followed the recipe to the letter . Still they ARE delicious, just not as pretty as yours. I'll try them again and check out some different toppings.Thanks for the post.

Let me start by saying that I don't care for nuts but I thought my family would like these so I made them. I started with a larger brownie mix so mine are in a 9x13 cooling on the counter as we speak. I did steal a corner to taste so I could accurately rate them. The 4 stars are for taste (I don't like nuts or they'd be higher), unfortunately I won't make them again because I couldn't get the marshmallow cream to spread, it just pulled up the surface of the brownies when I tried. So I scattered minis over the rest of the surface (where there was no cream). My chips woudn't spread either-just got caught up in the marshmallows, even where it was the cream. Technique would only be a 1-2 for me.