The Traditional Cyprus Sandwich With Halloumi, Onions and Tomato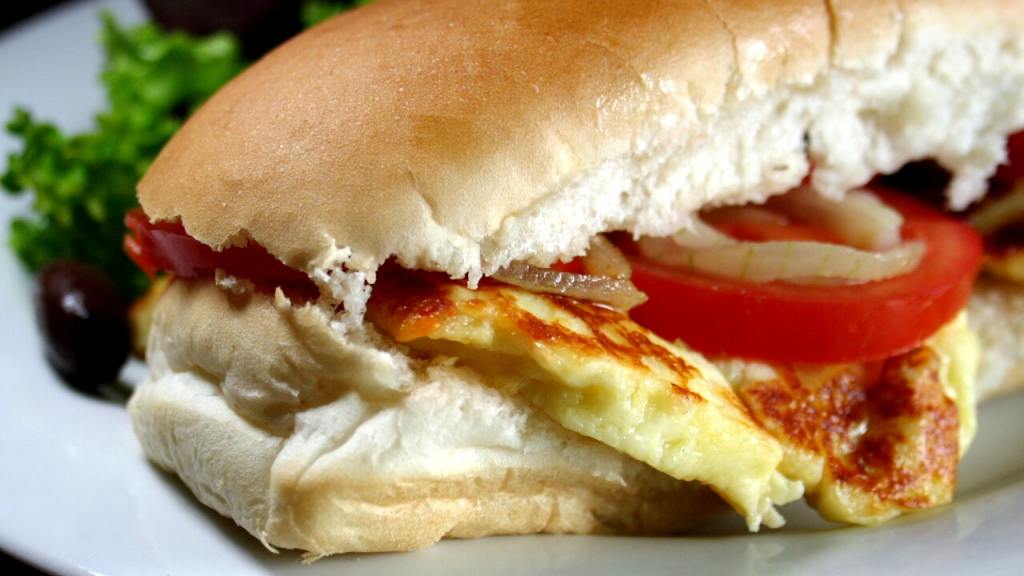 Ready In:

10mins

Ingredients:

9

Serves:

1
directions
Put 2 teaspoons of the olive oil into a frying pan and cook the onions over a medium heat until soft and slightly coloured, set aside.
Put the remaining 1 teaspoon of oil into the frying pan and fry the halloumi slices over a medium to high heat on both sides, until golden brown and crispy around the edges.
Cut the roll in half, and place the halloumi slices on one half and then squeeze the lemon juice over the cooked cheese slices. Sprinkle a few oregano leaves over the cheese before adding the sliced tomatoes and cooked onions.
Place the other half of the roll on top of the cheese and the filling. Gently press the two halves together.
Put the filled roll into a pre-heated griddle, Panini, George Foreman or sandwich grill for about 2 minutes, or until the bread roll is crisp and golden brown.
Serve immediately with fresh lettuce leaves and a handful of black olives -- and don't forget the ice cold Keo or Efes beer!
Join The Conversation
Soooo good! Served it on home-made pita bread. Cooked the onions until they had a good caramelization on them. I always thought a good sandwich ALWAYS has mayo on it, but I've gotta say that the squeeze of lemon juice brought out all the goodness and freshness of all the ingredients. Another winner, Tartie! Made for KcK's Forum.

I wanted something quick and easy after a long day and this was perfect! Such a tasty sandwich. I fried the Halloumi in 1 tbsp oil, placed it on half a pita, sprinkled it with lemon juice, covered it with tomatoes and raw onions and fresh oregano. Folded the pita over and served it with a side of romaine lettuce and black olives, drizzled with lemon juice and olive oil.<br/>I will be making this many many times over..............

Talk about bliss! I had this for my lunch today, sitting out on my deck. Not quite Cyprus...but I'll take the sandwich! This was a delicious combination of flavors and textures. The sauteed onions, oregano and tomatoes were wonderful atop the fried halloumi. Outstanding. Thank you! ~Made for Zee Zesties on the ZWT6~