The Real New York Bagel Recipe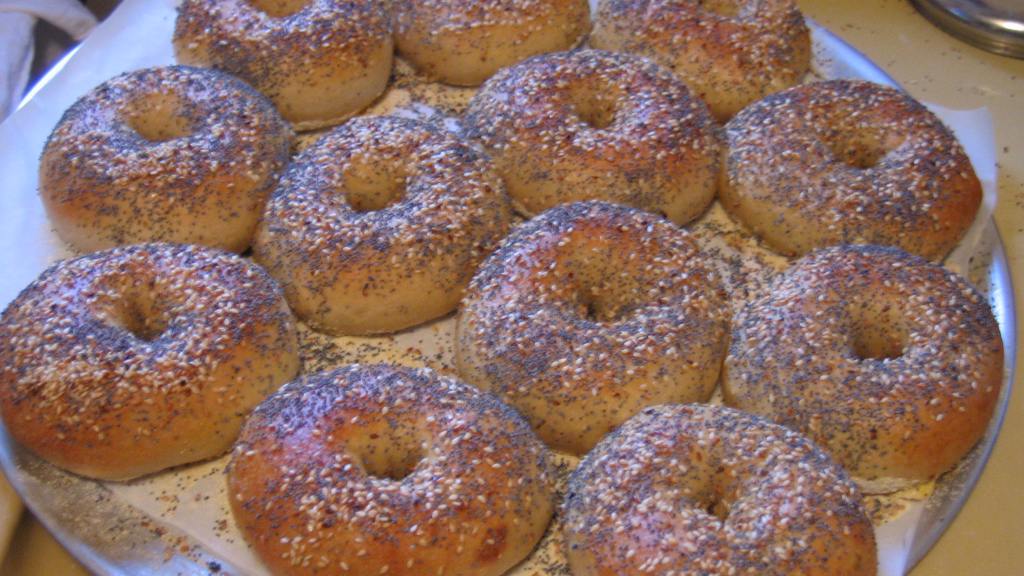 Ready In:

12hrs 25mins

Ingredients:

12

Serves:

12
directions
In a medium/large bowl or pot, stir the sponge together with a whisk or wooden spoon. Make sure to get all dry materials mixed in well.
Cover with plastic wrap and keep at room temperature for 2+ hours.
After sponge is bubbly with small holes at the top and about 2 hours have gone by, pour sponge into your mixing bowl.
Attach dough hook. Then add all ingredients listed for dough. Flour can be added gradually as mixer is going.
Knead with dough hook for approximately 10 minutes or until dough looks smooth and is not too sticky. Dough should be quite stiff (add more flour if needed).
Turn out on counter and knead by hand for a few minutes. (More if your mixer couldn't handle the kneading for very long). Make sure dough does not stick to fingers to get to proper consistency.
Divide dough with a knife into 12 equal pieces about 4.5 oz. each. make into "balls". Cover to rest with plastic wrap for 20 minutes.
Shape each ball into a bagel by pushing your thumb(s) through the middle.
then using your two index fingers in the hole, make fast circular motions, stretching the hole out a bit. Don't worry if they are not perfect.
Place bagels on sheet pans or cookie sheets that have been sprayed with cooking spray oil. Leave an inch or so on all sides.
Let rise under plastic wrap for 20 minutes then place in refrigerator.
Refrigerate for at least 3 hours or preferably overnight.
Pull pans from fridge, get a large pot (4 quarts) of water on the boil and preheat the oven to 500 deg. F. move racks to the top of the oven.
Add 1 T. baking soda to water (this increases the color depth and flavor of the bagel while baking).
When water is boiling, pull 2-3 bagels at a time gently and place them upside down in the water.
Boil for 30 seconds then flip over with a large slotted spoon or similar and repeat for other side. (if perchance your bagels have had time to warm up from the fridge the boiling time decreases--if your bagels are coming out of the boiling water looking too flat, decrease the boiling time on each side but always go a minimum of 15 seconds per side).
Remove each bagel with spoon and slide off on to a large clean cotton cloth (flour sack type material not terry cloth) for draining.
Repeat with all other bagels.
Place parchment paper in your sheet pans or cookie sheets.
Spread corn meal evenly and lightly on parchment paper.
Place moist, warm bagels gently on corn meal. You can place them touching one another. Sometimes we like our bagels plain with no toppings, if you do, skip the next couple steps --.
Make an egg wash with 1 egg mixed with approx 1/2 cup of water and when well-mixed, brush across tops of bagels. If you don't like a slightly eggy taste, you could brush with just egg whites mixed with a bit of water. This will help hold topping on.
Sprinkle with desired toppings (I like toasted sesame seeds and poppy seeds the best, but this could include a dizzying number of different toppings-whatever you like).
Turn oven down to 450 deg F. as you place pan(s) in oven.
Bake for 5-7 minutes then turn pan around and switch pans on racks as necessary.
Bake for another 5-10 minutes turning as necessary and repeat this until all bagels are evenly deep golden brown. Total cooking time will be 20-25 minutes until all are evenly deep golden.
Remove from oven, let cool on pan for a few minutes, then transfer to a wire rack for at least 15 minutes (ok, 5 minutes!) before devouring.