The Real Deal New England Fish Chowder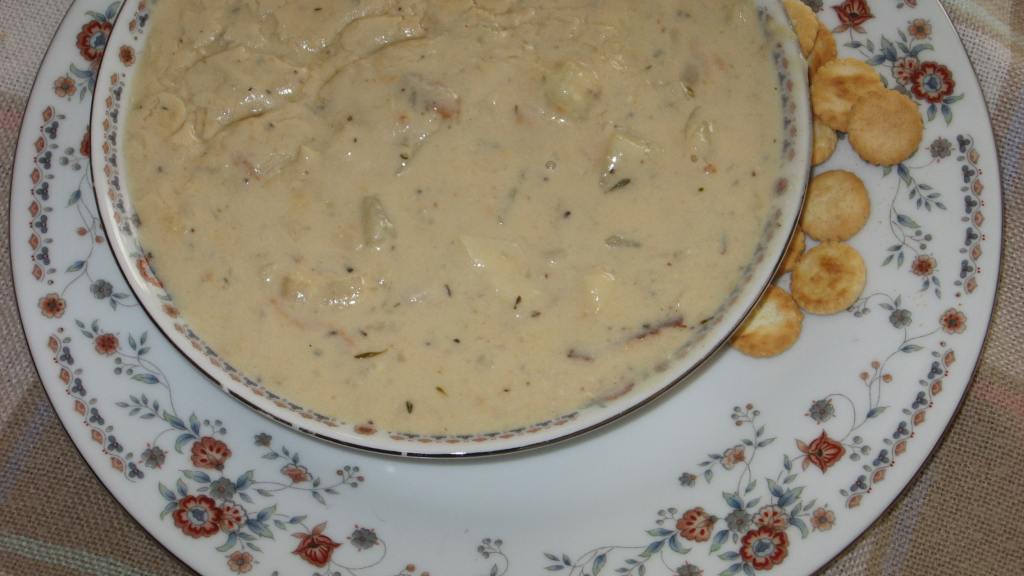 Ready In:

2hrs 10mins

Ingredients:

10
directions
Your pot may only take 2 cans of the evaporated milk. Zaar didn't like 2-3 cans. :). Those who hate or are skeptical about evaporated milk have all loved my chowders.
Place onions and potatoes with thyme and salt and pepper into a large pot and cover with water. If you aren't going to thicken, add butter now.
Bring to the boil and cook until potatoes begin to cook.
Using the butter and flour make a roux in a small frying pan by melting the butter, stirring in the flour, whisking and cook 1 minute.
Continue to cook at a simmer until potatoes are just underdone.
Add the roux and simmer on medium high heat, stirring until quite thick. Add fish and lower heat to a gentle simmer for 5 minutes.
Add evaporated milk.
Lower heat and allow to cook until potatoes are just tender.
Raise heat to near the boil and turn the heat off. Allow to stand covered most of the day or overnight. Adjust seasoning.
It can be eaten at this point though I prefer to leave on lowest heat and stir occasionally for an hour then allow to stand all afternoon; overnight is best. I always think most chowders, soups, stews and sauces are best made a day in advance.
This is at it's very best made a day ahead and slowly reheated. This will not freeze. I prefer cod for the flavor and is most commonly used. There appears to be many steps though all simple. I can throw this together nearly as quick as I can open a can.
Serve with crackers and sour pickles if you want to go "all New England!".
VARIATION 1.
If I am doing clam chowder I use 1 pint of chopped fresh clams or 3-4 small cans of minced clams; using the iquid as part of the water with both fresh and canned clams.
VARIATION 2.
For corn chowder I use 2 cans of cream style corn and 1 can of whole kernel corn plus 1 small jar of baby food corn. It really ups the corn flavor.
Join The Conversation
Loved this chowder but wanted to lower fat but keep flavor. I saut?ed the onions in olive oil, covered the 4 potatoes with 1can low salt chicken stock 1cup water. Made roux with 1/2 stick butter & 1/4 cup flour. Used 3 cups of Hood Simply Smart 1% milk which has the texture and taste of whole milk. Added 3 sliced scallions and 2Tbls fresh parsley when adding milk. Recipe now has perfect thickness and chowder texture with intense flavors.

I made few changes to this chowder. Here they are: changed pepper to whole peppercorns, changed half water to good quality chicken stock, added bay leaf, and changed dried thyme to fresh.. Also added few carrots and celery stalk, and changed milk to light cream.. Results were good old fashion chowder.